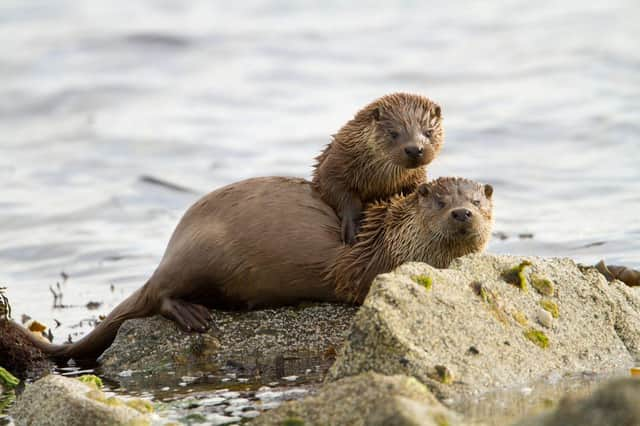 Otters can be found across Scotland in lochs, rivers and seas, even in towns and cities
Studies have shown that going outdoors and experiencing nature has benefits for both physical and mental health, with some doctors 'prescribing' such activities as medicine.
Many people have upped the amount of time they spend in the countryside, parks and gardens in response to the coronavirus pandemic.
There has also been a massive surge in people buying houseplants to green up their homes while confined indoors and working remotely.
Nothing says winter like holly, but only female plants bear the trademark red berries
Environmentalists say it's even more important than ever to get up close with nature at this time of year, especially with tougher lockdown restrictions coming into force .
"The past year has been incredibly challenging in many different ways, however one constant through it all has been the ability of nature to heal and restore our spirits," said Dr Sheila George, food and environment policy manager at WWF Scotland.
"From the Black Isle to Burntisland and the Western Isles to Wester Hailes, people have been relying on green space for exercise, mental health and well-being.
"Even a wee bit of fresh air, some greenery or a hint of birdsong can really help keep us going, whatever the weather.
The robin is one of the nation's favourite birds, and can cheer up even the darkest days
"This winter we're encouraging people to get outside, take a wander close to where they live and spot the nature on their doorstep."
Even in these cold, dark months there are countless plants, animals, birds and insects that can be found across Scotland, even in towns and cities.
The WWF Scotland team has created a list of some of the best-loved wildlife to look for when out and about - without having to travel too far from home.
Holly bushes, which can be male or female but only the females bear the trademark red berries; snowdrops, which are the first wildflowers to appear each year; dippers, birds which are able to stay underwater for 30 seconds at a time; the iconic robin, everyone's favourite winter bird; otters: which can be found in lochs, rivers and the sea - even in cities; hedgehogs, often found in garden and parks; and red squirrels, which can be found in gardens, woodlands and parks in some areas.
Hedgehogs can be found in gardens and parks in most parts of Scotland, though usually after dark as they are nocturnal
There are also many rarer natural treasures to be sought out, depending on what part of the country you live in.
Dolphins can be spotted from the shoreline along much of the east coast, particularly in the Moray Firth, while folk in Shetland can look out for killer whales.
And if you turn your eyes to the skies you might be lucky enough to glimpse some of Scotland's birds of prey, whether it's sea eagles around the west coast or peregrine falcons in the heart of Edinburgh.
People can also join WWF's Big Winter Wander, a new campaign to help fund nature conservation work around the world.
The initiative has been launched following publication of the charity's latest Living Planet report, which shows wildlife populations have crashed by 68 per cent globally since 1970 – and there are no signs that the downward trend is slowing.
Half of all UK species are in decline – red squirrels, hedgehogs and birds are disappearing at an alarming rate.
A message from the Editor:
Thank you for reading this article. We're more reliant on your support than ever as the shift in consumer habits brought about by coronavirus impacts our advertisers.