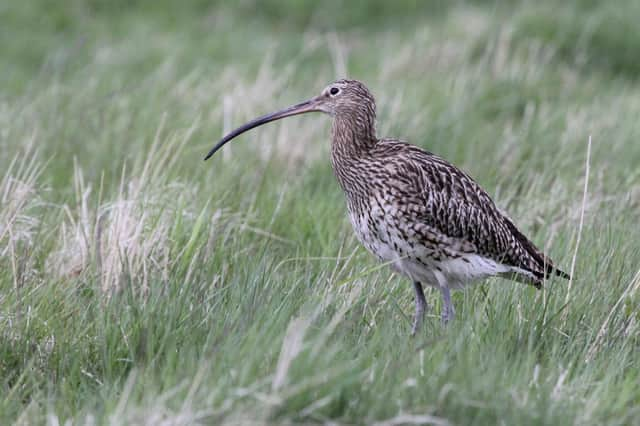 The latest State of the UK's Birds report shows worrying declines among some of Scotland's most iconic species, including the curlew
Seabirds and upland waders are faring worst overall, prompting fears for the survival of iconic species such as the Arctic skua and curlew.
The figures come from the latest State of the UK's Birds, which jointly produced by the RSPB, British Trust for Ornithology and Wildfowl & Wetlands Trust charities and the UK's nature agencies.
The report shows an overall drop of 32 per cent between 1986 and 2017 across the 11 seabird species that are monitored.
Scotland's seabirds, including fulmars, have declined by more than a third over the long term
Arctic skuas have been doing particularly badly, with previously well-occupied colonies reduced to small numbers or disappearing completely.
Birds that feed on sandeels, including kittiwakes, shags and Arctic terns, have also been experiencing long-term declines.
Conversely, gannets have been doing well, with an increase in both numbers and range.
Meanwhile, upland birds such as curlews and lapwings have seen particularly sharp drops, with both now among the five most declining common and widespread birds in Scotland.
Lapwing breeding populations fell by 56 per cent between 1995 and 2018, with a crash of 39 per cent in the most recent decade.
Curlew numbers have seen a similar pattern, with 59 per cent fewer recorded between 1995 and 2008 and a 20 per cent decline between 2008 and 2018.
Scotland is internationally important as a winter host for waders such as curlews, redshanks, dunlins, golden plovers and lapwings.
Numbers of these seasonal visitors have halved since 1975.
However, counts also show black-tailed godwits, which are declining globally, and sanderling have increased in Scotland.
The report also reveals better news for some other species.
Populations of breeding tree pipit populations rose by 80 per cent and willow warblers by 25 per cent in Scotland between 1995 and 2018.
This is in stark contrast with sharp declines in Wales and England.
Cuckoo numbers have also risen north of the border, with a 54 per cent increase over the same period while numbers dwindle in England.
A number of factors are blamed for the changing fortunes of the various species, with climate change, intensified farming, urban spread and overfishing thought to be the key drivers.
David Douglas, RSPB Scotland principal conservation scientist, said: "It's really concerning that some of the UK's bird species that Scotland is vitally important for, such as curlews and Arctic skuas, have experienced such worrying long-term declines.
"This means conservation efforts here are absolutely vital to these birds.
"The impact of the nature and climate crisis can be seen in this report's conclusions.
"Seabirds that rely on sandeels are struggling, whilst those with a broader diet such as gannets are doing better.
"Further human impact is evident in the rising number of cuckoos in Scotland. Once more common in England, numbers there are in decline due to changes in land management and usage."
Andy Douse, NatureScot's ornithology advisor, said: "Many know that we are facing a climate emergency but not as many know that there is also a global nature crisis.
"Many iconic birds in Scotland, as well as other species, are suffering as a result.
"We need a balance of nature for our survival.
"So we need to urgently reverse biodiversity loss if we are to protect our species and protect our living environment."
A message from the Editor:
Thank you for reading this article. We're more reliant on your support than ever as the shift in consumer habits brought about by coronavirus impacts our advertisers.