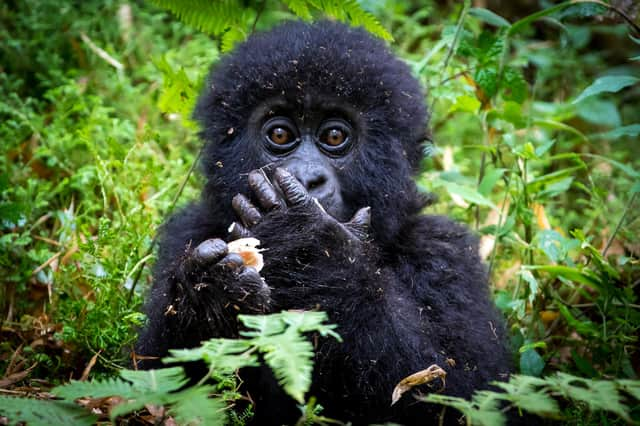 Mountain gorillas share 98 per cent of their DNA with us and are known to be susceptible to human-borne diseases such as colds and coronaviruses
Conservationists have closed down protected sites where the remaining gorillas live in Rwanda in a bid to prevent cross-contamination, since the primates have been shown to be susceptible to other respiratory diseases found in humans.
We share about 98 per cent of our DNA with gorillas, so human-origin diseases from common colds to coronavirus represent a persistent threat to them.
Mountain gorillas are found in high-altitude forests in Rwanda, Uganda and the Democratic Republic of Congo, with the total population estimated to be around 1,000.
A bit more than half of them live in the Virunga mountains, a range of extinct volcanoes that border the three countries, with the other half in the Bwindi Impenetrable National Park in Uganda.
But as humans have increasingly moved into their territory the great apes have been pushed further up into the mountains for longer periods, forcing them to endure extreme and sometimes deadly conditions.
Now, though, conservation efforts carried out over the past couple of decades are showing signs of success.
Despite ongoing civil conflict in the region, poaching and an encroaching human population, numbers have begun to increase.
In 2018, the mountain gorilla - a subspecies of the eastern gorilla - was reclassified from critically endangered to endangered on the International Union for Conservation of Nature's Red List of Threatened Species.
The International Gorilla Conservation Programme (IGCP), a coalition that currently consists of Conservation International, Fauna & Flora International and the World Wide Fund for Nature (WWF), formed in 1991.
Members work in partnership with the respective protected area authorities in Rwanda, Uganda and Congo.
Income from gorilla tourism supports local and national economies and has helped transform government attitudes towards conservation.
Of 20,000 visits to Volcanoes national park in Rwanda in 2008,17,000 were to see mountain gorillas.
Now eco-tourists are being told to stay away in case the coronavirus pandemic affects this fragile population of apes.
"The recent gains in mountain gorilla numbers could rapidly reverse if disease is introduced, so protection is key at this critical time," said WWF UK's Africa conservation manager, Cath Lawson.
"Mountain gorillas are known to be susceptible to other human respiratory illnesses, so we have to assume that they are susceptible to the virus which causes the disease Covid-19 in humans.
"That means that right now minimising human-mountain-gorilla interaction and the opportunity for disease transmission is the priority."
Field workers are currently carrying out only essential monitoring, wearing face masks and staying at least 10 metres away from the animals.