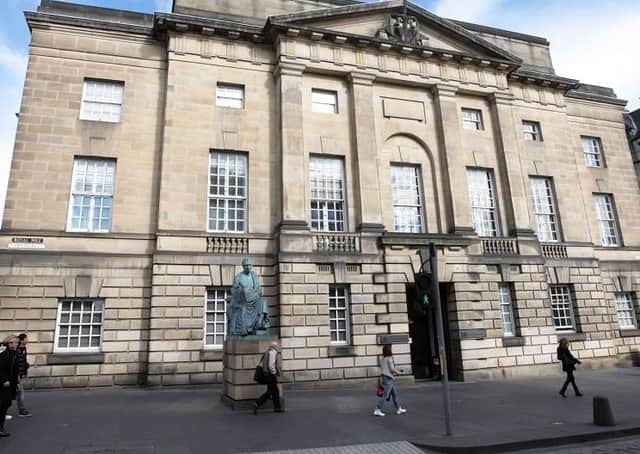 David Johnstone's spree of violence left Frank Kinnis dead and two other victims needing hospital treatment after assaults carried out 40 minutes apart.
The High Court in Edinburgh heard that Johnstone's parents had twice contacted NHS 24 in a bid to have their son sectioned because of concerns about his well-being.
First offender Johnstone, 36, was charged with murdering Mr Kinnis at Linkwood Farm, Barmuckity, Elgin, following the attack on him on 21 October last year in which he seized hold of him, put an arm around his neck and compressed his throat and repeatedly punched and kicked him and stamped on his head.
He was also charged with attempting to murder Morris and Janette Smith, who were both 70, on the same day at Birkenhill Woods, Elgin.
Johnstone was accused of repeatedly striking and punching Mr Smith, causing him to fall to the ground and repeatedly punching and kicking him and stamping on his head, rendering him unconscious.
He was also accused of repeatedly punching and kicking Mrs Smith of the head and body.
Johnstone was also accused of attacking police constables Mitchell Dickson and Iain Meggat at Birkenhill on 21 October last year.
He was said to have repeatedly punched PC Dickson on the head and struggled with him and tried to punch his colleague.
Johnstone was yesterday acquitted of the offences after pleading not guilty on the ground that at the time he was unable because of a mental disorder to appreciate the nature or wrongfulness of his actions, which the Crown accepted.
A judge ordered that he be held at the State Hospital at Carstairs under an interim compulsion order before a further hearing in September. Lord Uist said it was an "extremely sad and tragic case".
The judge said that he had to deal with the consequences for Johnstone in the High Court, but added: "It appears there may be a question as to whether some steps could 
have been taken at an earlier stage which would have prevented the death of the deceased."
Lord Uist said it was a matter for the Crown to consider whether a fatal accident inquiry should be held in the case.
Advocate depute Alan Cameron told the court that Johnston had worked as a design technician until June last year.
He said: "At that time his employment was terminated due to repeated non-attendance and concern about his behaviour was expressed by colleagues.
"His parents also had concerns about his mental health and he saw his GP on June 24. She referred him for an urgent psychiatric review but Mr Johnstone failed to attend the appointment."
On the day of the attacks Mr and Mrs Smith were out exercising their dog at Birkenhill Woods, which is popular with dog walkers, shortly before 9am.
Police officers found the injured victims covered in blood.
They were taken to Dr Gray's Hospital in Elgin where Mr Smith was found to have facial fractures and extensive head injuries. His wife also suffered head injuries.