Mr Green said he was later told by police that they tracked the vehicle registration plate on motorway cameras travelling south to England then returning to the village to steal the boat in the early hours of Saturday, June 19, with the theft also captured on camera.
The owner of the £22,000 boat said he and his nine-year-old son Mason discovered it missing that Saturday morning as they arrived to take it out on a fishing trip. The vessel was bought in May and had only been used once before.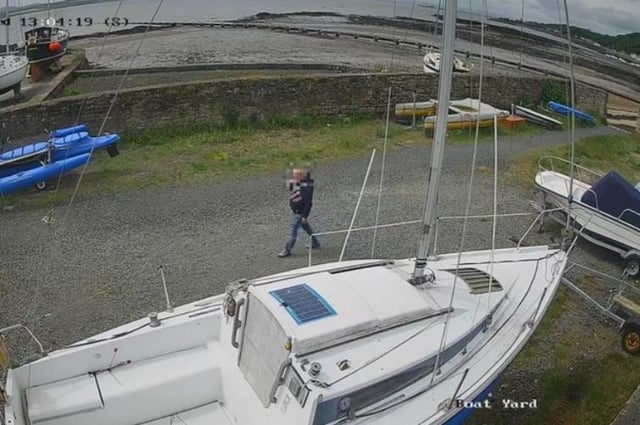 Footage showed the suspect inspecting the boat less than three days before the theft. Pic: Forth Cruising Club
After reporting the incident to police, Mr Green was informed later that day his boat had been found in nearby Broomhall Estate but the 116kg engine - a Mercury 60hp Bigfoot - had been cut free from the boat and stolen. He says he has been looking at alternative engines for this boat which cost around £8,000.
On Tuesday a police spokesperson said: "Enquiries are ongoing, however officers are following a positive line of enquiry."
Mr Green, who is originally from Australia but moved to Scotland 16 years ago, said previously it had taken a while to save up for the boat and that it reminded him of a lifestyle he missed from home.
The 48-year-old, who has been living in Charlestown for about six years, said local police dealt with the incident very well and came out to take statements and identified the suspect within 48 hours.
He said the thief (or thieves) had to break the wheel lock on the trailer beneath the boat as well as cut the engine lock and steering cable in order to remove it. He strongly suspects more than one person was involved in moving the 116kg engine and believes the theft was organised rather than opportunistic.