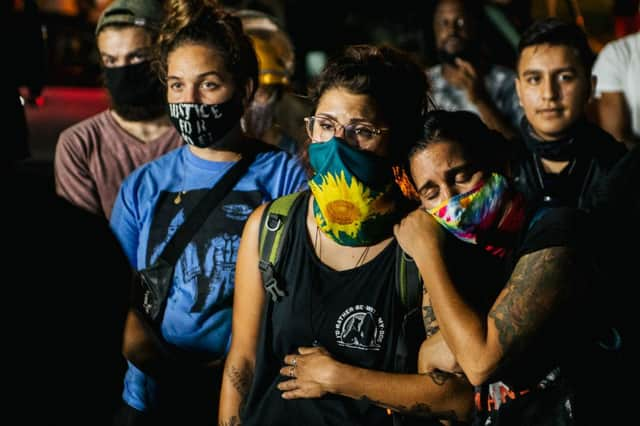 Protestors hold vigil at the site of Tuesday night's shooting (Getty Images)
On Tuesday night disturbing footage of a young white gunman firing on demonstrators in Kenosha, Wisconsin circulated on social media.
Once the dust had settled two demonstrators were dead and one more was injured.
The gunman, Kyle Rittenhouse, appeared to be part of a group of armed white men – some of whom were wearing body armour – who had responded to a call to protect businesses from the mostly peaceful protests.
The day after the shooting, Rittenhouse was taken into police custody and charged with the murder of the two protestors.
His charges have since been released and include intentional homicide and reckless homicide.
Kyle Rittenhouse was arrested at 5am in Antioch, Illinois, approximately a 20 mile drive from Kenosha, Wisconsin where the shooting took place.
Little is known about Kyle Rittenhouse, but the teenager appeared to idolise the police force.
On his Facebook page, which was deactivated shortly after his arrest, Rittenhouse regularly posted tributes to fallen police officers and frequently shared the slogan Blue Lives Matter. Blue Lives Matter is a countermovement set up in opposition to Black Lives Matter, in support of police officers.
Rittenhouse also reportedly has history of volunteering with local police cadet programmes.
The Grayslake, Lindenhurst, Hainesville Public Safety Cadet programme featured pictures of Rittenhouse participating in drills which they have since taken down.
Rittenhouse also appeared to be a firearms fanatic. In one Tiktok post by the teenager, Rittenhouse can be seen firing a rifle not dissimilar to the one filmed on Tuesday night.
The suspect also attended a Donald Trump rally in Iowa in January. In separate Tiktok posts Rittenhouse can be heard cheering for the US President.
On Tuesday prior to the shooting Rittenhouse was interviewed by the Daily Caller.
Explaining his presence he said: "People are getting injured and our job is to protect this business."
"And part of my job also is to protect people. If someone is hurt, I'm running into harm's way. That's why I have my rifle; I've gotta protect myself obviously. But I also have my med kit."
First-degree intentional homicide
First-degree reckless homicide
Attempted intentional homicide
Two counts of recklessly endangering safety
Possession of a dangerous weapon by a person under 18
Who were shooting victims?
The victims of the shooting have been named – they are 26-year-old Silver Lake resident Anthony Huber and 36-year-old Kenosha resident Joseph Rosenbaum.
A 26-year-old from West Allis was also injured.
Anthony Huber is survived by Hannah Gittings and a daughter. According to the Milwaukee Journal Sentinel he was a talented skateboard and "class clown".
Joseph Rosenbaum had moved to Kenosha a year prior to the protests from Waco, Texas in order to spend more time with his daughter. He is survived by a fiance and a daughter.
Tucker Carlson controversy
Fox News presenter Tucker Carlson appeared to defender Rittenhouse's actions during his TV show Carlson.
In a piece to camera he said: "Kenosha has devolved into anarchy because the authorities in charge of the city abandoned it. People in charge from the governor of Wisconsin on down refused to enforce the law. They stood back and they watched Kenosha burn."
He added: "So are we really surprised that looting and arson accelerated to murder? How shocked are we that 17-year-olds with rifles decided they had to maintain order when no one else would?"
Carlson has previously called white supremacy a "hoax" and "a conspiracy theory".