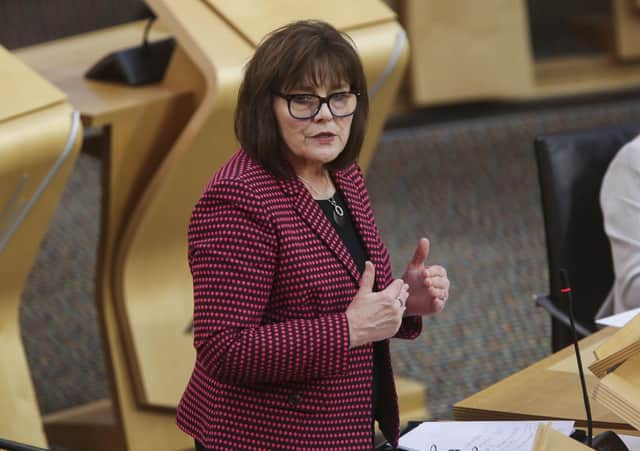 Scottish health secretary Jeane Freeman. Picture: Fraser Bremner Pool/Getty Images
Ms Freeman told Holyrood's health committee yesterday that people would be able to self-refer and should not have to wait more than three hours for an examination.
At a previous evidence session on the proposed Forensic Medical Services (Victims of Sexual Offences) (Scotland) Bill, Rape Crisis Scotland chief executive Sandy Brindley said access to a female doctor "is the most important issue brought up by complainers".
She said delays in waiting for an examination was also a key issue.
Ms Freeman told the committee she had "confidence" victims would be able to choose to be examined by a man or woman under the proposals. She said: "I agree completely that people should have that choice.
" I think it is very important, particularly in those circumstances.
"There are clearly some levels of a restriction to an extent in that, where we have a team of sexual offence examiners that is predominantly male, those individuals will be on contracts and so you have to find other ways to add to the number, so that you can offer that choice.
"But the task force [to improve services for victims of rape and sexual assault] has that work well in hand."
Under the proposed legislation, victims could self-refer to have an examination that would collect forensic evidence without them having to contact police.
Any evidence would be securely stored, allowing victims to decide whether to lodge a police report in their own time.
They could also have health concerns addressed such as requirements for psychological support, sexual health 
tests and emergency contraception.
Ms Freeman said victims who come forward should be seen within three hours, as recommended by Healthcare Improvement Scotland.
"Anyone who's experienced rape or sexual assault should be able to access forensic medical examination within that three-hour timeframe, and that is the objective that we're working to," she said.
"There is progress in each health board to build the capacity and capability of the workforce to achieve that."
Although Ms Freeman suggested there may be issues meeting that target in remote and island areas, she added: "I am confident in our commitment to try to ensure that we can ensure coverage of the whole of Scotland, notwithstanding that our challenges that we need to find ways through."