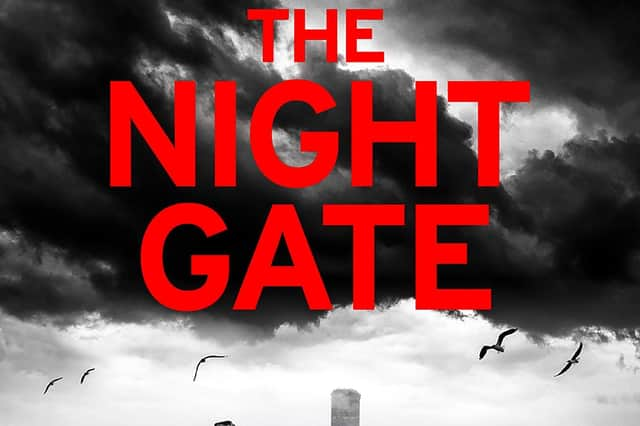 Peter May's new thriller, The Night Gate is out now in hardback, from riverrun.
You're buying a house in South West France and the man selling it tells you priceless masterpieces hung on the walls during the war, smuggled from The Louvre and hidden from the Nazies. Nice story you think, buy the house and the double garage with space above it next door and time passes. Then one day you go to an exhibition in the nearby town about the evacuated paintings and there's a black and white photo of one of the places some of them were stored. Your garage, with apartment above where masterpieces by Veronese and David were hidden, while the Mona Lisa was stashed in the chateau along the road. You post a mock up of Da Vinci's famous painting in the crate in which it was hidden on social media then go back to what you were doing.
But if you're award-winning crime writer Peter May, that's not the end of the story and his latest book, The Night Gate, is published this week.
Writer of 26 or 27 novels - speaking over Zoom from the apartment above the garage in the Dordogne Valley, he's lost count - May has sold "somewhere between 12 and 15 million books worldwide. Best known for The Lewis Trilogy, The China Thriller and The Enzo Files series, it was a book written 15 years ago that saw him back on the bestseller list last year. LOCKDOWN, set in London during a global pandemic wasn't published first time round because editors thought a plot with the capital ravaged by a virus "was unrealistic and could never happen". Now, however, it's moment had come.
"Unexpectedly Lockdown just totally came out of left-field. Suddenly boom! It took off. It was selling all around the world," says May from his writing studio, surrounded by his guitars and keyboards at the home he shares with his wife, the writer Janice Hally and rescue fox terrier Dafty.
Approaching 70, May was born and brought up in Glasgow and has always worked with words, first as a journalist, then novelist and TV writer and producer. Winning Young Journalist of the Year at 21, he worked for The Scotsman before moving into TV. His first novel, The Reporter was made into a BBC TV series The Standard in 1978, and he went on to write more novels and TV scripts, including Squadron for BBC. When he created Machair the Gaelic TV soap for STV (which ran from 1993 to 1999), with his wife, it was the first Gaelic language show and saw the couple move to the Isle of Lewis in the Outer Hebrides where it was shot. In 1996 he quit television to write novels, producing the China Thrillers and relocated to France.
This latest book, The Night Gate, isn't the book he was going to write last year. That book was to be based in the Norwegian archipelago of Svalbard in the Arctic Circle, but the pandemic changed all that. If it wasn't for lockdown, The Night Gate wouldn't exist.
"I had developed my story and all I had to do was the research trip to Svalbard but we had to cancel and I was left with this gaping hole in my schedule. I had a contract to deliver a book before the end of the year and that was a problem."
Scottish author Peter May's new crime thriller, The Night Gate, was written during lockdown at his home in South West France.
"I've no idea where the notion came from, but I remembered a post I had made on the photo blog Blipfoto in 2019 after visiting an exhibition in a town just along the road about the evacuation of art here from the Louvre during the Second World War. Up on a wall was a photograph of a building which I own, and not only did I own this building but I discovered that there were some HUGE canvases that had been taken out of their frames and rolled round long poles, that they couldn't get into the Chateau de Montal down the down the road where most of the paintings including the Mona Lisa, were going, so they put them in this building where I'm sitting right now. Sometimes when I'm sitting her talking about it I can almost feel the spirit of those paintings."
Among them were The Wedding Feast at Cana by Paolo Veronese and The Coronation of Napoleon by Jacques-Louis David, seven by ten metre canvases now back in The Louvre, which were spread along the floor of the building from which May now speaks on Zoom.
"Huge canvases, world famous, and they were right here in this apartment above a double garage," May spreads his arms wide and looks about the room as he talks. "It came as a complete surprise so I wrote the post and was inundated with people saying 'what an amazing story, it would make a wonderful book'. Clearly the notion of the paintings coming here had caught people's imagination so I thought maybe I should think about this.
"If it wasn't for Covid, it would never have seen the light of day. I don't think I would ever have gone back to that thought."
The village of Carrenac in South West France, close to the chateau where painting from the Louvre were hidden during the Second World War.
Embracing Covid, the crime novel begins in the autumn of 2020 with the discovery of two bodies, murdered 70 years apart and the return of his popular character forensics expert Enzo Macleod, who May brought out of retirement.
Fans of Enzo have always been intrigued as to where Macleod ends and Peter May begins.
"Certainly all the overeating overdrinking part of him is me. When I started to write Enzo we were similar in age and both had ponytails, (May got fed up of his and cut it off), wore the same sort of clothes and our daughter's called us old hippies - not meant as a compliment. He played guitar, was in a band when he was a kid, loved to cook, to eat, was a great wine connoisseur and very fond of members of the opposite sex. Most of those things could be applied to me so over the years people have definitely come to see Enzo as being me. He's not exactly, but I've drawn a lot on my life and personal experience to create him."
With Enzo on the case it was time to develop the twin narratives, one in Occupied France, the other in Covid France, and twist, turn and blend fictional and real historical events and characters.
Peter May on Lewis with a model of one of the famous 12th century Chessmen which were found on the island, after which one of his bestselling Lewis Trilogy books is named.
"Because I was using real history, and using scenes with Hitler and Goering, it seemed I should populate the story with other real characters, so we have curator who travelled with the art all around France and ended up at the Chateau de Montal providing weapons for the Resistance, and the striking character of Rose Valland, who I still believe deserves a book and maybe a film to herself, because she is largely single-handedly responsible for saving France's artistic heritage from the Nazis."
It was curator Valland who kept records of every piece of stolen art and after the war was able to recover much of it.
Writing about real people was a departure for May, who wanted to do justice to them.
"You don't want to misrepresent people so I tried my best to get as much information as I possibly could because you are putting words into people's mouths and putting them into relationships that they didn't necessarily have in reality.
"The most interesting of those were the scenes I wrote with Hitler and Goering. The Hitler stuff I did a lot of research on. The scene where he sends his art dealer to steal the Mona Lisa takes place in his mountain retreat in the Bavarian Alps that was destroyed at the end of the war so I couldn't have gone anyway but I got access to Eva Braun's home movies. Remarkably they're all in colour which gives you a different sense of the time because Second World War footage is usually black and white. When you see Hitler in colour, laughing and joking with friends, having a drink, suddenly you think gosh, whatever monsters they might have been, they were also real people, and it was important to me to try and capture the essence of those characters and not opt for the caricature version of them that history has fed us."
Always meticulous about research, May never writes about a place he hasn't visited if possible. He even went into the virtual world of the game Second Life, setting himself up with an avatar called Flick Faulds who ran a detective agency for his book Virtually Dead.
Lewis in the Outer Hebrides, where Peter May's 1990s Gaelic language series for BBC Scotland, Machair, was set and filmed.
"I saw a documentary about Second Life in which criminals were using it to launder money and terrorists were meeting there because they couldn't be tracked. I thought maybe it would be worth setting a story in this virtual world. I had no real expectations, but suddenly I was flooded with clients wanting me to undertake all sorts of cases - 90 percent of them were about infidelity."
Infidelity among avatars?
"Yes. People take it very seriously," he says. "So I learned all sorts of tricks of the trade, how to track people, take photographs of them, present evidence to the client. It was a fascinating experience and I used all that as the basis for the book which was published in the US and is now coming out as an e-book this year in the UK."
However, for The Night Gate, May already knew the locations intimately. The village of Carrenac where a lot of the action takes place is five minutes away across the river valley and where he bought his first house in France in the 1980s and when restrictions eased last summer, he was able to revisit the Chateau de Montal where the Mona Lisa was stored, The Tours Saint-Laurent which tower over the town of Saint-Cere and where the Resistance transmitted signals, and The Gouffre de Padirac, a spectacular network of underground of tunnels rivers and lakes.
Lewis also makes an appearance as the central character of Georgette, who is charged with guarding the Mona Lisa and a fake version that was created to fool the Nazis, undertakes special operations training there.
"It was a great opportunity to use a location I know well and love. Going there at first was a culture shock in lots of ways because it's so different from mainland Scotland, and geographically it's very distinctive as well. Most of the northern part is dead flat, peat bog, not a tree in sight because the wind just whips them down, but stunning coastlines and amazing beaches. And if you go further south over the mountain range into Harris it's just breathtaking. You would think, going down the west coast, that you were in the Caribbean because the sea is the most luxurious turquoise blue. The only major difference is it's freezing! But people do go swimming and surfing.
"With Machair we spent maybe five years, about five months a year, living on the island. You couldn't get off for the weekend because there were no ferries or flights on a Sunday, so you had no way of getting back for filming again for Monday. So you really get to know a place. And when you're out every day filming in sometimes atrocious weather conditions, and I'm talking about summer time, you either end up loving it or hating it. I think while I was there it was a bit of both, but you know, having left, it never left me.
"I found myself going back ten years later to write The Blackhouse, the first of the Lewis Trilogy, and it just felt like coming home, and it's been my kind of spiritual home ever since."
If Lewis found its way into his books, so did his experience of running away from home in Glasgow to London when he was 17, with Runaway, a crime novel based on his bid for fame and fortune with his musician pals. Again it is told through two storylines, one in 1965 in which five teenagers find tragedy in the capital, and the other in 2015, when three of them go back to solve a murder. But why did May run away from home?
"I had just been expelled from school," he says.
"Nothing really." He laughs. "Well, I was in a band, The Harlem Shuffle, billed as Scotland's top soul band, playing four five nights a week all over Scotland and the north of England. I was still at school, had long hair and didn't follow the rules in terms of dress code and was always turning up late. It was getting me in increasing bother with the headmaster and it came to a head one day when I had been playing a Sunday night gig in Dundee and the car had broken down and I didn't get to school till midday on Monday and still had stage gear on, the Sixties flamboyant stuff. The heatmaster accused me of being drunk and drugged up, none of which was true, and ended up saying 'Take your long hair and your big furry coat and don't come back." And that was the end of my school career."
May had no idea what he was going to do, wanting to write but with no creative writing courses in those days, so he worked in the civil service totting up the interest in bank books in the department of national savings.
"It was grim. I stuck it for three months then one morning I thought 'I can't take this any more' and walked out. I told my best mate I was going to go to London to seek my fortune and he said 'well, you're not going without me', and another two other guys in the band said, 'well, you're not going without us', so we all left notes for our parents on the pillows, jumped in the back of the band van and thundered down the M8 to London.
"It was a bit crazy. In London with no money, no clean underwear, sleeping in the station and the park, busking on the Underground, trying to get gigs and an agent. It was hopeless. But it was an experience. We ended up coming back home three weeks later, and I sold cars for a year.
Nothing is wasted when you're a writer and May relieved the experience when he wrote Runaway.
"I used a lot of stuff that actually happened, had them going to London, and then getting mixed up in a strange set of affairs which ended up with one of them getting killed, one of them staying and the others coming home. Fifty years later it's the old boys making the return trip because something links back to the death of their friend back and effectively they run away again, only now the disapproval of the families is from their children. It was a lot of fun to write and it is one of my favourite books."
With a vaccine now being rolled out and restrictions easing, what's next for May? Will the postponed Svalbard book be taken off ice?
"I don't know. I think it was a good story on a subject that really interested me and is important. Basically it's about climate change, because Svalbard is on the front line of the world's changing climate in a major way and there are unforeseen consequences to the melting of the permafrost and glaciers. It's certainly not a subject that's going to go away."
More immediately May is planning on taking a break, having written at least one book a year for the last twenty.
"I'm knackered. And I think you can go to the well once too often. I've reached the stage where I'm not sure I would be doing myself justice by writing just because I feel I have to. It's the desire to write that is important. If that's not there, then I shouldn't be doing it. So right now, I'm going to be playing a lot of music, building a new summer kitchen, swimming, reading and relaxing."
And finally, what about the Mona Lisa, is the one that's hanging in the Louvre the real McMona?
"Ha, ha, who knows," says May, and gives an enigmatic smile.
CREDIT LINE: The Night Gate by Peter May, riverrun, hardback £20, is out now [18 March].
Hear Peter May speak about the story behind "The Night Gate" and the return of Enzo, 26 March, Toppings, Edinburgh, 7pm
A message from the Editor:
Thank you for reading this article. We're more reliant on your support than ever as the shift in consumer habits brought about by coronavirus impacts our advertisers.
If you haven't already, please consider supporting our trusted, fact-checked journalism by taking out a digital subscription.
Bestselling Scottish writer Peter May at his home in South West France, where he has lived for almost 20 years.
Peter May with his rescue fox terrier Dafty, at home in France.
The Chateau de Montal, in the heart of the valley of the Bave, Occitanie, France, where priceless artworks from The Louvre were hidden during the Second World War.