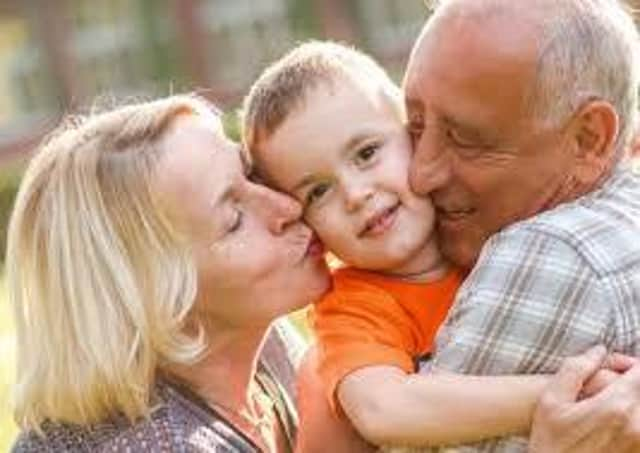 Grandparents are set to splash out more than ever on their grandchildren this Christmas.
The study found that in total, UK grandparents plan to spend almost £2.4 billion on Christmas presents for their grandchildren this year.
However, their generosity is not always well-received, according to the poll from from SunLife. Almost half of parents think grandparents spend 'too much', while 46 per cent of ungrateful youngsters say they have received "bad presents" from their grandparents, with examples of unwanted gifts including "plain paper", shower gel, an "ugly" jumper and a second-hand game.
The report found that there are 9.3 million people aged 50 to 75 in the UK who have grandchildren and celebrate Christmas. On average, grandparents have four grandchildren, and they will spend £104 on each – that is £415 in total, which across the UK comes to almost £2.4 million.
When asked if they think their own parents spend too much on the grandchildren at Christmas, 46 per cent of adults said yes. And while more than half of those said "it's their money, they can do what they like", a quarter wish their parents wouldn't spoil their kids so much. Meanwhile, 14 per cent have concerns that their parents cannot really afford to spend as much as they do.
The poll also asked children aged 8 to 16 what type of gifts they most liked to receive from their grandparents and found that younger children prefer receiving presents while older kids say they would rather have the money.
More than half of eight and nine-year-olds say they like receiving gifts, less than a third would choose cash and just eight per cent would prefer a gift card. But this changes by the time children reach their teenage years – just 27 per cent want presents, while two thirds would rather have cash or gift cards so they can choose something for themselves. For older children - including those aged just 10 and 11, the latest iPhone is top of their list of presents they would ideally like to receive from grandparents, as well as Apple earphones AirPods, which retail at over £100.
Ian Atkinson, marketing director at SunLife, said: "We know it can be tricky for grandparents to know what to get their grandchildren, and they often don't want to ask as that would spoil the surprise.
"Top requests include Disney, LEGO, L.O.L Surprise, Fortnite and Minecraft toys and games. Clothes are also high on the list while for those with bigger budgets, electronic gifts and gadgets like phones and tablets will go down well, as well as bigger outdoor toys like bikes and scooters."
Of the children polled, 27 per cent say they have received "bad" presents from grandparents once or twice, 14 per cent say they get bad ones 'fairly often' while five per cent say they've never actually received a good gift from their grandparents. However, 54 per cent of youngsters say that they always get good Christmas presents from their grandparents.
A message from the Editor:Thank you for reading this article. We're more reliant on your support than ever as the shift in consumer habits brought about by Coronavirus impacts our advertisers.
If you haven't already, please consider supporting our trusted, fact-checked journalism by taking out a digital subscription.