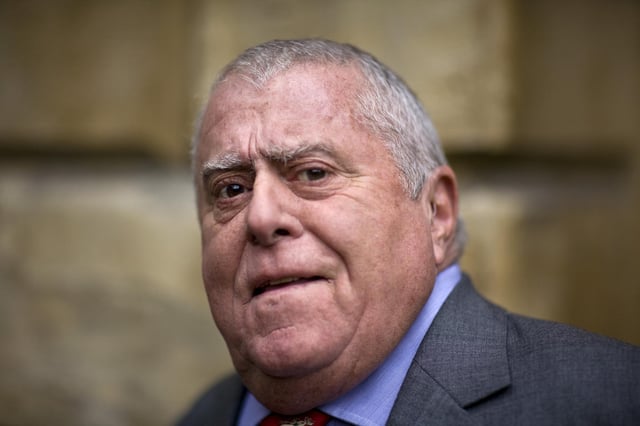 Albert Roux in 2009, the legendary Michelin-starred French chef, who died this week at the age of 85. Roux came to the UK in the 1950s and later opened Le Gavroche, the first restaurant in the UK to gain three stars, before going on to open restaurants and bistros in Scotland.
ALBERT ROUX's dark brown eyes are as warm as the molten chunks in an oven-fresh pain au chocolate, and his voice washes over you like crème anglaise. He giggles and fizzes like his beloved Krug, oozing charm and bonhomie. With his 'Allo 'Allo! accent, he calls me "my dear", and tells me I'm "so well informed", merely because I mention his Michelin stars. He might be 74, but this reformed womaniser is still a shameless flirt.
Roux is the archetypal French chef who, along with brother Michel, revolutionised British cooking in the 1960s. He has three Michelin stars, an OBE, books, TV appearances and a string of world-class restaurants enjoyed by the likes of Tony Blair and David Cameron. His kitchens have trained a second generation of Michelin star winners, Gordon Ramsay, Martin Wishart, Andrew Fairlie, to name just the Scots. A year after his first Scottish restaurant opened in Inverness, he is on the verge of opening another two, at Greywalls in East Lothian and Inver Lodge Hotel in Sutherland.
Albert Roux and son Michel Roux Jnr (centre), with granddaughter Emily, in 2016. The dynasty opened fine dining restaurants in Scotland at Inverlochy Castle near Fort William, Greywalls, East Lothian, Crossbasket Castle in Blantyre, Cromlix in Perthshire and Rocpool Reserve Hotel in Inverness, and formerly Inver Lodge Hotel in Sutherland. Inver Lodge Hotel in Sutherland was relaunched as an independent hotel in 2019 with a more informal restaurant replacing Chez Roux.].
Yet the young Albert Roux had no intention of being a chef. He was desperate to leave school, where he excelled in pranks such as gluing the teacher to her chair. "I was very naughty. I can be very mischievous," he says. Never mind that his father was a pork butcher, Albert was going to make his life in the church. "My first wish was to be a priest. I was very much taken by the church from the age of six and went to mass every day, four times on Sunday. I was an altar boy, served mass and was learning Latin. But at the age of 13, unfortunately something happened to me that put me off the church. I had an encounter with a priest which was not right."
Was it a sexual one? "Yes. I didn't even talk to my family because I was ashamed. I thought it was my fault. After it happened I didn't go back to church. But I have reconciled myself with it and did not suffer from it, like some other people do," he says.
Roux didn't tell his mother or anyone else in the church what had happened and the priest never acknowledged what he had done or apologised. Roux was done with the church. "I kept very silent and it's only for the last ten years that I'm able to talk about it. But I was not traumatised, I overcame it. It's not shocking, it's reality and it does happen. It still happens, unfortunately."
Growing up in Wartime France
This was not the only traumatic event in the young Roux's life. Born in 1935, in Charolles, France, he has strong memories of the Second World War and its effect on his small home town. After the Germans left, those who had collaborated were subjected to summary justice, and the young Roux witnessed this settling of scores at first hand.
"I saw the revenge of French to French, in my little town. There was the father of a school friend. He was shot. With a summary tribunal in the afternoon. You know, they were in the pocket of the German army, spying on their neighbours, giving information, trafficking with the army. People had died because of them so... but that was a terrible moment for France and it happened all over. At school we used to take the mickey out of the children of these people... children can be very nasty towards each other... so not only did they suffer after losing their dad, but they suffered by being pushed about."
Now, he has a very different perspective of events in retrospect. "It was a terrible moment. Nobody should be... a tribunal should not last one hour and then round a wall and bang! No, no, no." He sighs. "It was... well, that was the aftermath of war."
With a life in the church now out of the question, Roux turned to his second love, cooking, and began an apprenticeship as a pastry chef in Paris. "I didn't like it. It's fiddly and there's no money in it. You stand for ten hours decorating a cake and you can never charge the right amount of money for the time you spend. Patience is not one of my virtues."
Nurturing talent from Fairlie to Wishart and Ramsay
Clearly teaching is, however. Roux has nurtured a number of young chefs, and his praise for them is as rich as one of his sauces. "Gordon Ramsay is a very dear friend of mine. He was not only an employee but over the years we have become very close and I like him immensely. A man of great talent. Andrew Fairlie is the top guy in Scotland with two stars, and Wishart cooks beautifully and is well worth the second star. And then you've got Chardon d'Or in Glasgow [Brian Maule was head chef at Le Gavroche in London before Roux backed his Glasgow restaurant]. We put money in there. So, yes, I've got a big family in Scotland."
Leaving Paris and pâtisserie behind, at 18 Roux came to England to work as commis de cuisine for Nancy Astor, the country's first sitting female MP.
"She was a formidable woman. Oh my God. A suffragette. Formidable."
Was he frightened of her? "No, no," he says, sounding unsure, "but you could see when she walked and talked you had something special."
Was she the sort of woman he likes? "Yes - now I have met you," he chuckles. "I don't like soppy women. I like women with character. Strong."
Clearly, because his second wife, Cheryl, refused to entertain his advances until he dispensed of his harem. He was 70 when they met at a dinner in Mayfair. Roux was divorced from his childhood sweetheart Monique, the mother of his children Michel and Danielle, and involved with seven women, two of whom thought they lived with him (at the mention of this he laughs with delight). Cheryl refused to countenance a relationship until he got rid of them all.
"Yes. Shall we say I like women. And a day without a woman is to me a very bad day. I have always been a bit... well, not a bit… I have always been a womaniser. I've been a good boy - for the last couple of days. No, I didn't say that! Since I married three years ago I've been a good boy. I've settled down."
So what was different about Cheryl? "Well, I love fishing and when I catch a fish I look at it and put it back into the water. But rarely, I say, 'Oh no, I'm taking that home to have for my dinner.' When I first met Cheryl, I thought, 'I mustn't let her go'."
[Divorced from Cheryl in 2016, he married Maria Rodrigues in 2018].
In 1967, Roux started Le Gavroche with Michel, winning a Michelin star in 1974. By 1987 they had three, the first British restaurant to receive the ultimate foodie honour.
Following the success of his Rocpool restaurant in Inverness, which has garnered rave reviews, Roux is opening a further two restaurants in Scotland, Inver Lodge at Lochinver and Greywalls in East Lothian.
[He went on to run restaurants with son Michel Roux Jnr at Inverlochy Castle near Fort William, Greywalls, East Lothian, Crossbasket Castle in Blantyre, Cromlix in Perthshire and Rocpool Reserve Hotel in Inverness. Inver Lodge Hotel in Sutherland was relaunched as an independent hotel in 2019 with a more informal restaurant replacing Chez Roux.].
"I think Scotland embraces me like a lost son and I'm extremely grateful for that. To me, Scotland has always been about nature. If the opportunity arises I would like to open another one or two restaurants, but not in big towns. Greywalls, half an hour from Edinburgh, is paradise, it's magic."
For all of his Michelin stars and honours, Roux is very modest and thinks it's a mistake to cook towards the awards. "I never cooked for Michelin. You must always cook for the customer, not for a star. And if you want to go on television go to Rada, but don't go if you want to cook," he says.
He puts his restaurants' success down to his ability to supply something that was missing in British cooking. "Simple food. The food I like to cook is what my mum used to cook at home. Fantastic stew, braised veal hearts, the cheeks of beef, giblet of chicken with rice, big pancakes, a little salad of dandelions we used to collect in the fields, served with hot lard and a poached egg. That was magnificent. We had simple food. We ate what the German army did not. A lot of Jerusalem artichokes, suet, parsnips, turnips."
Indeed, when Roux opened Rocpool, the first of his Scottish restaurants last year, his aim was to recreate the local restaurants in his childhood village. But isn't there a contradiction between Michelin-starred food and simple French cooking like maman used to make? "No, there's no difference. In France there are hundreds and hundreds of places who cook that kind of food who have a Michelin star. We've got 675 one-star Michelins in France. If you get a star, it's not big news. What I would love to get is a Bib Gourmand, which denotes country cooking at a very good price. That would please me no end," he says.
Roux will oversee the menus at his new restaurants but will he be putting on his whites at Greywalls and Kinloch Lodge?
"If there is a panic. I still cook a bit, but it would be a fallacy to tell you that I will cook every time I visit. I'm not a youngster, I'm more of a mentor. The people who are going to cook there are all my babies. They have graduated from our school."
And did he ever shout at his "babies"- Marco Pierre White, Marcus Wareing, Pierre Koffmann, Ramsay, Wishart and Fairlie? "Pardon me?" he says. Did you shout at them? "Pardon me?" Did you shout at them? I shout. "Hee, hee," he chuckles with glee. It's clear that Albert Roux is still very mischievous indeed.
Inver Lodge Hotel, Lochinver, Sutherland, Greywalls, Muirfield, Gullane, East Lothian.
ALBERT ROUX'S STELLAR CAREER
- Born in 1935 in Charolles, France. Albert and his brother Michel were brought up by their mother when his father left.
- 1967, he and Michel opened Le Gavroche, Britain's first Michelin-starred restaurant, in London. In 1982, it became the first restaurant in Britain to win three Michelin stars.
- Le Gavroche is now run by his son, Michel Jun, who has two Michelin stars.
- Roux was awarded an OBE in 2002.
- Divorced from first wife Monique, he married Cheryl in 2007. [Divorced from Cheryl in 2016, he married Maria Rodrigues in 2018].
- Roux had two brasseries, plus Le Gavroche, a restaurant in Heathrow's Terminal Five, one in Texas and now three in Scotland - Rocpool in Inverness, Inver Lodge at Lochinver and Greywalls, East Lothian.
A message from the Editor:
Thank you for reading this article. We're more reliant on your support than ever as the shift in consumer habits brought about by coronavirus impacts our advertisers.
If you haven't already, please consider supporting our trusted, fact-checked journalism by taking out a digital subscription.