What will travel look like when we're able to go on holiday again? - Scotland on Sunday travel
From greener destinations to city breaks not too far from home, here's a look at the most likely trends.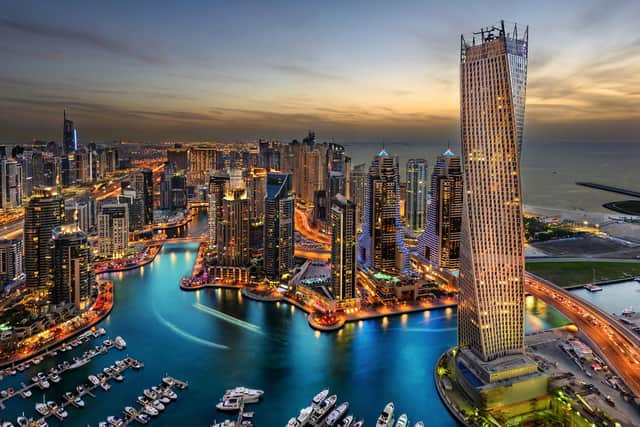 Dubai Marina, one of the attractions that makes the Middle East travel hub a destination in its own right.
Although few people managed to pack their suitcases this year, as ongoing restrictions and border closures caused havoc, one day – hopefully in 2021 – holidays will be possible again.
Online travel platform HolidayPirates (holidaypirates.com) has predicted tourism recovery, when it comes, will be led by domestic and short or mid haul as safe corridors open up. Incentives and deals promoted by destinations, hospitality operators and travel partners will also influence the places people choose to book.
Phil Salcedo, head of market at HolidayPirates, says: "We believe it will take longer for long-haul travel to recover, as passenger budgets and Covid-19 concerns make familiar destinations more attractive, whether that be at home or in Europe. Long-haul travel will still increase but the recovery to 2019 levels will be a longer one."
A toucan in Costa Rica. As travellers become more eco conscious, destinations with reputable sustainability credentials are set to grow in popularity.
In 2020 top destinations departing from Edinburgh and Glasgow saw Dublin in top spot, followed in order of popularity by by London, Malaga, Budapest and Tenerife, then Alicante, Krakow, Barcelona, Rome and Faro according to eDreams ODIGEO - Europe's largest online travel company. Nations flying to Edinburgh and Glasgow airports from continental Europe during 2020 were led by visitors from France, Germany and the UK, followed by Spain, Ireland and Denmark, followed by Italy, Austria, Portugal and the Netherlands.
Here's what we can expect for when travel opens up again…
A quirky interest in nature
The pandemic has awoken a desire to be playful and appreciate nature, reflected in a surge of interest in hotels with hot tubs, lodges with treehouses and pet-friendly properties. Whether to fill Instagram feeds or satisfy a desire to relive childhood dreams, quirky mini breaks will appeal to all generations.
The Maldives for paradise white sandy beaches and unparalleled marine life.
Cities will be looking to lure wary tourists back when restrictions lift and confidence returns, and hotels are likely to be offering some fantastic deals. Urban centres such as Edinburgh and London will appeal to visitors desperate for culture and entertainment, while a lack of crowds will pull people overseas to popular spots such as Venice and Amsterdam. With travel restrictions still hard to predict, staycations will be popular and hotels due to open or re-open in Scotland will be popular.
In the capital Gleneagles is due to reach out from its Perthshire country estate base and open its Edinburgh city attraction in the autumn. The townhouse, located in the 200-year-old former Bank of Scotland building in St Andrew Square, is currently being renovated and will see 33 bedrooms, an all-day restaurant and two bars – with city skyline views from a rooftop terrace. A members' club will also be open to local residents, with access to exclusive private spaces and on-site gym and wellness facilities. Visit gleneaglestownhouse.com.
Meanwhile in Glasgow, IHG Hotels & Resorts is to open new hotels under the Voco boutique brand it launches early in the new year in Scotland.Voco Grand Central, Glasgow, next to the city's historic train Central Station is located in one of the city's most prestigious buildings. One of Glasgow's Victorian gems, built in 1883, the exterior will contain a hotel filled with glamour, nods to nostalgia and contemporary charm. A centrepiece marble-clad Champagne Central bar will be open all day for sharing menus and afternoon tea served with glasses of fizz or artisan cocktails, while Tempus Restaurant will highlight the pick of Scottish cuisine. For more memorable occasions there will be The Grand Ballroom and 10 meeting rooms for business events.Not to be outdone by its sister city, Voco Edinburgh brings the brand to Haymarket, with a restaurant, 24-hour business centre, fitness centre and bedrooms. The brands eco-commitments include bedding made from 100% recycled materials, amenities in large size dispenser bottles and aerated showerheads to reduce water usage. https://www.vocohotels.com/
A back street in Venice, away from the crowds. Travellers are expected to revisit old haunts.
Greece and Cyprus have maintained a presence in the market through 2020, attracting summer visitors across the islands, despite dipping in and out of the travel corridors list. When travel is widely possible again, consumers are likely to feel more confident about booking both countries in advance, making them a popular choice.
A love affair with the Med
Italy and Spain will rebound when it becomes safe to travel, driven, in part, by repeat visitors who love the countries and want to return to their favourite cities and beach resorts.
The Gleneagles Townhouse in Edinburgh's St Andrew Square, due to open in autumn 2021.
Egypt, Malta and Croatia will also benefit from Brits returning to familiar places where they feel comfortable, particularly in destination resort 'bubbles' offered by trusted global brands.
A long haul work in progress
To make working life easier, Dubai, the Maldives and some Caribbean countries are offering long-stay deals and less restrictive working visas to encourage digital nomads to pack their laptops and work from a new part of the world when it's allowed.
With working from home looking to be a long-term or permanent change in many companies' working policies, the prediction is for more extended trips in future. Hotels are offering a range of deals including onsite IT support and personal trainers, while private homes and villas give space, privacy and minimum interaction.
As travellers become more eco conscious, destinations with reputable sustainability credentials are set to grow in popularity. Website Culture Trip (theculturetrip.com) has seen interest in Costa Rica grow more than 60% in the past six months. Celebrated as a leader in environmental policy, the small Central American country has pledged to become carbon-neutral and plastic-free by 2021.
Yachts moored off a island in Croatia.
Closer to home in Europe, Slovenia is flying a green flag. Declared the first Green Country by international organisation Green Destinations, it's packed with natural wonders, including dramatic mountains and pristine beaches. Capital city Ljubljana is also one of Europe's greenest urban areas. Voted European Green Capital of 2016 by the European Commission, it has replaced a city centre once packed with cars and car parks with spaces designed for cyclists and pedestrians and the construction or renovation of nine bridges across the Ljubljanica River has opened it up once more to zones full of coffee shops and walkways.