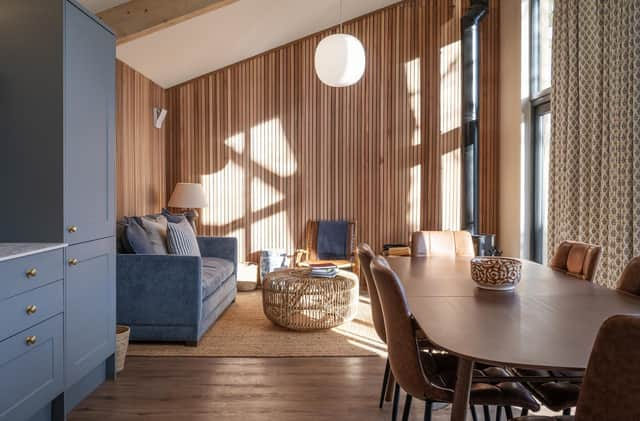 Treecreepers are quirky little birds.
They don't have a reverse gear. Instead, they start at the bottom of the trunk, and wind their way up, like a backward helter-skelter, then fly to the ground and start all over again.
The bugs, trying to go about their business on the bark, don't get much respite.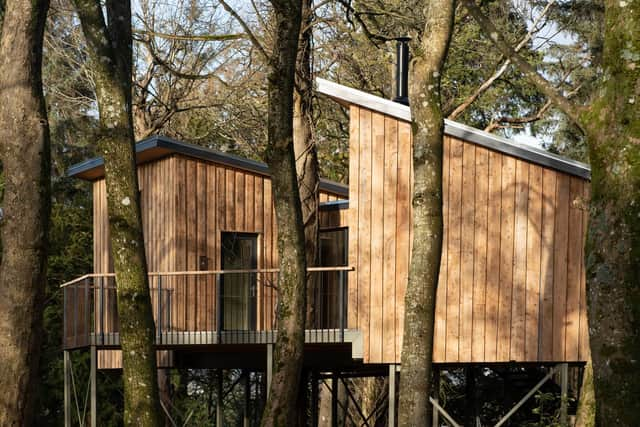 We had the best Bill-Oddie-standard twitching seats to watch their activity, on a recent stay at the new destination, Treehouses by Leckie, which are in Gargunnock near Stirlingshire.
This holiday location is owned by Simon and Louisa Dickson, who already look after Treehouses by Lanrick, around 20 minutes drive away from their second project.
When creating the luxury self-catering accommodation, the couple combined their experience, with Louisa having worked for an African tour operator for seven years, and Simon in design and building in London.
We stayed at the original location a while ago, and often get misty-eyed about our trip.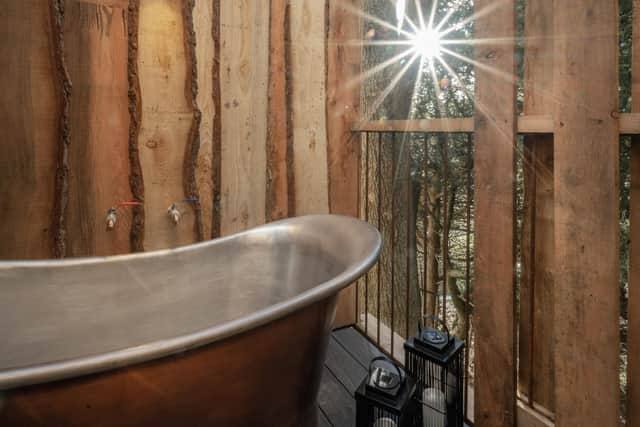 Now we get to try the newest spot.
This set of four - two one-bedroom versions, and a pair of two-bedroom options - are more spacious than the originals. There's Chiffchaff, Goldfinch and Wren, all of which are up on stilts and made from wood that's been claimed from the estate.
Despite the regular treecreeper appearance on the 300-year-old oak that this structure wraps around, ours is named after the siskin and has one king-sized boudoir and another that features bunks.
That's as well as a chic bathroom, with a walk-in rain shower, and, on the other side of the residence, a large living/dining/kitchen area. In this open plan space, there is no TV hanging on the wall or WiFi, though we've dodged the digital detox since we've brought a laptop and there is decent 4G.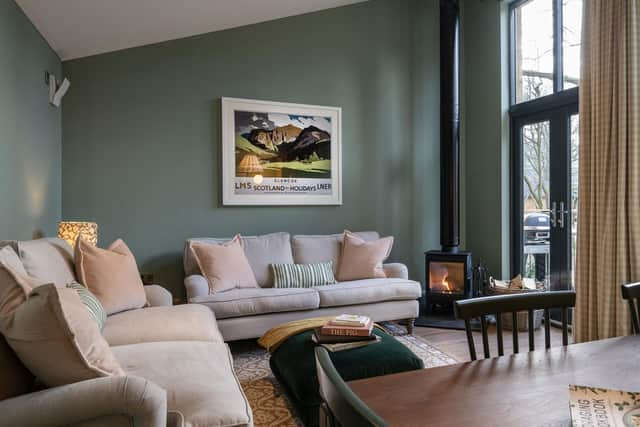 Others may prefer to take a book, to read in front of the wood-burning stove. I take my usual intellectual tome, and quickly collapse into a drooling state on the comfy sofa.
In common with the original treehouses, the new quartet boasts their signature outdoor copper roll top bath. We fill it up soon after arrival, and the sound of water echoes off the metal, with the tone of a steel drum. There's no chance of a peeping creeper, since there's a partition to divide our bathing balcony and the nearest lodge. I love a hot tub, but this is definitely more aesthetically pleasing.
All of the cabins have been individually designed and our decor is "classic contemporary", which translates as a tasteful country cottage vibe in cream, bare wood and blue. It's subtle and doesn't distract from the view across the pond and the fields, to the woodland beyond, where Simon's brother has installed barn owl boxes - essentially, mini treehouses for our feathered pals.
This vista is sure to evolve with the seasons, as they continue to regenerate and diversify the surrounding land.
The Dicksons give us the keys to the other non-occupied tree houses, so we can compare.
Chiffchaff is more rustic and Americana-ish, with brass lights and branches in the living room and kitchen doors made of reclaimed planks. Goldfinch is all sage green, checked curtains and needlepoint cushions. We can't peep into the Scandi-style Wren as there's a family in there. However, this is the biggest as it sleeps up to six people, thanks to the sofa bed, and we spot the resident kids having fun on its long walkway.
Our outdoor space consists of a large square balcony, where there's an excellent electric barbecue and seating for four.
The layout means that my husband can hang out there for his morning tea and croissant, and I can spy on him from the comfort of my bed. At night, we both go out to listen for owls. There's the twit, then the twoo. There's also some rustling in the bushes below, and splashing coming from the pond. Those ducks shouldn't be up so late. We'll have a word with them in the morning.
For more potential wildlife sightings, you can walk up towards the Gargunnock Hills.
We attempt the hour-long trek to Kippen, as we want to try The Cross Keys, though we decide to return to base when it starts to drizzle. The Gargunnock Inn is an alternative, since it's just 15 minutes walk away, or it's a short drive to the excellent Nick's at Port of Menteith.
Anyway, like a treecreeper, once this adventure is over, I immediately want to rewind and repeat.