Review: The Madrid EDITION hotel - modern elegance and a rooftop pool are insta-tastic
Splash out in contemporary designer style in the Spanish capital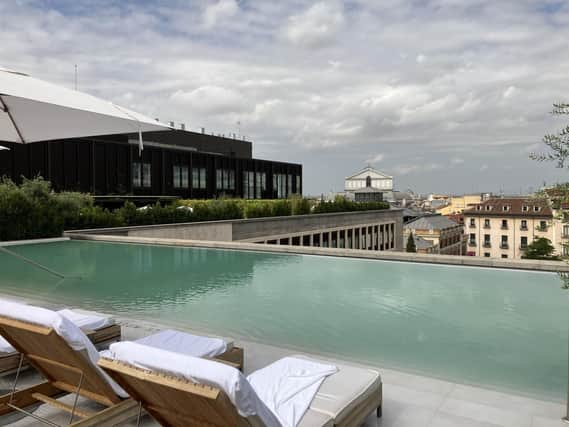 Step up a side street away from the heat and hubbub of the Puerta de Sol area in the heart of Madrid into the Madrid EDITION hotel, catch a lift to the top floor and you emerge into an open air oasis, where sunbathers lounge around the city's biggest rooftop pool and the fronds of foliage sway gently in the breeze as you gaze down on the red tiles roofs of the historic buildings all around.
As well as the outdoor rooftop pool and terrace, EDITION has five unique food and beverage outlets including a signature restaurant, cocktail bar and Pool Barn, and there is a state-of-the-art gym and spa. Like its sister EDITION hotels from the Marriot group, the Madrid iteration is all about luxurious, contemporary one-off style, appreciated by a fashionable, young and well-heeled demographic. Everywhere you look is an Insta image, from the huge white curved staircase that leads up to reception to the imaginative coloured lighting that complements the curves of a ceiling or the designer conversations pieces placed in the public spaces. Think pops of hot pink and magenta, white moulded plastic, leafy foliage, a pool table sculpted from a single slab of white Bianco Neve matt marble, hand-crafted copper bar tops, pony hair armchairs and marble floors. It's a destination for those who appreciate appearances, an influencers' dream.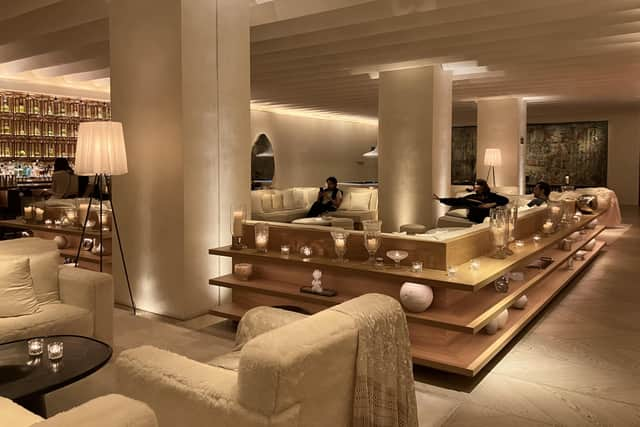 With rooms starting at 500 Euros it's boutique five star all the way.
Our spacious room, one of 200, guest rooms and suites, some with terraces, is like a scene from Frozen, where furniture and fittings are all white with subtle touches of vanilla, and beds draped in shaggy rugs have huge scene stealing zig-zag headboards.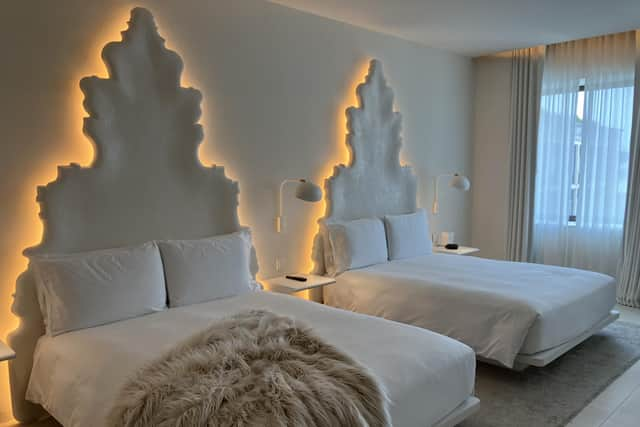 With five unique food and beverage outlets including a signature restaurant, cocktail bar, Pool Bar and rooftop terrace to choose from, we ate in the carved dark oak wood panelled Jerónimo restaurant. There the cuisine from chefs Enrique Olvera, Santiago Pérez and their team takes its lead from Mexico's ancient culinary roots and is a world away from cliched Mexican chain offerings. A series of plates surprised and delighted, zinging with freshness, from ceviche to green and brown mole and were so beautifully presented it was hard to know whether to gaze at them, the dazzling plaster pendant lights inspired by celestial planets, or the fashionable clientele.
If you can't drag yourself away from the rooftop pool and its cabanas it's a short slide across the terrace to Oroya, the restaurant helmed by Peruvian Chef Diego Muñoz for tapas and sharing plates in the funkiest greenhouse you've ever seen, a blackened steel cage filled with climbing plants and bold glass panels that throw shapes across the room.
Worth Getting out of Bed For
If you visit in summer, soak up the sun on the roof or if the weather takes a turn for the worse, it's a short walk to the impressive grandeur of Plaza Mayor where you can treat yourself to a classic hat from the historic Casa Yustas, whose interior dates from 1886. Don't miss the Museo Nacional del Prado and its collection of masterpieces including work from Velasquez and Gota, and the fascinating On The Reverse (until 3 March) exhibition, which explores the back side of canvases, including works from Van Gogh and Rembrandt. The Retiro is always worth a visit to stroll among the shade of the mature trees in the park that belonged to the Spanish monarchy until 1868 when they gifted it to the public.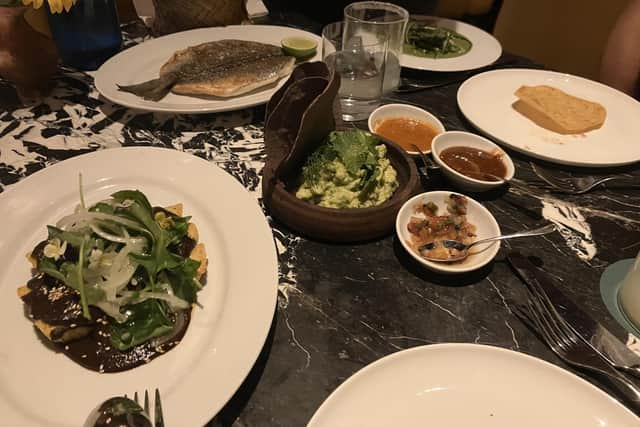 A stylish place to stay that is all about modern elegance and will put your Insta feed up there with the top influencers.
Prices: Rooms start from 500 Euros (£436).
Address Madrid EDITION, Plaza de Celenque 2, 28013 Madrid, Spain, +34 91 9545 420, www.editionhotels.com