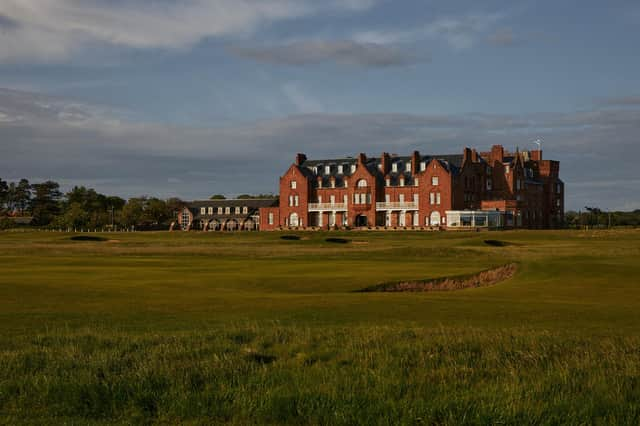 Located on the Ayrshire coast overlooking the Isle of Arran, this property has been open for about a year in its current identity as part of the expanding Marine & Lawn Hotels & Resorts network, which also includes fellow key Scottish golfing destinations Rusacks St Andrews and Marine North Berwick.
Formerly known as The Marine Hotel, Marine Troon has undergone a major revamp by its owners who have put their stamp on it by decorating it with a tradition-underpinned, modern edge.
In advance of my stay I am looking forward to some getting-away-from-the-city chilling out, particularly the promising-sounding pool and food and drink offering.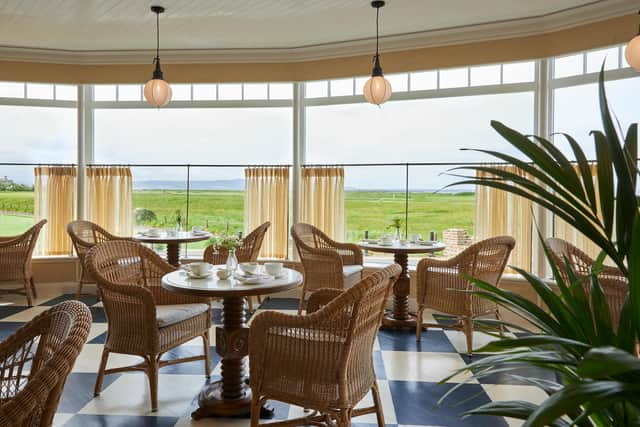 Golf fans will be pleased to hear that the property is right by the 1st and 18th fairways of Royal Troon's Old Course, which has played host to nine Open Championships, and is set to host the tournament again in 2024. The hotel is also within easy reach of other landmark courses including Royal Troon, Prestwick, and Turnberry, and is just four miles from Prestwick Airport, making it a handy location for a stopover before or after a flight
After travelling to Troon by train we make the last leg of the journey to the property via a quick, cheap and friendly taxi ride, and enter the wood-panelled reception area of the vast property.
Our twin room mirrors other Marine properties using colours inspired by their seaside and golf fairway locations, in this case the shower tiled in deep green, and wallpaper in cream and sky blue. The latter shouldn't go with the ornately patterned multicoloured carpet in deep-sea navy, but somehow it works. The space also has a bright blue chair and wooden cabinet that's home to the TV and minibar, while each of the 89 rooms boast a bespoke sketch of Arthur Havers, who won the Claret Jug in 1923 at Royal Troon.
We have a drink in The Seal bar, which on reflection is my favourite space in the hotel, including more of the cream and blue wallpaper, with accompaniments including plates mounted on the wall and fancily upholstered sofas making for a kitsch-but-elegant vibe. We then cross the reception area into The Rabbit restaurant, where I enjoy tender white fish with multi-layered pommes Anna, while the menu highlights other locally-sourced ingredients such as Isle of Mull Cheddar, which uses milk from cows fed on grassland whisky grains from the nearby Tobermory Distillery. I finish with a delicious cube of sticky toffee pudding as large as the Isle of Arran.
Worth getting out of bed for
Troon itself doesn't come across during our visit as quite on a par with the retail/cafe offerings of North Berwick or St Andrews, so I am happy to make use of the hotel's leisure facilities. In fact, I also don't usually visit a hotel pool twice in a one-night stay, but I'm happy to make an exception in this case, given how much I enjoy my calm dip, with its excellent coastal view, and trip to the sauna and steam room, pretending I haven't noticed the gym as I walk past its equipment. I could even have been tempted to go for a dip in the sea, while on a related note the hotel is hosting a Foraged Seascape Art Workshop with Hygge Me & Wylde Thistle on Sunday June 4 entailing a walk on the beach to collect materials to make "beautiful art inspired by nature", and including lunch.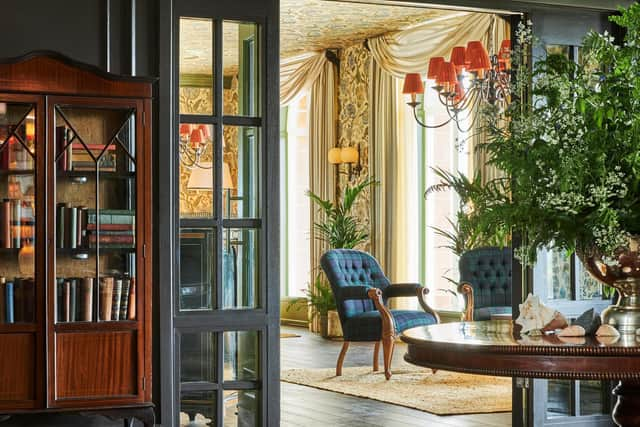 A definite boutique feel, including more ornate, custom-made wallpaper than you can shake a golf club at.
The bathroom is stocked with swish Floris toiletries, while the Tunnocks Teacakes accompanying the in-room tea and coffee facilities are a nice touch. Additionally, the hotel offers spa treatments, and has partnered with wellness brands including Ishga, whose products are made from Scottish seaweed and are used in the Ishga Body & Face Duo treatment.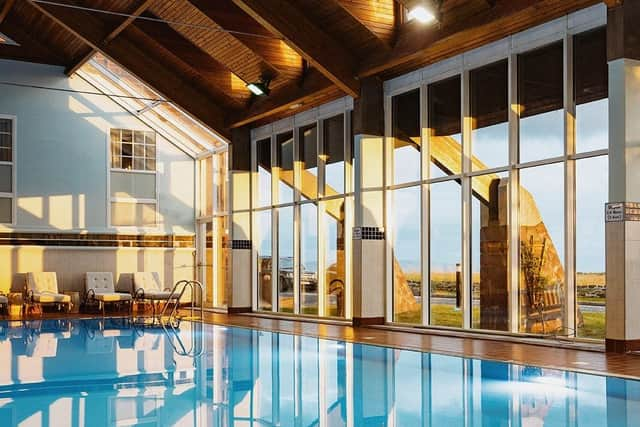 A seaside sanctuary suitable for those that favour golf clubs or health clubs - or both.
Rooms start at £159 per room per night including full Scottish breakfast and VAT. Marine Troon, 8 Crosbie Road, Troon, Ayrshire, KA10 6HE. Tel: 01292 314444. https://marineandlawn.com/marinetroon/