Review: Adare Manor, Co. Limerick, Ireland - Scotland on Sunday Travel
This historic home turned five star golf resort and spa attracts foodies, golfers and those who love to luxuriate in style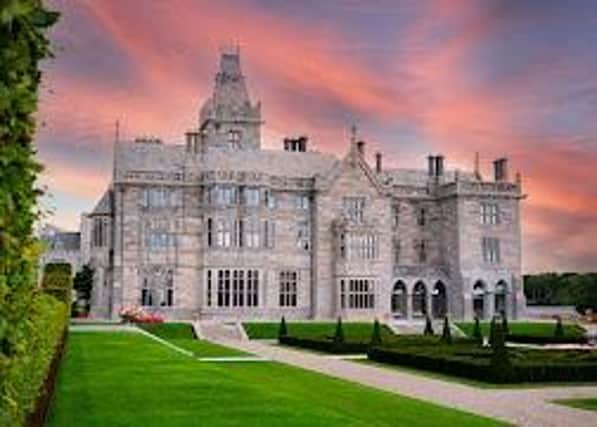 Something very curious happens during a stay at Adare Manor.
You roll up to the gatehouse, after a half hour drive from Shannon Airport, and are greeted by the gatekeeper - resplendent in top and tails, and armed with a heavy Irish wit. You're then driven through the grounds, past ancient trees, a crystalline river and the remains of the medieval Desmond Castle. You pass carefree couples on vintage bicycles rolling down the gentle slope. At the brow of the hill, the majesty of the early 19th century manor reaches out and surrounds you. The manor's staff greet you with an Irish hospitality that makes you feel welcome, without a hint of pretentiousness or formality.
You have to touch the neo-Gothic stonework to check it isn't a fairytale. In a clearing opposite the main square, a groundskeeper introduces a family to the manor's Golden Eagle, while jovial groups head off to try the golf course - soon to be the setting of the 2027 Ryder Cup.Inside, the concierge greets you in a grand hall of dark oak, where there is a roaring fireplace and oversized furniture. There are too many details to mention here: wood, stone, carvings, paintings, tapestries - they all produce a sense of awe without being overwhelming. The aristocratic surroundings aren't at all intimidating though - the Great Hall is somehow both regal and inviting. Families lounge on the furniture, reading, playing board games or relaxing.
Neither. Adare Manor is a restored manor house, now a five star hotel and golf resort set in 840 acres of parkland with a Michelin restaurant and championship golf course, and simply a cut above.
Room ServiceYou're led down manicured corridors to your room. It is luxury with a personal touch. Adare Manor is, of course, a five star hotel - anything and everything you could possibly want or need will be waiting for you in your room, tailored to the honoured guests.You lie back on the softest bed you've ever lay on, perusing the menu of the Michelin-starred Oak Room or the luxury Carriage House restaurant - both five minutes from your room - and it happens. There, just over the Irish Sea, in County Limerick, all your troubles melt away, and outside the walls of Adare Manor, the rest of the world melts away too - leaving you in a state of unbridled, luxurious bliss.Words like 'magical' and 'fairytale' are thrown around a lot in travel writing, including in several of the preceding paragraphs, but the staff at Adare Manor have tapped into an almost supernatural ability to put you at ease amongst a backdrop of luxury and palatial architecture usually reserved for fantasy novels.Within the grounds is the aforementioned Ryder Cup-quality golf course, a spa with a tranquillity pool in the midst of a dense wood, two Padel courts, a gym, bars and perfectly manicured gardens.Wining and Dining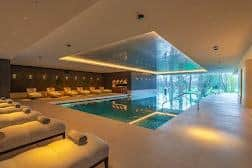 Food and drink hold a central role in life at Adare Manor. The Michelin Star acquired by head chef Michael Tweedie in 2016 draws foodies from across the globe, while the meals served in the Carriage House both impress and - crucially - leave you near comatose from the size and quality of the dishes. You will not want to turn down dessert.In the cellar of the old manor house, there is a stylish bar called the Tack Room. The level of detail given to each component of experience is most evident here. The cocktail menu, for example, is themed by the gargoyles that guard the rooftops of the manor's buildings.In both the bars and the restaurants, Irish produce is to the fore. Menus detail the farms the beef is from, while Irish whisky is given high reverence by the manor's passionate barkeepers.
Worth Getting Out of Bed For
You don't need to leave Adare Manor to enjoy a wealth of experiences including fishing, archery, gun dog trials, falconry, clay pigeon shooting as well as golf and padel, or you could just pad along to the spa and enjoy the swimming pool, relaxation room and a range of customised facial and body treatments featuring 111SPA/CLINIC and 111SKIN products. Further afield the hotel is perfectly placed to explore County Limerick, The Wild Atlantic Way, Cliffs of Moher, Dingle Peninsula, 15th-century Bunratty Castle and Folk Park, town of Killarney and nearby heritage village of Adare.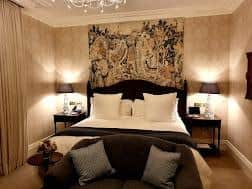 How many other hotels can arrange a 45-minute horse and carriage ride round the 840-acre grounds?
Five-star hotels can feel stuffy, formal and needlessly flashy, but not Adare Manor. Here there is warmth, laughter and a gentle heart, intertwined with a love of the heritage, history and beauty of the surrounding lands and people. If you live a fast-paced life, full of responsibility and stress, then I cannot recommend Adare Manor more seriously than to say - you can find a peace unlike any you've ever known in this magical place.
See website for current prices and offers.