One for the bucket list
​At the extraordinary Cora Cora Maldives,you have time to kick back and truly relax in luxury surroundings, finds Lisa Marks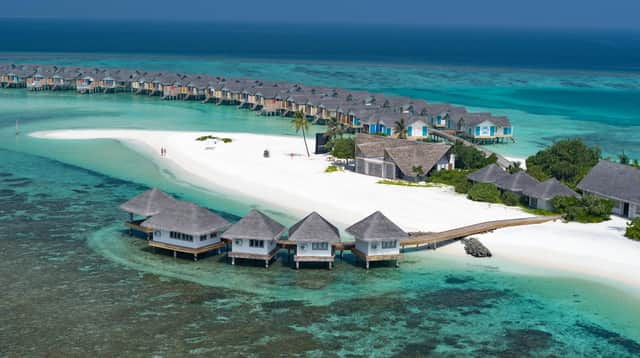 It doesn't matter how many times you blink, the beauty of the Maldives never diminishes. A holiday here truly comes under the category of 'bucket list brilliance', so it's vital not to waste a second.
Fortunately, at Cora Cora Maldives there are many opportunities to soak up all aspects of island life in any way you wish. Their motto is 'it's freedom time', meaning that you can do what you want, when you want and was devised as a refreshing antidote to the stifling lockdown years.
This five-star destination is only two years old, and with 170 other resorts competing for your attention in the region, the team has worked diligently, and creatively, to offer holiday-makers many unique experiences.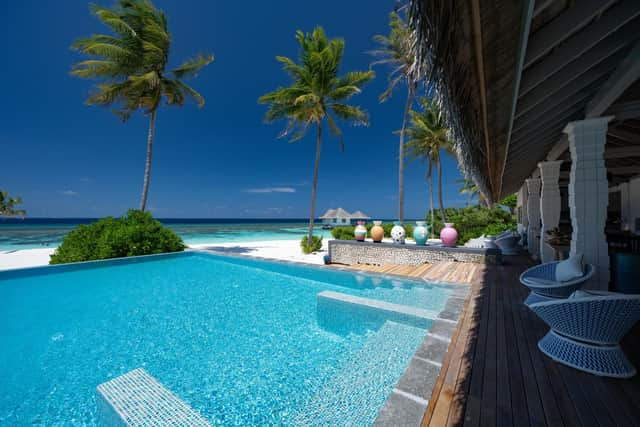 When you land at Malé, the capital of the Maldives, you're met by Cora Cora's trail-blazing all-female reception committee, who expertly shepherd you to the seaplane ahead of your 45 minute onward journey.
The port's comfortable lounge is your first chance to decompress after a mammoth journey, and maybe peel off a couple of layers as the whoosh of extreme warmth permeates your bones. I'd never been on a seaplane before but it was the smoothest of take-off and landings. The crew are all smiles, and during your stay you'll discover that nothing is too much trouble for the island's happy-go-lucky team.
Flying over the Indian Ocean is jaw-dropping; the atolls glisten like white-ringed droplets against the turquoise water. Then suddenly, after multiple plane journeys and a stopover in Doha, the island's welcoming party shower you with hellos, flower garlands and a refreshing hibiscus drink. Most guests, and staff, go shoeless. They gift you Cora Cora-embossed flip-flops to use at the hottest part of the day but other than that, don't bother to pack more than one pair of shoes.
My accommodation was an idyllic lagoon villa, accessed by a wooden walkway that stretched out enticingly over the ocean. There are 50 of these, some with private pools, and one with two bedrooms, a pool and an ocean slide. I was able to saunter onto my back deck and use the steps to drop into the cool ocean. The water is warm, clear and the fish are friendly. The bathroom is both inside and out; they have hammocks over the water so that you can nature-watch as you relax, and inside, the a/c can be set to blast if the temperatures become overwhelming. This eco-friendly resort also has 50 exquisitely decorated beach villas, some with private pools and outdoor showers.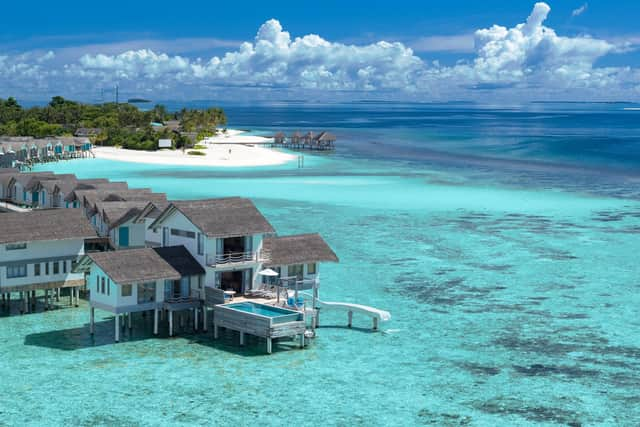 Food is always important when you're 'stranded' on a beautiful island and as this is an all-inclusive resort you never have to reach for money in the moment. They have four restaurants and a café, called MyCoffee, which is open from 6am until midnight. Shaded from the sun, you can pick up coffee, iced teas, pastries, and – my favourite - their seductive home-made ice creams.
Tazäa, an all-day restaurant, is where you'll find their extraordinary breakfast buffet, offering all the usual suspects such as omelettes, croissants, fruit etc, but they can also whip you up foods that reflect the location. One morning, I tried a freshly made dosa (a flat lentil and rice pancake) stuffed with curried potato, accompanied by spicy chutney, and it was delicious. Acquapazza, their poolside beach club, serves up tasty pizzas from their traditional pizza oven, which has been imported from Rome, as well as the most inventive cocktails and mocktails. On that note, much thought has been put into the island's mocktails, which means that anyone alcohol-free can sip something other than predictable fruity water.
The island's Japanese restaurant Teien is spectacular, offering the freshest sushi, kushiyaki and teppanyaki. The owner of Cora Cora is Japanese and often flies in to check on his sushi chefs but he needn't worry, they've got it handled. Asian-inspired Ginger Moon, is run by the resort's second all-female team; I was moonstruck by their insanely tasty Pad Thai, mango rice and star-strewn beachside view.
Additionally, your villa mini bar is topped up as many times as necessary at no extra cost, and you can also 'grab and go', meaning you can eat in private.
So what else can you do on this island that measures one square kilometre other than sit on your deck in awe? Well, the resort, which is the perfect setting for a wedding or honeymoon, also has a children's club, movie nights on the beach, and a spa called Moksha. Here, you can indulge in their extraordinary massages therapies and facials, as well as meditation and breathwork sessions. My sound healing therapy was held in an open cabana over the ocean and was heavenly. Later, during my deep tissue massage, lying face down on the table, I could see the fish darting about in the ocean through the glass floor. A genius idea. The Cora Cora app will remind you of any booked treatments or activities.
All of their therapies are followed by a glass of peppery cinnamon tea which is singularly reviving. There's also a full gym and yoga classes; Sisi, their charismatic yoga teacher, is also the resort's resident DJ (known as DJ Si'Noir), and offers lessons on the decks for all you budding Calvin Harris's.
Naturally, there are water-sports including snorkelling, diving, paddle-boarding and jet-skiing. Swimming along the reef and meeting the sea-life in person, including turtles, is one of those memories that imprints forever.
But it's not all sunscreen, sand crabs and pina coladas on the Raa Atoll. The island is home to the Dutch Onion museum, one of only two in the region. A Dutch Onion container was used by travellers between the 16th and 18th centuries to carry wine. Hannah, the island's amiable guide, will talk you through the museum's full collection of artefacts, including Chinese porcelain and bowls hewn from coconuts. Building the resort, they also discovered ancient sunken stone baths and a traditional Maldivian house.
Another unique activity is their Ghost Island Tsunami tour; a boat trip to a neighbouring island devastated by the 2004 tsunami. It's eerie to walk around empty buildings overgrown by vegetation and a stark reminder of how nature always has the last word. Slather yourself in mosquito repellent and wear a swimsuit so that you can plunge into the ocean afterwards.
Later, take a sunset cruise, snooze in a hammock, or splash around in the pool. Not for you? Then learn to paint, play guitar or ping pong. Do whatever you like, this is freedom time after all.
Museum guide Hannah, told me that centuries ago if someone turned up on the doorstep of a Maldivian family they were obliged to give them somewhere to sleep for three days. Weary travellers have always been welcome in this part of the world, and it seems on Cora Cora, they still are.
Simply Maldives offers a seven-night stay at Cora Cora Maldives in a Lagoon Villa with return economy class flights from Edinburgh Airport to Male with Qatar Airways and return seaplane transfers, from Male to Cora Cora Maldives, on an all-inclusive basis, starting from £3,150 per person based on two adults sharing. Contact Simply Maldives 020 7481 0804 or visit https://www.simplymaldivesholidays.co.uk/ or email [email protected]