Is it safe to fly? Advice on flying as all passengers on Tui flight from Zante to Cardiff told to self-isolate after Covid-19 outbreak
Health officials are now in the process of contacting all 193 people who took the Tui flight 6215 to Cardiff, with all passengers required to isolate for 14 days
Nearly 200 passengers onboard a flight to Wales from the Greek Island of Zante have been told to self-isolate due to coronavirus.
There are currently 16 cases of Covid-19 linked to people who took the Tui flight 6215 to Cardiff on 25 August, with Public Health Wales confirming that at least seven people were potentially infectious while on the flight.
So is it safe to be travelling abroad yet? Here's what you need to know on staying safe if you are making an essential journey.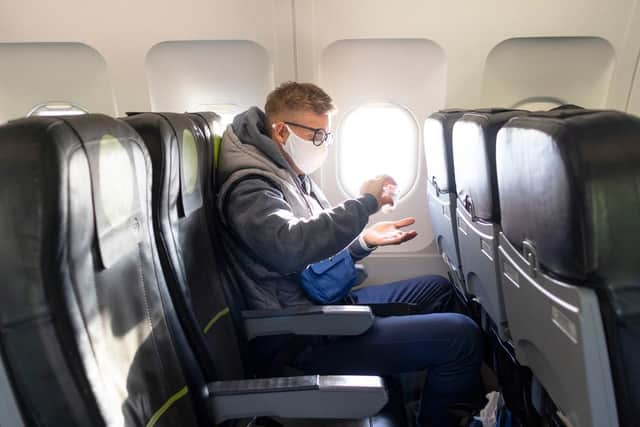 How did the outbreak occur?
Health officials are now in the process of contacting all 193 people who were on the Tui flight back to Cardiff. All passengers are being considered as close contacts and must self-isolate for 14 days.
Dr Giri Shankar, of Public Health Wales, said that an investigation into positive cases in Wales has indicated that a lack of social distancing between those aged 20 to 30 had "resulted in the spread of the virus to other groups of people".
Passenger Stephanie Whitfield was on board the Tui flight and described how fellow travellers were not wearing masks correctly and appeared to "disregard" social distancing rules.
Speaking to BBC Radio 4's Today programme, Ms Whitfield said: "Many passengers didn't seem to know how to wear the masks correctly or they seemed to just disregard the rules really.
"Lots of the people were wearing the masks underneath their noses, or even underneath their chins. They were taking the masks off to talk to friends and they were going up and down the aisles to talk to their friends without their masks on."
Commenting on the crew, Ms Whitfield said she noticed a crew member ask one passenger to put her mask on, but said the vast majority of people were not being spoken to.
She added: "The flight was full of selfish 'covidiots' and an inept crew who couldn't care less."
In response to the claims, Tui said in a statement: "Passengers are informed prior to travel and via PA announcements on the flight that they have to wear masks throughout and are not allowed to move around the cabin.
"Masks can only be removed when consuming food and drink. A full investigation is now under way as these concerns weren't reported during the flight or before today."
Speaking on Good Morning Britain, Dr Karan Rajan warned about the dangers of flying, explaining that planes are not 100 per cent risk free.
He said: "Planes have the same air filters we have in operating environments, so I spend my day operating and we have these HEPA filters, which are high efficiency particulate filters which provide a laminate flow.
"What that means is the air is constantly flowing from the ceilings to the ground and the air is cleansed and renewed every minute. It filters smaller particles, including respiratory droplets and virus particles as well.
"But as efficient as those can be, it doesn't eliminate the risk 100 per cent, the same way we can't eliminate the risk of germs in an operating theatre 100 per cent.
"It's important to bear in mind that although the environment in an airplane might be safer than your local restaurant or pub, you're still stuck in a steel box 1000 feet in the air with hundreds of people. You're safer at home."
Dr Karan went on to say that essential travel should be just that - essential. He said that trips abroad that are non-essential travel, such as flying out to Zante for a stag do, should be avoided to help minimise the risk of transmission
How can I stay safe on a flight?
New safety measures have been introduced both on planes and in airports to help minimise the risk of transmission among travellers.
Social distancing and use of face coverings for passengers and staff are among the new rules, with most airlines now requesting masks are worn at all times on board, except when eating or drinking. Some airlines, including Qatar Airways, also require passengers to wear a face shield as well as a mask.
Airlines have also been providing hand sanitiser to passengers, while aircrafts are thoroughly cleaned to help reduce the risk of germs.
Checking in for your flight ahead of arriving at the airport and printing off your boarding pass where possible are effective ways of limiting your contact with others while travelling, as well as limiting yourself to hand luggage.
On board the aircraft, the Department for Transport advises that passengers remain in their seats as much as possible, keeping toilet trips to a minimum, and to follow the guidance from the crew. Ryanair and easyJet have also introduced new policies to prevent queues for the toilet forming in the aisle.
There is likely to be a reduced food and drink service during the flight to minimise contact, but passengers who wish to purchase something should use contactless payment where possible.