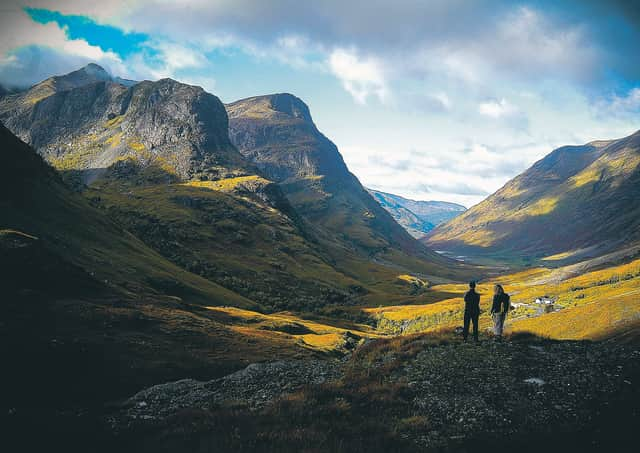 Glencoe 'my favourite place in the whole wide world'
I'm a tour guide – a tour guide for Rabbies and Here, There and Everywhere. Scotland is my office – my everyday field for roaming and my existential sense of place. Scotland, the most beautiful country in the known universe (I'm biased, I know) is where I live and breathe and I love it to bits.
As a tour guide I need people. People to chat with, to guide, to advise, educate, like and love and, yes, to perform and show off to as well. But there aren't any. Tourism is no more. I have a deep void, an ever-increasing hole in my life. But hey ho, be positive… if the tourists can't come to Scotland, then I will take Scotland to them.
I'd never ever thought of writing a book before. For most of my life I've been a graphic designer, an art director more interested in the visual side of life than the written word, and it was the visual side that drove me to writing. I had a sort of an epiphany, a light-bulb moment… an idea.
'The muckle, great lump tha is Ben Nevis'
Why not create a travel guide of each of my tours, with pictures, panoramas and captions of all the wonders that I introduce to my passengers everyday. Tell them what I tell them as we drive north and west; the history, the stories, the legends, the geography, the geology, the flora and fauna; the Highland divide, the clans, the kilt, the people, the whisky – the very essence and the beauty that is Scotland. It's not difficult to enthuse about this stunning country.
I had the pictures and the words but – how to bring the whole thing to life? Music… the music that I play on my tours to create memorable moments for my guests. "Punctuated noise" I call it, rather irreverently.
In addition to the words and pictures is a playlist of songs to be found free on Spotify – to play at the appropriate time in my tour.
So my concept took final shape. A travel guide not just for readers and viewers but for listeners too – and a guide that needs no travel – now you can tour Scotland from the comfort of your own home.
I started to write. One of my favourite tours is the Glencoe and Loch Ness Monster. Edinburgh to Stirling to Callander across the Highland Line, Loch Lubnaig, Glen Ogle, Strathfillan, Crianlarich, Bridge of Orchy, the panoramic desolation of Rannoch Moor and on to Glencoe, my favourite place in the world.
We stop for pies in Callander, Loch Lubnaig, for views at the Black Mount, and for coffees in Glencoe. We journey from east coast to west, from south northwards to the Highland lochs and glens. Dwarfed by Ben Nevis we mosey up the Great Glen sidling past Loch Lochy and Loch Oich to Fort Augustus on Loch Ness. And back (but that's another story). Lots to see, even more to tell and a dream of a tour… and on this virtual tour you don't need to bother about the weather.
It was one of my guests, a German lady, who encapsulated for me what is the quintessential attraction of Scotland. She was on her 10th – yes, 10th – visit to Scotland, and she explained what kept bringing her back, "The beauty," she said, "is a given, but the history – Scotland doesn't just have history, it has a lived-in and living history. A history that cradles you, wraps its arms around you, and makes you feel that you, as a visitor, are living it too." I thought that was kinda nice.
But there's a lot more to a tour than history and views. There's opinion, comment and curiosity. Well, I have an enquiring mind. For example, has anyone ever asked why Lochnagar, a mountain, is named after a loch? I have a theory. And why is Loch Lochy so named? I mean it's like calling a lake Lake Lakey or a river River Rivery, or a mountain Mount Mounty… or Ben Benny. I love the absurd.
Love words too, love their meanings. I may not be very good with them, I may get tongue-tied, I may spill them out in a stream of disjointed (un)consciousness but I love 'em.
And language, different languages have coloured our history over many centuries. From early Brittonic through Latin, Gaelic, French, English (interesting to discover that English doesn't come from England – Melvyn Bragg tells us in his excellent The Adventure Of English that it originated in Friesland in Holland), Norse, Scots, Lallans, Doric and more.
On a personal note, it was a friend of my grandfather, a Scot, Lord Reith, who had a lot to do with the demise of the Scots tongue in the 20th century. Reith was the first Director General of the BBC, and seemingly embarked on a policy that practised the "received pronunciation" of the Queen's English. Proper English? This was fed into the homes of Brits through BBC radio and television and pretty soon middle class Scots were queuing up to take elocution lessons to learn how to speak the "right" way. Sad, but true.
And so as we wander up to Loch Ness, I also wander around Scotland and Scottishness with facts, fiction and fun. I tell my guests on tour – all you have to do is look out of the window. And in this, my very first book, I have endeavoured to give you, the locked-down stay-at-home traveller, a window on the majesty of Scotland. Come and see it for real when the storm is over.