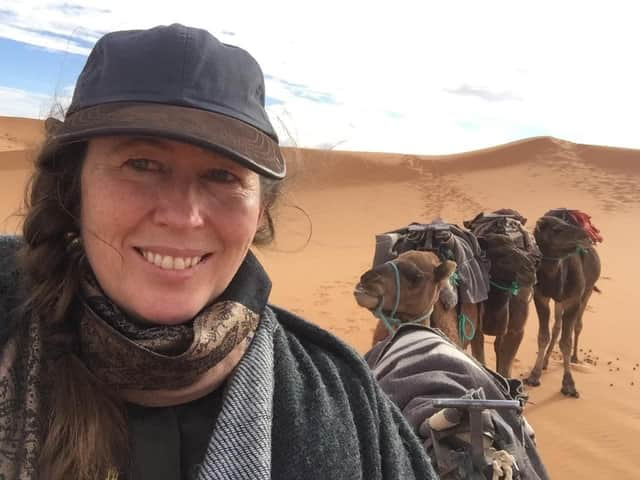 Camel trekking in the south near Merzouga, Morocco
It was in the Sahara that the 'Indiana Jones for girls' discovered the footprints of the ancient animals she had been hoping to find when she set out on this latest expedition.
Morrison has now trekked the length of Morocco, splitting her expeditions up into parts: first walking the length of the Draa River in 2019, followed by 1,000 miles across the Sahara and this time round, setting off in the time of Corona with all the extra precautions that entailed, to find dinosaur remains never unearthed by any other explorer. This latest adventure, across the Sahara from Oued Chbika to Guerguerat on the Mauritanian Border started in November 2019 and ended in February and saw her and her team facing sandstorms, water stress and camels on heat, but it was worth it to realise her dream of finding the dinosaur footprints. All the while Morrison was broadcasting podcasts and YouTube films, and this winter, she'll be turning it into a book.
"The highlights of this trip were finding the dinosaur footprints and, bizarrely, the story of Covid," she says.
Camel trekking across The Sahara.
"To attract sponsors it's good to have a goal and I knew I was going to dinosaur country so hoped to find some evidence of that. When we did, it was like touching history. I put my hand in the footprint of an animal that lived 100 million years ago and that feeling of being part of a world that's so much larger and longer and more fabulous than you are, I found that very meaningful. I was ecstatic. We all were. Brahim, Addi and Ali, my team, who had to listen to me for nine weeks talking about dinosaur footprints and mocked me with every chicken bone and toenail, had never seen dinosaur footprints either, so we were all on a high. They said now they know what to look they'd be finding them all the time."
Alice has also witnessed how the global pandemic has affected the nomads of the desert and Morocco in general.
"In Covid terms none of us are safe however if you look at the figures there is 10% of the death rate in Morocco compared to the UK. Because the health system is not geared up in the same way, Morocco locked down very quickly and severely. Also the population is much younger with an average of 19 years, and older people are cared for at home, plus there's plenty of sunshine for Vitamin D and fresh food grown almost next door. I'm not saying one is better than the other, it's just different. "
Now based in Morocco, Morrison was always destined to travel. Born in Edinburgh, she was only six weeks old when her parents moved to Uganda and she spent the first eight years of her life running around in the African Bush and roaming the foothills of the Mountains of the Moon before being sent back to Edinburgh for school and university, where she studied Arabic and Turkish. After that it was on the road again with spells in Dubai, Syria and Egypt where she explored from Damascus to Luxor, before a career in journalism at BBC News, online with www.supanet.com and heading up Vision+Media, a quango aimed at growing creative industries in Northwest England that was a victim of government cuts in 2011.
Alice Morrison, her team and camels reach the coast after their expedition across Morocco.
Getting on her bike she entered the Tour D'Afrique, cycling from Cairo to Cape Town - 12,500km through ten countries in 100 days, leading to her first book Dodging Elephants: Leaving the rat race for a bike race - 8000 miles across Africa.
Next was the Marathon Des Sables, the toughest footrace on earth, six marathons across the Sahara in six days and to give herself the best start she moved to Morocco to train in the sand and sun. That was in 2014 and she's still there.
"When I came to Morocco I fell in love with the whole country. It's the warmth of the people, I'm learning something new every day and it's the most beautiful place. You have the high Atlas mountains with tiny Berber villages and walnut groves, white sandy beaches at the coast and the desert which is extraordinary and has a savage beauty."
Now 57, she lives near Imlil in her own house with Squeaky the rescue cat, in an Amazigh Berber family compound of 25 people. When she's not trekking she's writing about her adventures, such as her first trip Atlas to Atlantic Trek from the highest point in North Africa, Mount Toubkal to Agadir on the Atlantic coast. Next came Morocco to Timbuktu: An Arabian Adventure, the book and BBC2 documentary series, and her third book, Adventures in Morocco, the story of her life there, "sometimes hard, sometimes hilarious and always interesting".
Arriving in Cape Town, after cycling across Africa from Cairo.
Living in a village where society is structured differently to the more nuclear-family norm of the UK is fascinating for Morrison, who is also learning the Berber language. "It's fun and I get to hang out with the women but am treated as an honorary man," she says. "It's a small, sustainable rural community, but Morocco depends on tourism and Covid has been a disaster and is causing hardship. The people are resilient and biding their time, waiting for tourism to bounce back."
Despite Covid, Morrison was given permission to undertake this last trip expedition after organiser, JP Jean-Pierre Datcharry of Dar Daif, spent hours in government offices explaining their safety precautions.
"We were always worried we would be stopped because for the government it's a pain to have some European woman and her team striding out across the country, out in the wilderness doing goodness knows what. I was very lucky. Just being out and being under the sky and sleeping every night in my tent and getting up every day and starting out across good earth was amazing. But it wasn't easy, it was 40 degree plus heat and too hot even for the camels, and we ended high up in the snow."
Sitting looking at the view of mountains from her terrace as she looks ahead to writing the book of her trip Morrison is content.
At times temperatures in the high 40s were too hot for even the camels.
"For a lot of my career I went to the office, wore a suit and expected a life like that. Then I was made redundant which is grim but I thought, right, bike race across Africa. I spent my redundancy on it.
"Yes, I was scared of failure and if I'd had a husband and children I wouldn't have done it because you would never take that financial risk. Was it a sensible thing to do? No, but I had always striven for freedom, and I did it."
Alice Morrisons Atlas Expedition is sponsored by Craghoppers and NTT DATA UK Inclusion and Diversity team and organised by Jean-Pierre Datcharry of Dar Daif.
For more of Alice's adventures visit her website www.alicemorrison.co.uk Podcast: Alice in Wanderland Instagram: @aliceoutthere1 Twitter: @aliceoutthere1 Facebook: Alice Hunter Morrison
A message from the Editor:
Thank you for reading this article. We're more reliant on your support than ever as the shift in consumer habits brought about by coronavirus impacts our advertisers.
Alice Morrison has lived in Morocco since 2014.
If you haven't already, please consider supporting our trusted, fact-checked journalism by taking out a digital subscription.
Alice is at home in the mountains from Morocco to the Scottish Highlands.
A nomad Girl from the Beni Guil tribe meets Farquhar the camel.