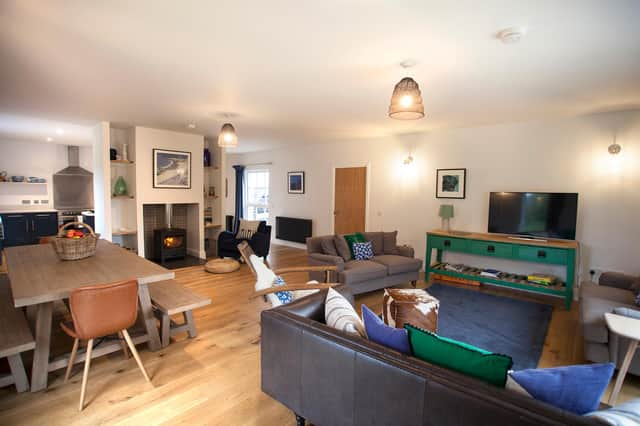 Nestled in the Highlands at Easter Ross, The Mill at the Fearn is a brand new multi-use holiday house, and a haven where holidaymakers will have Highland cattle and Hebridean sheep as near neighbours.
John and Fiona Scott run their thriving farm at Fearn, and repurposed the site of their old flour mill to create something magical. Unable to salvage any of the original building, they instead created a flexible and stylish modern building with sliding internal doors, creating two unique properties which can be opened up for a large party looking for a flexible holiday space.
John and Fiona, the fourth generation of the Scott family to farm on the site, tried to use as many local trades as possible and The Mill, which is based in the centre of the family farm, is testament to the skills and vision of a team of locals.
Fiona Scott said: "When we started this project, we knew the key was to cover as many bases as possible. The layout of The Mill means we can appeal to large shooting groups, cater for family reunions or simply provide a weekend getaway for couples."
One of the many attractions of the house is its ability to split in two, with double internal doors dividing the capacity to sleep ten in the 'Mill End' or four in the 'Wee End'.
"The 'Wee End' is ideal for a small family or couples, and is single story, with all bedrooms having private access to the outdoor patio. The 'Mill End' features a semi open plan kitchen and living area, with wood burning stoves in both ends."
The light and bright interior features a mix of old and new furniture, creating a Scottish Scandi style feel to the building.
"The Highlands has a renowned creative community and we wanted to incorporate local pottery and artwork throughout, to help maintain a Scottish feel. For example, Darach chairs which are made in Inverness from whisky barrels, not only look great but are really comfortable and sheep skins give them a luxurious feel" explained Fiona.
Situated just off the A9, the North Coast 500 tourist route is a key asset of The Mill's location. With only an hour and three quarters between Fearn Farm and the west and north coast, visitors can tour the scenic route over several days, using The Mill as their base.
"It really is an ideal location for people wanting to explore. There are gorgeous beaches on the east, west and north coast, and the beauty is that it doesn't take long to travel to a completely different area."
Fiona added: "Many tourists don't realise there is a huge expanse in the middle of the North Coast 500 route, which is often forgotten about, and it's stunning. There are so many hills to walk, rivers to fish in, and beautiful scenery to appreciate," said Fiona.
"With golf courses in the area, as well as sporting events held nearby, we decided to create a flexible layout that has the capacity to welcome large groups such as golfers and shooters or small families and couples. All the beds are zip locked, so can be turned into singles or super-kings, helping cater to everyone's needs."
Easter-Ross, not typically thought of as a tourist area, certainly offers no shortage of scenic day trips and is described by the Scott's as a 'hidden gem'.
"Before Covid-19, a ferry ran from Easter-Ross to Cromarty; an ancient merchant village, with quaint streets, little gift shops and bursting with historic features. If people took time to slow down around the North Coast 500, they would realise there are many beautiful, hidden spots to discover," said Fiona.
The ferry will hopefully be running again in 2021.
Fearn Farm is a family affair with John and Fiona's children, James, Izzy, Lexie and Archie all showing interest in different parts of the business. The farm, which is 600 hectares, compromises of 220 British Beef Shorthorn and Luing cows as well as 3600 breeding ewes. The family also have a small herd of Highland cattle and a flock of Hebridean sheep.
"The very first guests who stayed with us commented that they thoroughly enjoyed having the Highland cattle and Hebridean sheep in full view from their windows. We soon realised that visitors want to see what is going on around the farm and that this is a key reason for their visit," added Fiona.
The Scott's hope that this integrated approach of The Mill being co-existing with the farm, will prove successful with both the public and the agricultural industry.
"We have formed some great relationships with farming visitors, opening up new opportunities to collaborate and expand our Agritourism offering.
"For example, we are now supplying some of our Shorthorn beef to The Buffalo Farm's farm shop, located near Fife, after owner Steve Mitchell and his family came to stay at The Mill."
Fearn Farm has also been supplying its own meat boxes, to locals for some time now and in collaboration with Macbeth's Butchers, can now send these sought-after boxes to addresses across the country.
Like many agritourism businesses, Covid-19 has also impacted The Mill, resulting in closing its doors at times to meet restriction guidelines. Fiona notes that involvement with the Scottish Enterprise Agritourism Monitor Farm Programme and Go Rural Scotland as a great source of support.
"This year has been a real learning curve. As newcomers into the hospitality and catering industry, the help from these positive networks has been truly invaluable.
"From next spring or summer, I hope we can be fully up and running. The unknown is scary, but we need to make the best from a bad situation and we will continue to operate adhering to local guidelines.
"People do want to get away and I believe that this year has highlighted what hidden gems, such as Easter-Ross, has to offer."