Review: 'Catalan Coast and Mountains in Style' self-guided tour with Macs Adventure - Scotland on Sunday Travel
Introducing Catalonia, a region of Spain so breathtaking that some villages even reject 'most beautiful' honours because their tourist intake is already massive, and after my own visit all I can say is I'm not surprised.
Following the Beast from the East in winter and Scottish weather doing what it does best - dangling a five-minute sunshine patch in front of you like a carrot to a donkey, this Scot was ready for a warm holiday.
Imagine my delight then, when the award-winning Macs Adventure contacted me and offered the opportunity to experience one of their self-guided tours. Their long list included attractive options like the Scottish Highlands, the Americas, Europe and Japan, but I was drawn to the 'Catalan Coast and Mountains in Style' trip. Spanish is my second language, yet I've not explored Spain beyond the expected places like Madrid. Plus, knowing that Catalonia boasts a fascinating history and a minority language that shares a plight similar to Scottish Gaelic (another interest of mine), the region's heritage and natural beauty charmed me instantly.
Needless to say, Catalonia not only lived up to but exceeded my expectations.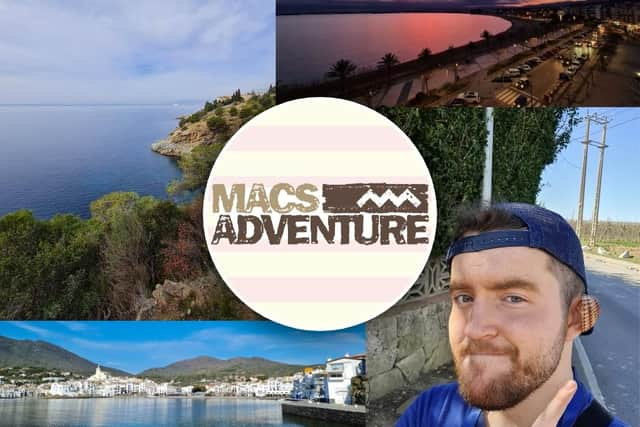 Upon arrival I was warmly welcomed by Steve Clifford; Macs Adventure's local partner and a legend who was well-respected in the area. Feeling dishevelled after a long flight and many trains, Steve quickly made me feel at ease as he helped with my luggage, grabbed me a local craft beer (points for authenticity) and calmly walked me through my itinerary. In his words: "Our mission is to provide our clients with an exceptional travel experience, we aim to create personalised and memorable adventures that allow clients to scratch below the surface and immerse themselves in the local culture, cuisine, and natural beauty of Catalonia."
The tour featured many luxury hotels to enjoy over the course of the week-long adventure; changing locations every one or two days. Then, as it's a self-guided tour, I transported myself to these hotels by hiking to them via the stunning Catalonian coast, while Steve moved my luggage. The model works because you indulge in some of the finest hotels on offer plus enjoy breathtaking views on your way to them while discovering fascinating heritage sites along the way. It elevated my experience as the hikes were challenging yet rewarding and made relaxation at the hotel feel earned, which added a new layer of satisfaction.
My adventure started in Empúries at the Iberian Peninsula's evocative seaside and ended in Palau-saverdera, a quaint village with an aptly tranquil atmosphere to reflect on the trip. In between, I hiked over mountainous landscapes and wave-battered coasts to uncover picturesque locations like Sant Pere Pescador, Castello, Roses, Cadaqués (a personal favourite) and El Port de la Selva.
Catalonia spoils you for choice. The biggest difficulty of hiking, in my case, was not the exercise but having to restrain myself from stopping to take pictures every 30 seconds (yes, seriously). Every vista looks like a postcard so eventually I found myself saying "OK Tommy, 15 minutes no phone time" just to maintain steady progress. This ties into a wonderful aspect of the tour that I suspect may go underappreciated by some; digital detoxing. Macs Adventure's free mobile app includes built-in maps which are useful but not strictly required. Steve prepared a binder with everything I needed on it including maps, interest points, recommended restaurants and more, and this was very portable. As someone who stares at screens for work, this digital detox was deeply appreciated and made the tour feel cathartic.
Hiking routes aside, as a self-guided expedition I had the opportunity to discover more unique sites of my own choosing. For me, this was Dali House (former home of the legendary Salvador Dali) located nearby the beautiful coastal town of Cadaqués where I stayed in the unforgettable Boutique Hotel Villa Gala. These self-determined visits allow you to breathe in-between the hikes and make the adventure your own as you tweak the itinerary to suit your own interests. By doing this, you also unlock more opportunities to connect to local Catalan people who, in my experience, are so hospitable and enthusiastic in sharing their culture. Plus, if you take an interest in their language and show your gratitude with a "gràcies" (not gracias) you'll be surprised how much it goes appreciated.
To wrap up the experience, Macs Adventure also offered a luxury dinner at the widely praised SoloVida restaurant in Palau-Saverdera, my last stop. Warm customer service from the lovely waitress Yami, phenomenal Catalan cuisine and a lively atmosphere, the venue was perfect for breathing in one final lasting impression of this incredible region. I'll never forget it and offer my compliments to Chefs Raul De Csanady and Sebastian Estarriol Canillos - their cooking was out of this world.
Once I was packed and ready to go, I contacted Steve who collected me from the lavish Hotel Boutique Niu de Sol and saw me safely to the train station to begin my solemn return home. It's always a good sign and says a lot about the location if you're sad to be leaving it behind. Steve also checked in on me at my time of arrival in Scotland just to make sure everything had been OK and he's to be commended for being so attentive and such a stellar representative for Macs Adventure.
All in all, you can take the backpacker out of Catalonia but you can't take Catalonia out of the backpacker's heart. The region is so uniquely captivating but so much of what makes it unmissable could easily be missed on a typical holiday package. Instead, these self-guided tours create the perfect opportunity to experience the best of the region while establishing an adventure entirely of your own design. I can't recommend it enough.
Comments
 0 comments
Want to join the conversation? Please or to comment on this article.