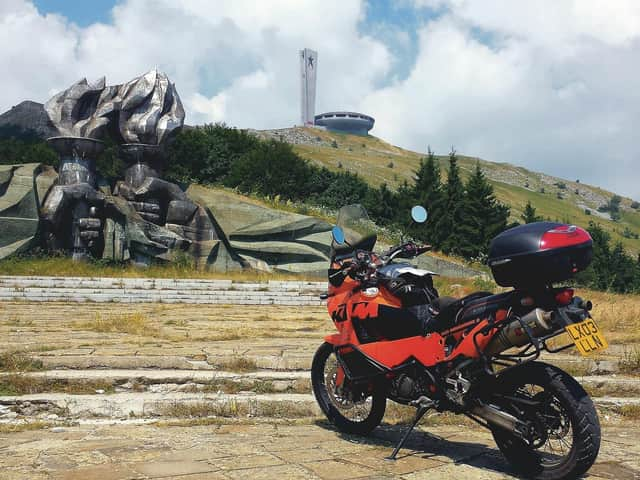 The cash deposit I'd paid was all the ATM would give me, and a hand-written receipt was all I'd been handed. So once back in the UK I transfer money to my new Bulgarian bank account and jump on the bike to return to the European Union's most easterly member. I'm on a mission to turn the deposit into a purchase and the receipt into an official document of ownership before anything changes; minds, price, exchange rates or regulations.
The ferry docks late in Holland and, with no time to charge my phone, I'm waved down the ramp. It's OK, I've written the key towns and turn-offs on a piece of paper and put it in the tank bag.
It's Friday night rush hour round Rotterdam but the traffic is calm and within three hours I'm in Germany and sit at my comfortable cruising speed of 80mph – well, I thought it was 80mph, but my phone says it's actually 74mph. I've been less illegal than I thought. I'm not sure how I feel about that.
It's the perfect summer evening and I don't know where I will stay tonight. The liberation of that feeling keeps me going into the summer darkness. West of Kassel I pass a wind farm standing in a field of golden swaying wheat. Stopping in a parking lay-by, I walk into the field and find a little path, run back to the bike, and ride up the kerb, past picnic tables and down a track that weaves between the giant turbines. The track ends and looks out over fields and a village below in the valley. Killing the ignition I am engulfed by darkness and silence. This is perfect. I roll out my sleeping bag and lay on top of it. A rabbit comes by, either blind, brave or maybe just friendly. The blades turn, the wheat bends and I look down at the quiet, sparkling village. The nomad in me loves this.
I get some emergency sleep and no deluxe extras. When it's time for a wee I touch something that isn't me: a slug is inside my waistband. It wakes me more than I'd like. Still, it was a free night, a place to pass the dark hours. There is light in the sky now and a new day to ride into. When a service area appears, it seems like an opportunity to fill the tank and empty the discomfort. Full tank, full tummy, empty bladder, fully charged. Everything is at desirable levels.
As soon as I get going everyone else stops. The traffic is backed up, and the Saturday morning pleasure drivers are wandering around the Autobahn stretching their legs, without consideration or awareness of a moving vehicle. In this case a big orange Austrian-made motorcycle ridden by a sleep-deprived, relocating Brit who has the filtering abilities of a garden shed due to his excessively wide panniers. For their benefit, said Brit is exhibiting extreme caution. This, combined with his obtrusive exhaust note, means no knees are knobbled by protrusions or wing mirrors removed by misjudgment and, if words of hostility or disapproval are spoken, they are unheard.
With the affronted and motionless behind me, I'm faced with the open mouth of a closed tunnel. With the bike on its centre stand I get out my diary but before I've got very far, the barrier is raised and so begins the onslaught of all those outraged Audi drivers making up for downtime as I ride at a speed faster than any British law allows.
As I head east and see signs for Leipzig and Dresden, the sun shines. Nothing feels foreign and loneliness isn't even a consideration. This is a world away from how I felt on these roads two years ago en route to Iraq. I've got friends in the Czech Republic who enter my thoughts as I cross the border but this is a destination-driven journey, not a social jolly, so after another stop to rehydrate my body and tank I press on past Prague until a sign for Brno says I'm on the right road. Fabulous. I don't need to make this an endurance ride, but I'm enjoying this aspect of it. It's not my usual style at all, and it's exciting to push the limits of my stamina. I'm just playing at being hardcore. I can stop whenever I want.
Into Slovakia and I'll be out the other side in an hour. I'm not stopping even if Bratislava is a capital that coaxes out the camera. I glance at the castle and bridges as I cross the Danube. "See you in Romania," I say under my visor.
In Hungary I decide at Győr to get off the motorway. I have a desire for some slower evening roads. It's still 33C, and I'm feeling the fatigue and possibly a cold. The back-road bonus: a village shop to stock up on healthy food – a perfectly ripe avocado, cheese, tomatoes and bread; the staple of the road warrior.
One more fuel stop and then with the timing a solo traveller wishes he could share, a sign for a campsite appears. It's deserted. Closed. With the stealth and instantaneous reaction of a lone biker, I ride past the gate: empty playgrounds and locked toilet blocks. It looks so available, but is abandoned. Screw it, I'm staying anyway. I make a spectacular sandwich, and put up my tent which instantly turns into a sweat tank. I turn it to face the evening breeze. It doesn't help so I lie on top of my sleeping bag and get a second night's free sleep. Wild camping in a campground, it's naughty-lite.
At 5am I see pink clouds through the open flap of the tent. I'm late, I prefer to be riding into that sky than looking at it
At Baja I cross the Danube – so we meet again. We are both taking indirect routes to the border. This river has chosen some very picturesque places to flow through, or perhaps it paints the picture as it passes. I head east towards Romania as the sun goes behind clouds that look like rain. Laptop-and-desk days seem far away, my wifi withdrawal is manageable and liberation fills the void.
This is a new personal record: 285 miles and five-and-a-half hours' riding before I break my fast which, by now is brunch, at a roadside restaurant, and I'm back on the road again as hazy Sunday afternoon sun shines through the spray to reveal a mountainous horizon, and that never fails to induce a thrill.
The rain becomes a memory. It's 35C and I'm wondering if my pannier contents were stolen while I stopped, the bike feels light and responsive. On a wiggly road up a mountain the bike flicks round bends and the tyres hold the road with reverence, but still I misjudge the lines like I'm partying with rock stars.
I meet the Danube again. On the far shore, Serbia, and the river flows into its most stunning setting yet. Navigation is as simple as following the road that follows the river that divides countries. It has cliff-cutting, gorge-forming, dam-making, lake-creating and turbine-generating variety and grandeur.
At 3pm the temperature tops out at 39C. There are benches of pensioners. Old men with big bellies and no distinguishing features sit in the shade, younger men pour out of the bars, working on growing their stomachs. But they always wave – well, not always. Some wave, I've definitely had some waves, I've not been totally blanked. God, I'm hot… I think I'm delirious… flash a passport, over the bridge, goodbye Danube, hello Bulgaria, time for some serious helmet whooping… I'm hot beyond hot, I want a shower more than I want a beer… the roads are bad, the traffic scarce, the brutal Soviet architecture as hard to comprehend as the Cyrillic alphabet. I'm so forgiving, in love with it all… long may it last.
I think another beginning is occurring. I pull up at a guest house in the village I'm to call home.
An 11-hour riding day, 635 miles, the KTM performed faultlessly. It may be too tall and too heavy, but it certainly made Europe smaller. The gates opened for me, more in disbelief than welcome.
"You did it in 48 hours?"
"Well, from the ferry, yes."
"You rode in 40 degree heat?"
"It wasn't all that hot," I say. Perhaps playing at being hardcore wasn't a game, maybe I really am.
By coincidence the man I'm buying the house off happens to be here. Any doubts he had of how serious I was have left with my arrival. We have an appointment with the notary at 9am on Tuesday. I could have taken a day longer to do the trip, but how much fun would that have been? I don't want to make a habit out of this high-speed commute, but equally it was an exhilarating journey.
Near Varna, Graham Field's latest travel book about relocating to Bulgaria, is available from his website www.grahamfield.co.uk and Amazon.
Three budget airlines fly from the UK to three city destinations in Bulgaria – Sofia, the capital, Varna, on the Black Sea coast, and Plovdiv, city of ancient ruins and the gateway to the Rodope Mountains.
Bansko is a popular skiing destination and the Seven Rila Lakes are popular year round with hikers, the jewel in Bulgaria's crown.
 The Art Hotel Simona is a quirky place to stay in the capital https://www.tripadvisor.com/LocationPhotoDirectLink-g294452-d3170827-i218265421-Art_Hotel_Simona-Sofia_Sofia_Region.html
 In central Bulgaria, Motocamp is a magnet for motorcycle travellers http://motosapiens.org/motocamp/
A message from the Editor:
Thank you for reading this story on our website. While I have your attention, I also have an important request to make of you.
With the coronavirus lockdown having a major impact on many of our advertisers - and consequently the revenue we receive - we are more reliant than ever on you taking out a digital subscription.
Subscribe to scotsman.com and enjoy unlimited access to Scottish news and information online and on our app. With a digital subscription, you can read more than 5 articles, see fewer ads, enjoy faster load times, and get access to exclusive newsletters and content. Visit https://www.scotsman.com/subscriptions now to sign up.
Our journalism costs money and we rely on advertising, print and digital revenues to help to support them. By supporting us, we are able to support you in providing trusted, fact-checked content for this website.