Let us know what you think and join the conversation at the bottom of this article
While optimism over travel is "at its highest point since the pandemic began", people intending a holiday in Scotland favour a rural escape over a city getaway, according to Scottish findings from the Covid-19 UK Consumer Tracking Report.
Surveys commissioned by national tourism organisations including VisitScotland found that with overseas visitor numbers projected to be low, and Scotland-based intenders more likely to dominate rural or coastal destinations, cities – including tourist magnets like Edinburgh – "will need to 'work harder" than normal.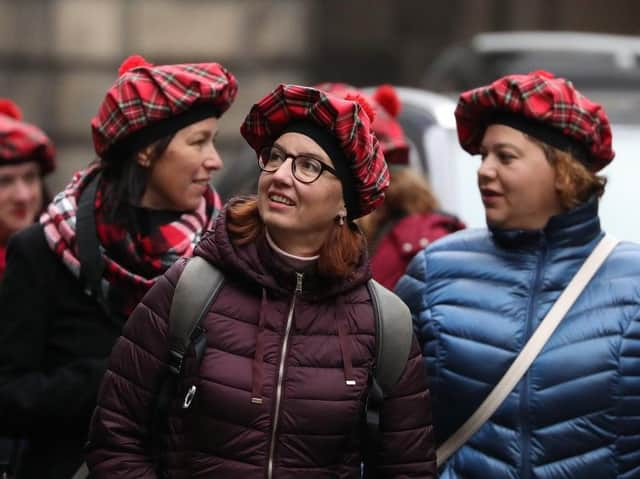 The report reveals that concerns about being more likely to catch Covid in a large city was the most common reason for not staying in this destination type, particularly amongst retirees and other "Covid cautious" segments of society.
Restrictions on opportunities to socialise and fewer things to do and places to visit were leading factors for younger people and the more "COVID confident".
The results also highlight a "divide" among types of people intending to visit Scotland's cities and opting for rural destinations. Those intending a rural break include a range of age profiles, while those planning to stay in a city destination are more likely to belong to younger life stages and more "Covid confident" groups, suggesting that cities are more likely to be regarded as a risk for those who are more cautious about Covid-19.
The report found that reassurances that cities are Covid-safe would be needed to encourage non-city intenders to visit, although confirmation that there are things to do would also be an incentive, particularly for younger Covid confident people. There is also a suggestion that "discounts would nudge city behaviour".
A spokesman for VisitScotland said: "Due to the nature of the pandemic, and with restrictions on events, it's unsurprising that the survey has found that rural experiences and destinations are at the forefront of would-be travellers' minds and this was evident last year.
"Our urban areas understand the challenges they face and already cities are seeking to engage with visitors and residents through destination campaigns.
"We have also been working with the industry to ensure businesses are reopening with safety measures in place through the Good to Go scheme.
"There are welcome signs in the findings among UK visitors, with Edinburgh the second most popular destination for that segment, and we would encourage visitors to get out and explore our urban destinations.
"With many wide-open green spaces and country parks found in and around our towns and cities, visitors don't have to head exclusively to the countryside for that rural experience."
The tracker measured the sentiment of people across the UK around taking overnight short breaks and holidays over the Spring (April-June) and Summer (July-September) periods this year.
One in seven UK (14%) and Scotland adults (13%) anticipate taking an overnight UK trip in Spring this year. More than twice that plan on taking a Summer trip (35% of UK adults and 30% of Scotland adults).
These figures have increased significantly since the beginning of the year showing increasing confidence. There are now fewer people stating that they "don't intend to take a trip".
Scots currently remain very loyal to staying in Scotland for their next break. Of those planning to take a trip, 62 per cent of Scotish residents plan to take their overnight break in Scotland in Spring with 60 per cent planning a summer break in their own country.
Many Scots residents are only considering Scotland as their destination for the Spring or Summer. The next most loyal audiences for choosing Scotland are those in the North of England, in particular the North West.
The report found that Scotland spring trips are most likely to be short breaks, while summer trips are most likely to be holidays of four-plus nights.
"Countryside or village" is the most popular destination choice for people intending a Scotland break in both spring and summer, although Scots planning a getaway north of the Border this summer favour a rural coastline destination.
The Highlands continues to be the most preferred Scottish destination. Among Scots residents the West Coast and Central Scotland are more popular destinations for spring than for those who come from outside Scotland, for whom Edinburgh is more popular.
"Hotels, motels and inns" are the number one accommodation choice for spring trips and summer holidays although Scots planning a summer holiday in Scotland prefer a "caravan/camping" option.
A message from the Editor:
Thank you for reading this article. We're more reliant on your support than ever as the shift in consumer habits brought about by coronavirus impacts our advertisers.
If you haven't already, please consider supporting our trusted, fact-checked journalism by taking out a digital subscription.