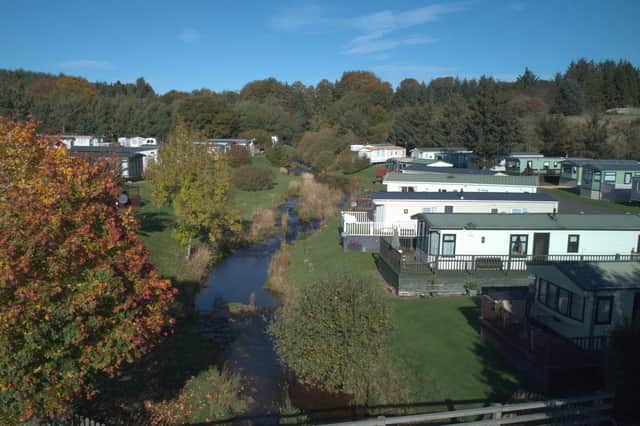 Nestled in 15 acres of beautifully manicured grassland is a Scottish caravan park like no other.
Here the stars of the show are the wildlife … salmon, otters and three different kinds of lamprey thrive in the river which flows through the heart Blackadder Holiday Park. Lazy herons have ample pickings, while the otters often frolic on the banks of the river. This is free entertainment without the clamour, served up at a gentle pace which will see your cares melt away.
The area is so special it has been granted a rare Site of Special Scientific Interest (SSSI) rating, and is the perfect backdrop to a break away from buy city or town life.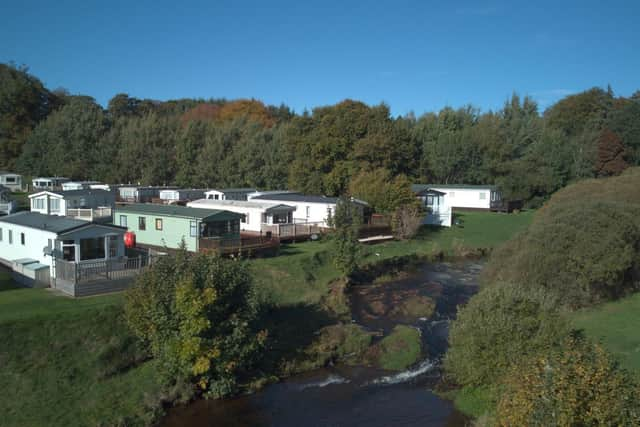 Location Location Location
Is it possible to feel the embrace of nature less than an hour from the city? In a word, yes! Here, in the foothills of the Lammermuir Hills, lies the village of Greenlaw; it's just 37 miles south of Edinburgh, yet is another world.
Those with a riverside pitch will have a dream vantage point to watch the natural world go by, at a thoroughly relaxing pace.
Elsewhere on site expect to hear the sound of birdsong and very little else … this caravan park is the antithesis of loud, family parks. Instead, making sure holidaymakers have the chance to unwind is the number one priority.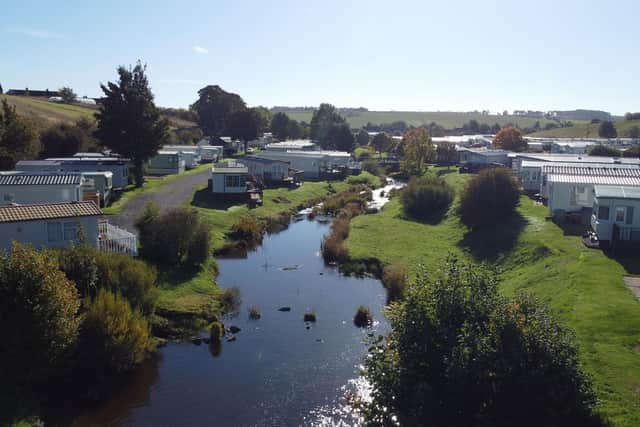 Of course, you might not want to spend every day relaxing amid stunning countryside while nature showcases its splendour. Thankfully, there are dozens of scenic spots within a brief drive or bus trip, from shopping and cultural visits to adrenalin-pumping adventure.
How about a visit to the monthly market in Galashiels, where Scottish artisans the talent of the Borders? Tie it in with a tour round Kelso, Melrose, Peebles and Duns, each weaving their own unique pattern in Scotland's history. There's the Great Tapestry of Scotland, also in Galashiels, or the famous castles and gardens of Mellerstain, Floors, Traquair and Thirlestane.
If you've got an active imagination or love of the magical and ethereal, don't forget to visit the Rhymer Stone, where legend has it Thomas the Rhymer met the Fairie Queen and was spirited away. He came back a changed man with a gift of prophecy – the Rhymer Stone has its own gift, a stunning viewpoint of Leaderfoot and the summit of Black Hill.
Sticking with a literary feel, don't miss a visit to Abbotsford, home of Sir Walter Scott. Of course, if the lure of the city pulls you back to Edinburgh, The Scott Monument, Edinburgh Castle, St James Quarter and theatres are also just a few minutes' walk from the train station, making it a relaxing way to enjoy the capital's delights, then head home for a sunset over Blackadder.
Blackadder Holiday Park is just 30 minutes from the seaside too at Berwick Upon Tweed, and a slightly longer jaunt brings in the delights of the Northumberland Coast, Holy Island and Alnwick – top tip, don't miss the stunning gardens at Alnwick Castle, and Barter Books in the old train station. You won't be disappointed.
Chilling out takes many forms, and thankfully Blackadder offers them all on the doorstep. Walkers can of course find dozens of hills and trails to enjoy, while cyclists can find country lanes fit for all ages, strenuous road climbs for the drop-handle brigade or full-on thrills for mountain bikers at Glentress Forest near Peebles.
If booking a break or owning your own holiday home at Blackadder Holiday Park is your idea of heaven, you can make an appointment to view … no pressure, no big sales talk, the park speaks for Itself. You can visit the website or email [email protected]
Phone the landline 01361 884075 or call/ whatsapp 07917855188 to find out more.