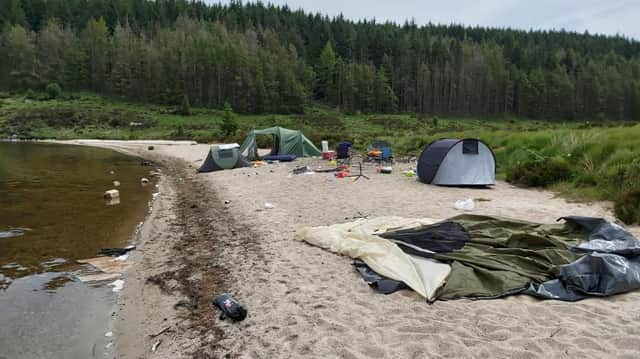 Since the five mile rule was relaxed in Scotland at the start of July, an explosion in the popularity of wild camping has been very much in evidence. Go for a walk in the woods these days, and, more likely than not, you'll find a young family camped out in an idyllic clearing, kids playing contentedly in the trees, parents pottering around their makeshift homestead and occasionally sharing looks that say "why can't it always be like this?" Visit an out-of-the-way beach and, where once you might only have expected to meet a couple of people out walking their dogs, now you'll now see colourful dome tents dotted along the high water line. Whether all this embracing of the great outdoors is a reaction to the gruelling semi-imprisonment of lockdown, or whether it's a result of thousands of people on furlough suddenly finding themselves with a lot of free time on their hands, it's been wonderful to see.
Inevitably, though, there have been a few who seem determined to spoil it for everyone, not only congregating in large numbers and thereby making a mockery of the government's coronavirus guidelines, the sacrifices made by healthcare workers and the noble institution of common sense, but also leaving more debris in their wake than a retreating army. In her official address of 13 July, Nicola Sturgeon spoke of her concerns about the "large numbers of people wild camping." If she'd had the time, she would probably have liked to say a lot more than that, although only she and her official voiceover artist-cum-mind-reader Janey Godley will ever know exactly what.
Leaving aside the covidiotic side of this equation, which is a can of worms best left unopened here, let's examine the kind of thought process that results in enormous heaps of rubbish being dumped in some of Scotland's most beautiful places.
In order for a load of disposable barbecues, broken tents and empty beer cans lovingly garnished with Tesco bags to find their way into – say – a picturesque forest clearing on the east shore of Loch Lomond, it seems logical to assume that at least some of the people involved must have appreciated the view and the immediate surroundings and said "let's camp here." Yet, having made that initial aesthetic judgement on the evening of Day One of their mini-adventure, by the morning of Day Two, these same people apparently care so little about their new-found Eden that they are prepared to use it as a rubbish dump before driving home. The question is: why?
Towards the end of the Noughties, books about the environment became a bit of a publishing phenomenon (so much so that whole forests had to be felled to keep up with demand) and I ended up reviewing several of them for this newspaper. Most of the leading environmental authors of this time were very much of the left – George Monbiot, Mark Lynas, Tim Flannery – but there were occasional contributions from the right too, notably from Roger Scruton, who, in 2012, wrote a book called Green Philosophy.
There was plenty to object to in this tome, starting with the patronising subtitle "How to Think Seriously About the Planet," with its implication that all those hysterical leftie environmentalists who had tried writing about this stuff before were somehow lacking in common sense.
One concept that did strike me as worth salvaging and filing away for the future, however, was what Scruton called "oikophilia" – a love of home, taken from the Greek work "oikos." Scruton argued that there was "no motive more likely to serve the environmentalist cause than this one." He also characterised "oikos" as "the place where we are and that we share, the place that defines us, that we hold in trust for our descendants, and that we don't want to spoil."
As I think I argued in my review, a problem as big as climate change can't be solved, as Scruton suggests, by everyone simply taking care of their own little patch – it requires the same kind of decisive and coordinated international action that brought about the global ban on CFCs. But if we apply Scruton's thinking to Scotland for a moment, could an uptick in oikophilia here result in less people trashing wilderness areas? And – to take things one step further – if Scotland were to become independent one day, would Scots feel more inclined to think of it as "the place where we are and that we share, the place that defines us, that we hold in trust for our descendants, and that we don't want to spoil"?
A message from the Editor
Thank you for reading this story on our website. While I have your attention, I also have an important request to make of you.
With the coronavirus lockdown having a major impact on many of our advertisers - and consequently the revenue we receive - we are more reliant than ever on you taking out a digital subscription.
Subscribe to scotsman.com and enjoy unlimited access to Scottish news and information online and on our app. With a digital subscription, you can read more than 5 articles, see fewer ads, enjoy faster load times, and get access to exclusive newsletters and content. Visit https://www.scotsman.com/subscriptions now to sign up.