From Victoria Street to Lammer Law: a catalogue of skiing weirdness from the Big Freeze
The beauty of the recent cold snap was the way it opened up possibilities for skiing and snowboarding in places that rarely see enough snow, writes Roger Cox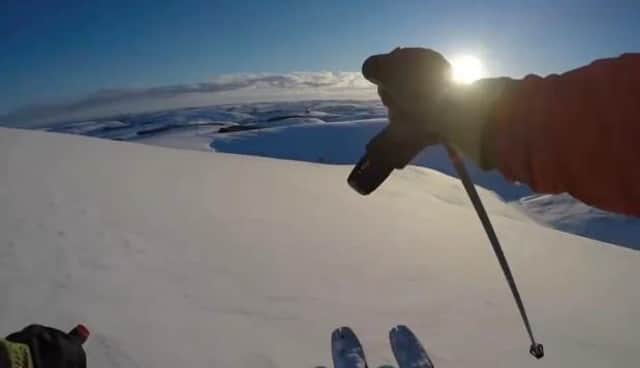 A still from Blair Aitken's "Tour de Lammer Law" film PIC: Courtesy of Blair Aitken / British Backcountry
Temperatures across Scotland are nudging tentatively back into single digits after a week of sub-zero loveliness, and – at lower altitudes, at least – the world is beginning to turn slowly but inexorably from white to brown. Still, it's been a period few skiers or snowboarders will forget in a hurry – one in which pretty much every incline in the land was temporarily transformed into a ski slope, and in which locked-down snow-sliding enthusiasts resigned to missing out on a conventional ski trip this year were suddenly able to enjoy Alpine conditions close to home.
As you'd expect, social media has been awash with spectacular images captured on the big hills up north by those lucky enough to live nearby: pictures of Rob Kingsland enjoying the wide open spaces in and around an otherwise deserted Glencoe ski area, for example, will have made hundreds of Central Belt skiers green with envy. But the beauty of this recent cold snap was the way in which it opened up possibilities for skiing and snowboarding in places that rarely see any snow. Every winter, no matter how awful the conditions turn out to be in general, somebody somewhere will capture a perfect image of a skier hammering down a Munro in a cloud of powder spray, but how often do you get to see a snowboarder cruising down a car-lined street in the West End of Glasgow? Here, then, in no particular order, are some of the most unusual skiing and snowboarding images and videos to surface during the Big Freeze of 2021.
1) Blair Aitken of British Backcountry skiing Lammer Law in the Lammermuirs. Yeah, OK, it's only 528 metres high, but in the sun-kissed "Tour de Lammer Law" video Aitken posted on the British Backcountry Instagram account on 11 February, those 528 metres seem to go on forever. When it comes to representations of backcountry skiing in the media, there tends to be a fixation – understandably, perhaps – with death-defying drop-offs and super-steep terrain. In reality, though, when most people imagine their perfect day of ski touring this is the kind of imagery that pops into their head: an apparently endless, easy-angled blank canvas with no obstacles and no upper speed limit.
2) Lesley McKenna tree skiing above Lochan Uaine in the Cairngorms. Nestled in the heart of Ryvoan Pass, Lochan Uaine or "the green lochan" is a magical place, beloved of hikers and nature enthusiasts, but the steep, tree-studded and boulder-strewn slopes that drop down towards it don't often get enough snow to make them skiable. This winter, however, Olympic halfpipe snowboarder McKenna and her partner Euan Baxter ventured up there in conditions that can best be described as dreamy. Baxter's image of McKenna surfing through the trees in the purple light of early evening, posted on McKenna's Instagram account on 13 February, feels somehow iconic: right person, right place, right time, right turn.
3) Rhys Crilley tearing up Kelvingrove Park in Glasgow. True, the videos of guys snowboarding down some of Glasgow's steeper streets were fun, but in the video posted on his Twitter feed on 9 February, snowboarder Rhys Crilley makes a decent case for Kelvingrove Park as a bona fide miniature ski resort. In a 30-second run he manages to thread some lovely turns through the trees, pops not one, not two but three neat little airs and narrowly manages to avoid getting his head taken off by some low-hanging branches.
4) Richard Lockett launching a new sport called "Agroforestry Slalom" on Knockbain farm near Dingwall. Lockett is a freelance land conservation adviser and a video posted on his Twitter feed on 11 February shows him weaving through evenly-spaced stands of saplings at a fair old clip. The accompanying message reads: "Another good reason to plant trees on farms. They make the ideal training course for a new sport called Agroforestry Slalom."
5) An anonymous skier cruising down Victoria Street, Edinburgh. Plenty of great skiing and snowboarding images came out of the capital last week. Jane Barlow, formerly of this parish, captured a stunning image of a skier in Holyrood Park, framed by the Edinburgh skyline, and Will Nangle bagged a great shot of local snowboarding legend Scott McMorris getting airborne in the Pentlands with the city laid out in miniature below. Skiing and snowboarding has been documented in both those locations before though, so – in terms of novelty value, if not aesthetics – the footage of a skier in a red jacket cruising sedately down Victoria Street, as captured by Aye Spy Photography, takes the prize.
Of course, the above list will only be the tip of the photographic iceberg: as the snow melts and life returns to normal, more and more images will no doubt emerge – something to look forward to as the grim reality of lockdown continues.
A message from the Editor
Thank you for reading this article. We're more reliant on your support than ever as the shift in consumer habits brought about by coronavirus impacts our advertisers.