Scottish ultra-runner Donnie Campbell attempting to complete Scotland's 282 Munros in record 33 days
Skye ultra-runner Donnie Campbell is attempting to complete a continuous self-propelled round of Scotland's 282 Munros in just 33 days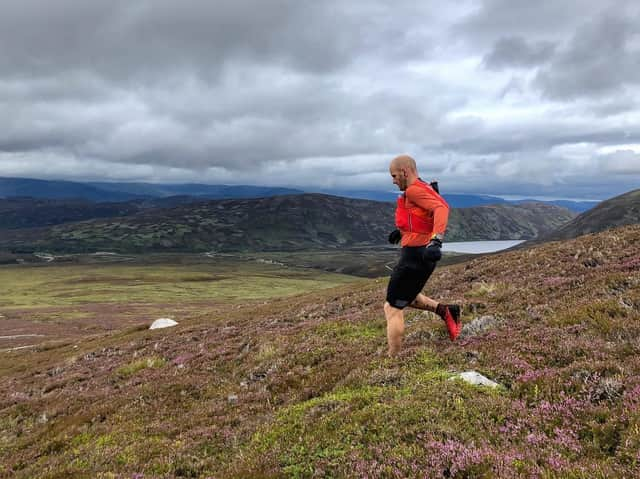 Donnie Campbell descends the heathery slope of a Drumochter hill during his record attempt (Donnie Campbell)
"I was like 'I have no idea how i'm going to keep going'. I was in the worst pain I've been in in a long time."
Donnie Campbell is describing the seventh day of an arduous cross-country journey which will take him at least 33 days.
The Inverness-based ultra-runner is aiming to break the record for a continuous self-propelled round of Scotland's 282 Munros using his own steam – be it running, cycling, kayaking, walking or crawling.
Donnie Campbell on day two of his record attempt (Donnie Campbell)
And while descending lonely, sprawling Ben Avon in the Eastern Cairngorms the 35-year-old experienced tear-inducing ankle pain.
Almost a week later, and the early wobble is behind Campbell as he makes impressive progress towards his target of beating the current record of 39 days and nine hours, held by Staffordshire runner Stephen Pyke – a record which has stood since 2011.
The Skye-born runner has been plotting his assault on Pyke's record since last Summer, working on his route over autumn, a course which sees him start on the Isle of Mull, kayak over to Glenfinnan, traverse the Cairngorms in horizontal rain, skewer the boggy Southern highlands, before returning northwest, ultimately concluding on Ben Hope in the northern reaches of the mainland.
The 282 mountains that stud Scotland's landscape each measure at least 3,000 ft in height, but due to the coronavirus pandemic, Campbell was forced to prepare for his attempt on the rather more humble Dunain Hill on the outskirts of Inverness.
"It stands at a massive 288 metres" jests Campbell as he speaks to the Scotsman from his day 13 campsite in the shadow of Beinn Dorain, which overlooks Bridge of Orchy from a rather more lofty 1,076 metres.
Despite the limitations to training during lockdown, Campbell boasts rucksacks of experience.
A former shinty player, Campbell joined the Marines as a teenager before returning to his home of Skye.
It was on his return that he got his first taste for Scotland's tallest peaks. While most Munro baggers target the more forgiving peaks of Ben Lomond, Ben Vorlich or Ben Nevis for their first summits, Campbell cut his teeth on Skye's fearsome Cuillin Ridge, typically while hungover with fellow groggy shinty teammates.
Since then Campbell has carved out a career as one of the country's most respected ultra-runners, becoming only the second person to complete the fearsome Ramsay Round –a 56 mile route of 8,500m ascent and 23 Munro peaks in just 24 hours – in winter conditions, and in record time.
By setting himself the target of completing the Munro round in just 33 days, Campbell wants to test himself to his already explored limits.
"Stephen Pyke's record is 39 days which is an incredible time anyway," he says. "I know myself I want to see how hard I can push myself. When I came up with this schedule it excited me and scared me at the same time which I think was the right level. I felt like it was achievable if most things went to plan and I had decent weather and I felt good, but I also knew that I could drop a few days which I was happy with because I could still beat the record.
"Why 33 days? That's what I think is the borderline of what I'm capable of."
With tongue firmly in cheek, he adds "I should have made it more of a holiday and set it for 38 days", before insisting "whether it's 33 days, 38 or 42 I'll be happy to finish it."
In order to explore his own limits, Campbell is backed up from a support team of his wife Rachel, fellow runners, cyclists, and an orthopedic sibling.
He says: "yes I'm doing all the running going up the hills, but it wouldn't be possible without the support.
"I wouldn't have made it off Mull if it wasn't for my wife who's driving the motorhome, feeding me, waking me up, doing everything for me so all I have to do is eat, sleep and run.
"All the people coming out to support like Andy Bryce today and Simon Willis who organised the kayak across from Mull, support runners Ally Beaven and Holly Page, without them it wouldn't be possible.
"With a challenge like this it's a team effort. Yes, I'm up font putting in the hours but without the team behind me I wouldn't be able to do that."
Just under two weeks into his record Ben Hope remains a distant goal for now but Campbell and wife Rachel have already decided on a reward of sorts at the conclusion of their adventure.
"I promised Rachel we'd get a husky once this has finished to calm down.
"We're on a waiting list, that's basically me settling down. Someone to keep me company while I run up and down hills."
Donnie Campbell's record attempt so far
Day 1: Ben More,Sgurr Thuilm, Sgurr nan Coireachan, Gulvain
Day 2: Ben Nevis, Carn Mor Dearg, Aonach Mor, Aonach Beag, Sgurr Choinnich Mor, Stob Coire an Laoigh, Stob Choire Claurigh, Stob Ban, Stob Coire Easain, Stob a'Choire Mheadhoin ⁣
Day 3: Stob Coire Sgriodain, Chno Dearg, Beinn na Lap, Carn Dearg, Sgor Gaibhre, Beinn Bheoil, Ben Alder, Beinn Eibhinn, Aonach Beag, Geal-charn, Carn Dearg, Beinn a'Chlachair, Geal Charn, Creag Pitridh ⁣
Day 4: Beinn Teallach, Beinn a'Chaorainn, Creag Meagaidh, Stob Poite Coire Ardair, Carn Liath, Geal Charn, Carn Dearg, Carn Sgulain, A'Chailleach ⁣
Day 5: Sgairneach Mhor, Beinn Udlamain, A'Mharconaich, Geal-charn, A'Bhuidheanach, Carn a Caim, Meall Cuaich ⁣
Day 6: Sgor Gaoith, Mullach Clach a'Bhlair, Beinn Bhrotain, Monadh Mor, Braeriach, Sgor an Lochain Uaine, Cairn Toul, The Devil's Point, Carn a'Mhaim, Ben Macdui, Derry Cairngorm, Beinn Mheadhoin, Cairngorm,⁣
Day 7: Bynack More, Beinn a'Chaorainn, Beinn Bhreac, Beinn a'Bhuird, Ben Avon, ⁣
Day 8: Mt Keen, Lochnagar, Carn a'Choire Bhoidheach, Carn an t-Sagairt Mor, Cairn Bannoch, Broad Cairn ⁣
Day 9: Driesh, Mayar, Tom Buidhe, Tolmount, Carn an Tuirc, Cairn of Claise, Glas Maol, Creag Leacach, The Cairnwell, Carn a'Gheoidh, Carn Aosda ⁣
Day 10: An Socach, Glas Tulaichean, Carn an Righ, Beinn Iutharn Mhor, Carn Bhac, An Sgarsoch, Carn an Fhidhleir, Beinn Dearg, Carn a'Chlamain, Carn nan Gabhar, Braigh Coire Chruinn- bhalgain, Carn Liath ⁣
Day 11: Schiehallion, Meall nan Aighean, Carn Mairg, Meall Garbh, Carn Gorm, Meall Greigh, Meall Garbh, An Stuc, Ben Lawers, Bheinn Ghlas, Meall Corranaich, Meall a'Choire Leith ⁣
Day 12: Meall nan Tarmachan, Meall Bhuidhe, Stuchd an Lochain, Meal Ghaordie, Beinn Heasgarnich, Creag Mhor, Ben Challum
Day 13: Meall Glas, Sgiath Chuil, Ben Chonzie, Ben Vorlich, Stuc a'Chroin ⁣
Follow Donnie's record attempt here