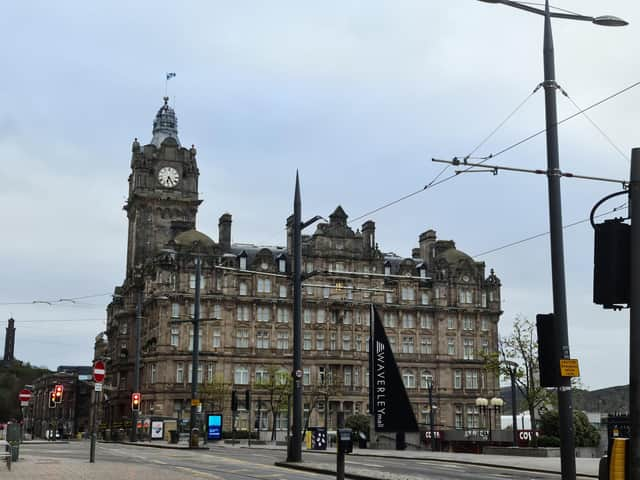 The Balmoral Clock was spotted running almost an hour slow this morning
Mystery is surrounding the reason why one of Edinburgh's most famous clocks has stopped running.
The Balmoral Clock, which sits in a clock tower above the Balmoral Hotel, is stopped running after pictures sent to the Evening News this morning captured the clock showing 6.25 at around 7.45am.
It cannot be fixed due to lockdown, but the reason why it has stopped is a mystery.
However, while a broken clock is right twice a day, a late running clock is useless.
The photographer, David Chalmers, said he had never seen the clock stop before.
He added: "As an essential worker, I need to go out. If you are not please do not go out unless it is absolutely necessary"
Famously, the clock runs three minutes fast on a normal day to give commuters and travellers an extra incentive to not miss their train, or for the romantics, to give the love-struck more time to say goodbye.
The clock has been controlled electronically since being converted from manual control in the 1970s, and rarely breaks down.
The clock has only ever broken down once in its more than a century lifespan
In 2012, the clock ran 90 minutes late due to a power cut caused by the tram works on Princes Street, and in 2014 it stopped working altogether for the first time in 108 years, seemingly inexplicably.
The reason behind the current stoppage, however, is shrouded in mystery.
The owners of the clock and the hotel, Rocco Forte Hotels said they were aware the clock had stopped and had notified the company in charge of maintaining the clock.
They added the company was unable to tend to the clock and fix the mystery stoppage due to the lockdown restrictions.
A spokesman for Smiths of Derby, who operate the clock, said: "We are aware that the clock requires adjustment. We are indeed the proud maintainers of this clock along with thousands of others across the country.
"The backlog of clock adjustments is growing. This clock with receive our priority attention as soon as it is safe for our clock engineers to leave COVID-19 isolation."