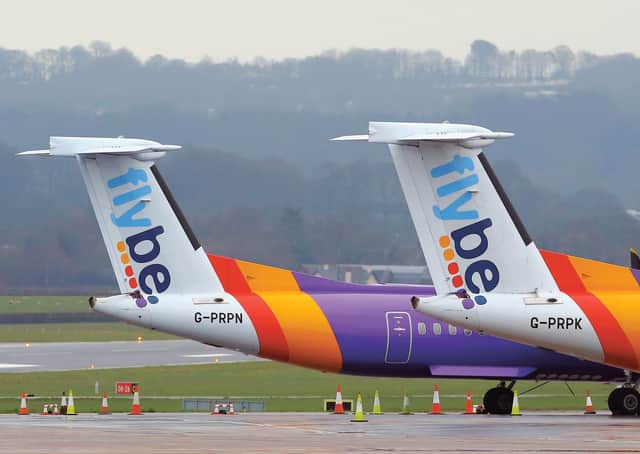 Flybe was hit by Covid-19 cancellations. Picture: Geoff Caddick/Getty
Keep a close eye on the news
If a business is in trouble, chances are you'll hear about it in the media first. This gives you the chance to try to recall your money. You should also spend vouchers and gift cards or – ideally - ask the people who bought them to charge back cash for these too. If your holiday is ATOL or ABTA protected, then vouchers count as cash when you've spent them – but they're worthless when a firm goes bust.
If a firm goes under while you're away, you may get help from your travel insurer, but make sure you have access to money from another source. Take a credit card to cover you in emergencies.
Don't discount travel insurance
Some insurers have stopped offering travel insurance temporarily while others have removed the "disruption" clauses so you won't be covered if you don't want to travel because of Covid-19. But don't abandon travel insurance – it's more vital now than ever. Take out a policy that starts from the moment you book. That way you're covered if anything happens that isn't virus-related.
If you've paid for your holiday, first things first, call your bank and ask them to "charge back" your money. Explain this is urgent and that the business is going into administration. Chargeback is an agreement between plastic card providers and can be used on payments made by debit or credit card. Your bank should try to get you the cash back as soon as possible. Speed is of the essence so don't delay.
If your card provider makes a mistake or fails to recall your cash, you can make a formal complaint through Resolver. There are time limits for chargeback, so if you paid for your holiday some time ago, see if your bank is willing to contact the other bank for you regardless.
If you paid for your holiday by credit card and it was over £100 you can claim the full cost back from your credit card provider. This is known as a "section 75 claim" and your rights come from the Consumer Credit Act. Even if you've only paid a small deposit on your credit card you can claim the full amount. However, if the firm you've paid does not provide the holiday or services directly, then the law may not apply. Our advice: put a claim in anyway.
Some travel insurance policies may cover you for holiday companies going bust – but not all of them. Even if your policy doesn't cover this, if you think the wording of the policy is unclear or unfair and you would have got a different policy had you known, you can make a complaint and the free Financial Ombudsman can help if you're not happy with the result too.