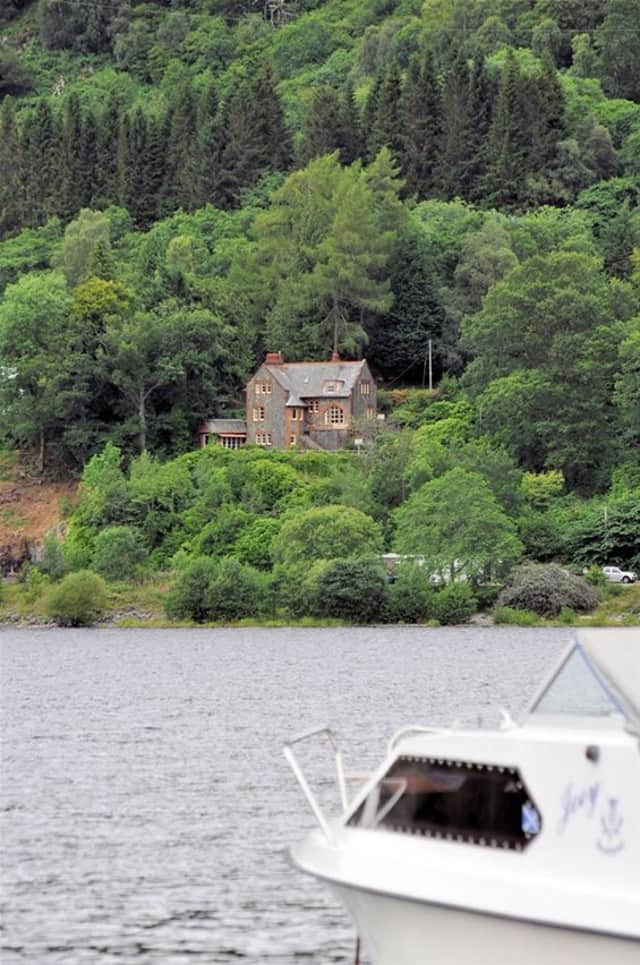 Taking a Perthshire property back to its origins has been a labour of love, discovers Kirsty McLuckie
Arts and crafts homes have a fan base all their own.
The turn of the century properties, dotted around Scotland, particularly in coastal areas, are architecturally interesting, but it is not until you get inside and see the level of craftsmanship in tiny details that they can be fully appreciated.
Fortrenn at St Fillans in Perthshire, is a case in point.
Picture: www.irvinggeddes.co.uk
Built in 1903 by Alexander Porteous, author of The Annals of St Fillans and a relative of David Livingstone, the house was bought by Paul and Sally Anderson two years ago.
They have since undertaken an astounding refurbishment project, not only bringing the building up to modern standards but replacing lost fittings by sourcing age-appropriate items, or commissioning pieces to fit the era perfectly.
Sally says: "Paul knew the house from childhood holidays and was really keen to buy it, but when we got inside we realised that there was a lot to do to take it back to its arts and crafts origins, and at the time neither of us were particularly knowledgeable about the style."
They owned two properties and put both on the market, hoping to sell one to be able to start the project, while living in the other.
Picture: www.irvinggeddes.co.uk
When they both sold, it necessitated an immediate move into Fortrenn in its original state.
Sally says: "I cried for two days after we moved in. It needed so much work. Everywhere was orange – walls, ceilings, carpets, curtains.
"There was a shower in a fitted wardrobe upstairs and the loo was in a lean-to under the terrace."
The task of stripping out the 1980s decor completed, the couple took to restoring the original feel of an arts and crafts gem with gusto.
During the renovation project, the roof was overhauled, windows refurbished and re-glazed, electrics replaced and a new heating system – complete with handmade cast iron radiators – installed.
It is in the details that you sense the feeling that the couple really had fun however.
Their plan was to stay in the property for their retirement, so they spent a great deal of time and effort on understanding its architectural importance and making the smallest feature to be in keeping with the style.
The floorboards were reclaimed from a house in Glasgow and all the light fittings came out of another arts and crafts house that was being demolished.
Picture: www.irvinggeddes.co.uk
Sally says: "The fireplace in the sitting room was missing its tiles, so we commissioned hand-painted tiles from Washington state in America.
"There is only one woman in the world who has the license to reproduce patterns from William de Morgan and William Morris and she is based in the US."
A tiled mural in the kitchen is a copy of a painting owned by a Dundee museum by John Duncan, a celebrated turn of the century artist from the city.
Stained glass was commissioned from artist Mairi Urquhart in nearby Comrie.
As Sally says: "All of these things were done thinking we are never going to leave and I've really enjoyed the process of learning about the era.
Picture: www.irvinggeddes.co.uk
"We found some fabulous people, particularly in Glasgow, who have helped source the fittings and it has been a really enjoyable process.
"We spent so many hours sourcing the right furniture, and where we couldn't find it we've found someone who could make it."
The colour scheme is now minimal, to highlight the features and the fabulous view.
Picture: www.irvinggeddes.co.uk
Sally says: "Arts and craft houses should be white inside and it makes a massive difference to the way light bounces around."
Picture: www.irvinggeddes.co.uk
Paul is an expert gardener and took on the work of restoring the gardens to a condition resembling what they would have been over a century ago, and that has been another labour of love.
Picture: www.irvinggeddes.co.uk
A job move means that they are relocating to Spain and Sally says it is not just the house that they will miss, but the location.
Picture: www.irvinggeddes.co.uk
"The views are on to mountains and the loch, right up to Lochearnhead which is seven miles away.
"It is astounding and impresses everyone from Tesco delivery drivers to the walkers that pass by and stop to chat.
"I wondered how long it would take for me to get used to it and not be impressed, but it hasn't happened."
Picture: www.irvinggeddes.co.uk