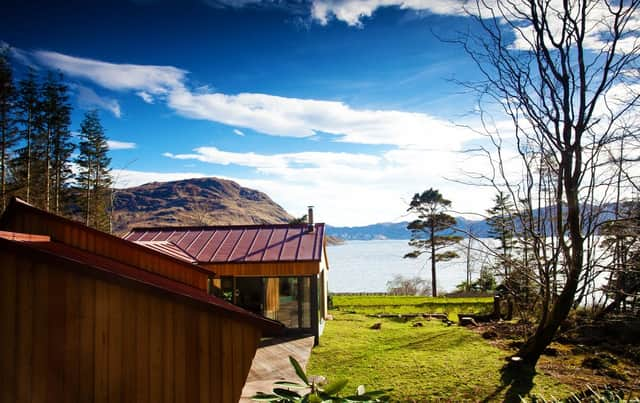 Despite daunting logistics, the Robertsons refused to compromise on luxury when building the idyll of Knoydart Hide.
A remote location and unbridled luxury aren't often bedfellows, but at Knoydart Hide they combine perfectly.
Having previously owned and run The Old Forge at Inverie, the remotest pub in mainland Britain, Jackie and Ian Robertson were no strangers to the challenges and benefits of living in Knoydart.
With no roads in or out, to get there requires an 18-mile hike over two Munros or a seven-mile sea crossing, making it a location like no other and one that Jackie and Ian wanted to share.
"I've always had this desire to build something specifically for couples," says Jackie, "and I decided I wanted to offer people an experience above and beyond what they've had before.
As Knoydart is so remote the idea of giving people what they would normally expect to find in a boutique hotel but with the privacy and wonderment of the nature and landscape, here was something I really wanted to do."
While the idea was for a couple's retreat, the Robertsons' first attempt grew arms and legs very quickly.
"First of all, we built Knoydart House, which was a luxury let that was supposed to be for two people and ended up sleeping 10. So, four years ago, we started again with Knoydart Hide."
This time around, Jackie and Ian kept to the original plan and designed a property that offers consummate luxury for couples (and their children, if you ask nicely).
In an area with no light pollution and sightings of the Milky Way and the Aurora Borealis commonplace, the location of the house was imperative.
"We knew exactly where the house should face. I wanted light when you got up and light when you went to bed, with the house basking in light all day," says Jackie.
"The way I'd describe it is that we built it almost in the shape of a hug. It's designed in three sections so there's privacy and space.
If you sit in the living room you can look through to the other end of the house, but it's not in one long line. I also wanted floor to ceiling glass all along the frontage to let people feel that they were at one with nature.
"To all intents and purposes living here is like living on an island; everything has to be shipped in by landing craft or by boat. Bringing in these big sheets of glass was a challenge.
"They came up by lorry, then were shipped across by one tidal pier then by landing craft on to a tractor and trailer, up a slope and then fitted.
"There were one or two breakages along the way but we got there in the end," says Jackie.
The frame of the building is clad in the local larch, which comes as no surprise, but the copper roof is a bit of a wow feature.
"Ian decided that we were going to do something really special because we were building in ancient woodland and also because Knoydart is unique.
"It is a community buyout, we're completely off-grid and we live off micro hydro schemes so there's no carbon footprint for any of the properties here.
"In keeping with that ethos, Ian decided to get an artisan company to make a copper roof which would patina with time and change with the colours of the forest and eventually be covered with verdigris."
This was another significant endeavour given that this kind of feature had to be made on site to fit the project and required a specialist workforce.
"Initially I thought it was a lot of work for something I didn't think you'd really pay much attention to, but now it's on it really does work beautifully and really adds to the building."
The same attention to detail has also been applied to the interior, with Jackie drawing on her extensive travel experience for inspiration.
"I've been fortunate to travel a lot and there's no substitute for it. The bathroom in particular is a pick and mix of my favourite places.
"Being as big as the bedroom I really wanted it to be a sanctuary, with an egg-shaped bath in the middle and a double vanity unit," says Jackie.
"I love antiques and old furniture and many pieces in the Hide are from family or antique shops, but an antique double vanity unit was not easy to find so I made my own.
"I sourced a marble-topped Welsh dresser and then asked my (brave) stonemason to cut into the top and sink in the basins. Likewise, it took a long time to find two matching antique mirrors, but I sourced them eventually."
The bathroom is certainly a talking point, especially with its floor to ceiling glass wall. "You can stand in the monsoon shower or sit in the sauna and look out to the woods but there is a screen if you're feeling shy," says Jackie.
"I've applied the same principle in the bedroom; there are curtains between the bedroom and bathroom, so you can choose to let the light through or have more privacy."
In the bedroom, Jackie spent a year sourcing the centrepiece, which consists of a bed with an antique split walnut headboard and ciel de lit canopy.
"I asked a lady who does theatre set design to make me the swags and drapes that hang down from it. The idea came from a castle we visited."
It's not just the bigger pieces that Jackie has obsessed over, the little details have been just as important.
"I've put things like vintage champagne buckets, antique hand mirrors, a Brownie camera and old apothecary jars into the Hide – just lots of smaller things that add interest.
"We have also put stargazing maps into the house and we change them with the seasons so guests can see what they should be looking for.
"If you're only away for a couple of days, you might not be up on what Orion's Belt looks like."
With that level of thoughtfulness, it's no wonder that Knoydart Hide has received a plethora of travel industry awards from being included in a Top 20 Best Wild Places to Stay to being named Best Luxury Romantic Retreat. In this case, both remote and luxurious, it's a perfect match.
Knoydart Hide is available to let through CoolStays