Tour a modular holiday home in a tranquil Highland location with beautiful loch views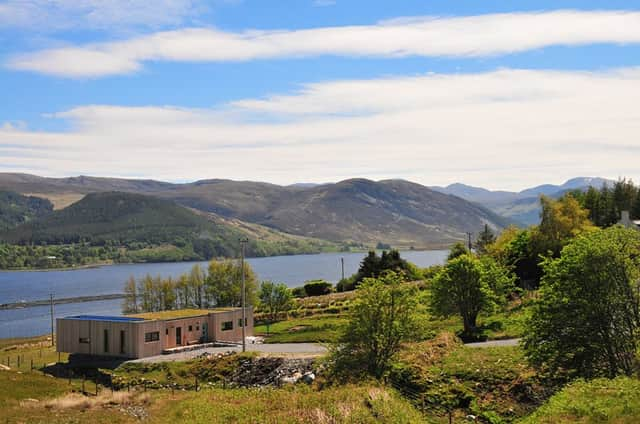 Sealoch House blends perfectly into its Highland surroundings despite being fabricated in South East England
Ullapool is a lovely place, but I don't think we'll ever live there." Famous last words for Shirley and Terry Rose.
The Roses had been living in Reading when close friends of theirs moved to Ullapool 18 years ago.
"We would visit them regularly and loved the complete change from our usual living environment," Terry recalls.
"However, at that point in time, we had a completely different lifestyle. Shirley was an art teacher and I was a property director at a major corporate and we were very busy.
"Things changed when my father passed away. He left us a small amount of money and we wanted to create a lasting memory to my parents."
Developing a piece of land was the option the couple chose to explore, and after looking at sites closer to home, they realised budget was an issue. "It was Shirley who suggested Ullapool," says Terry.
Picture: Sealoch House Facebook
With plots within their means, the couple started looking in earnest. "I'd already decided that living 600 miles away, we wouldn't be building a house in the traditional manner and we had to consider our options carefully," says Terry.
"I wanted to construct a modular building in a factory in the South East of England and transport it to Ullapool.
"Mainly because it would be easier to visit the factory every weekend and project manage, rather than travelling infrequently to the Highlands of Scotland.
"It also allowed us to construct a bespoke, high quality building in a controlled environment, rather than risk building in the challenging weather conditions of the Highlands."
The couple found a wonderful plot on the shore of Loch Broom completely by luck.
"We were seriously considering another site but it was on a steep slope which we knew might be difficult to develop. After lots of research it was clear the original site would not accommodate a modular type of building."
As luck would have it, visiting the original site one day, Terry carried on further along the loch and found a broken For Sale sign.
"It provided enough detail to ascertain who the selling agent was and that's how we found this plot."
The drawback was that the plot was a decrofted site with a five-year time limit on it and planning permission for a traditional property.
As it had already been on the market for a couple of years, the couple had to work quickly.
Picture: Sealoch House Facebook
"We spent a lot of time on site coming up with the contemporary design. Planning were supportive of what we wanted to build because they understood we were designing a property that suited the site as well as us," Terry recalls.
"We told them we wanted to build further down the site where it was flatter and the property itself would be single storey, timber clad with a grass roof to blend in with the environment."
Whilst Terry had the company Boutique Modern in mind, it had not built anything of the size that Terry was considering.
"They'd built smaller, high quality, holiday-type pods, but I asked whether there was any reason why we couldn't connect several of them together and form a house.
Picture: Sealoch House Facebook
"They said that we could and that they would be happy to work with us on the project and could deliver within our budget."
The modules Terry envisaged are completely independent, strong in their own right and highly insulated, with triple glazing and a heat recovery system.
The finished building used seven modules. The outside width of each of the modules was restricted to 3.65m wide for transportation on articulated lorries and the spaces had to be well thought out in order that they didn't feel small.
"We had to plan absolutely everything in minute detail because the short build process would restrict changes during construction; it was an excellent discipline," says Terry.
Picture: Sealoch House Facebook
"The kitchen and bathrooms were installed at Boutique Modern's factory in Newhaven along with the dining room, which arrived in Ullapool with the table and chairs in situ and the lights already fitted."
The sofas, beds, tables, chairs and fridges all travelled in the modules. Even the headboards, which were made from recycled scaffold boards, were fitted in the factory.
"We found someone who makes handmade furniture out of recycled scaffold boards and we commissioned him to make a table for us.
"He made the table, but we'd gone on eBay and found the dining room chairs first.
"We worked out how much clearance we needed under the bottom of the table and I gave him sketches and he designed the table around this. Then he delivered it to the factory for transportation in a module."
Picture: Sealoch House Facebook
Whilst local artisans did the foundations, drainage, a new access road, the larch timber cladding and dry stone walling, there were still a few small amendments required when the building finally arrived in its new home, as Terry explains: "We positioned the bath in the master bedroom so you'd have a view of Loch Broom, but when we brought the bed in, it was too high to see out the window, so we changed to shorter legs and now when you're in the bath you can see over the bed to the big window and through to the small 'sliver' window to see over the rocks."
Whilst Terry was the driving force behind the build design, Shirley was the brains behind the interior.
"Shirley made some of the art that's in the property and she's responsible for bringing in the big shots of colour and design flair as we didn't want it to feel bland.
"We wanted to show that modern architecture doesn't have to be cold, white, stark and over-styled."
Picture: Sealoch House Facebook
Sealoch House is certainly none of those things and considering that the build took only four and a half months compared with a year, which is the norm in this type of build, the Roses are understandably proud of their creation.
"Many people seem to think modular means prefab and hence low quality but that's not the case," says Terry.
"This is a high quality building constructed to tight tolerances using modern construction methods.
Picture: Sealoch House Facebook
"It was a successful collaboration between myself and the builder and feedback from the community is that it's been accepted as a good way to build, which is great to hear.
"I'm proud that we took a risk and that it worked and would not hesitate to build this way again.
Picture: Sealoch House Facebook
"It's blended into its environment, so it's given us what we wanted and comments from guests like 'It feels like a grand design but with soul' prove they get satisfaction from it too.
"The development changed our lives, for the good.
"Ullapool – lovely place, and now we do live here."
Picture: Sealoch House Facebook
Sealoch House is available for holiday rentals from the website.
For more information on modular homes visit the Boutique Modern website.