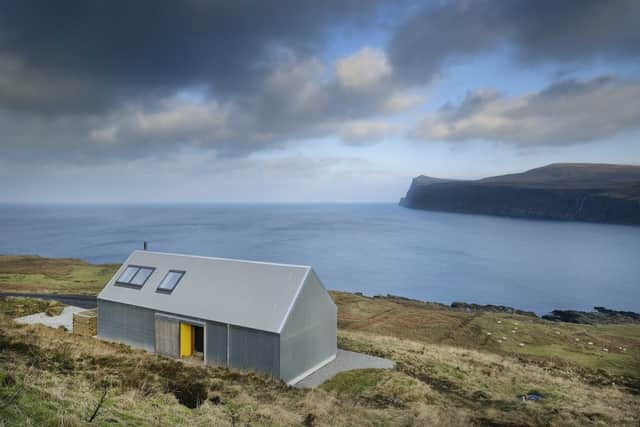 Designing their own property on Skye wasn't a busman's holiday for architects Gill Smith and Alan Dickson, but rather a chance to do exactly as they pleased.
Gill Smith and Alan Dickson moved to Skye in 2002 and gradually built up their architectural practice, Rural Design.
"Many of the houses we designed were holiday houses for friends or clients who became friends," Alan says.
"And we certainly noticed that some of the quirkier houses were very popular for rental. When the recession started in 2009 these properties stayed popular.
"As life was hard in the architectural practice too, we thought a holiday rental might be a good idea for us as well."
In 2011, the design process commenced. "We're fortunate that we live in quite a spectacular part of Skye," says Alan.
"When we bought our land we never thought there would be scope to put another property on the site. However, in this area beside nearly every white house there used to be a little barn or a shed.
"So, we played on that idea with our design but at the same time creating something really modern."
The design was a long, single storey with a pitched roof. "We wanted to create something unique about this house and up here metal buildings are part of the landscape.
The design and shape are very simple, there's no fussiness, as it were. In one way it's quite a brutal design but the weather up here is really harsh so the design needed to take that into account."
With plenty of experience designing for the Skye weather, Alan and Gill chose several entrance options.
"On really exposed sites sliding doors can be vulnerable to leaks so swing doors are better.
"The entrance is at the back of the house with an enclosed boot area and pull-along shutter door and then there's another entrance on to the deck space which has a half-height wooden screen.
"You can huddle down there and get some shelter from the wind, and we added an exterior door to the bedroom for a bit of air in the morning."
The glazing also takes account of Skye's climate, offering brilliant views with comfort and protection.
"The window height was intentional. It's a panorama and it crops the landscape and focuses the view.
"When you have a massive window your furniture almost has to be set back from it. In this property we focused the window but that meant we could have a built-in sofa right next to it and although there's less glass I think you get closer to the view."
While the property has been named Tinhouse, it's actually uncoated aluminium and for Alan this was a fortuitous decision. "In the end the only way we could afford to build this was for me to do it, so this became my weekend job/hobby for three years.
It was a gradual process, and being only one person, it was quite advantageous that the cladding was uncoated aluminium and was relatively light.
"I'm certainly not a craftsman so there was an element of 'We have these materials, how do we put these together in a simple way that doesn't look rubbish?'
"For example, I couldn't fit plasterboard on the ceiling as it was too heavy, so that led us to using timber lining.
"The character of the hou
se evolved based on what one person can do. I certainly developed new skills and it became a very personal building for Gill and me.
"Rather than working as architects predicting everything and putting it on a drawing, this was made up as we went along."
Working for themselves also gave the couple the opportunity to choose what they really liked and furnish accordingly.
"It had to be good quality, and as is the way, it's better than what's in our own house – we didn't want to let the building down."
The result is a quirky, high-end, utilitarian look that juxtaposes design classics with pieces they made themselves such as the concrete dining table and the glass and wood coffee table.
A plywood kitchen made by Mark Williamson of Birkwood in Perth adds another dimension to the living area, as do the splashes of colour that pop up around the property.
"The colour scheme was led by Gill, but that is very much our signature style.
"Our projects quite often have an injection of colour to pick out a highlight in the architecture, such as an entrance or a particularly interesting part of the building.
"Here we have that green splash at the end of the corridor, the yellow around the door that mimics the gorse, and, in the shower, we have a pink which is exactly the shade of a foxglove.
"You can almost tell what time of year these decisions were made."
In January 2016, the couple decided it was time to give the build a final push and started a Twitter feed to prompt themselves.
"People were asking when they could come and stay, so I gave myself six months and started doing longer weekends and then working all week.
"However, our first guests were from Germany and as they'd been keeping up with our Twitter feed, they did phone and ask if they should get on the plane. We finished just in time."
From a timescale point of view this has been a long haul, but Alan likens the project to slow food: "It gave us loads of time to decide how we were going to finish the house down to minute details from the interior to the landscaping and we're really pleased with the design inside and out.
"There's something quite unique about Tinhouse and it really represents us well.
"The fact that we did it ourselves makes it a very personal project and we'd never sell it, ever. It's like our first child.
"One of the nice things about being an architect is when you finish a project that everyone loves, and you have a happy client.
"Having guests stay here is like having a happy client every week. It's so pleasing when people notice the wee touches we thought long and hard about."
For more information on Rural Design please visit their website.