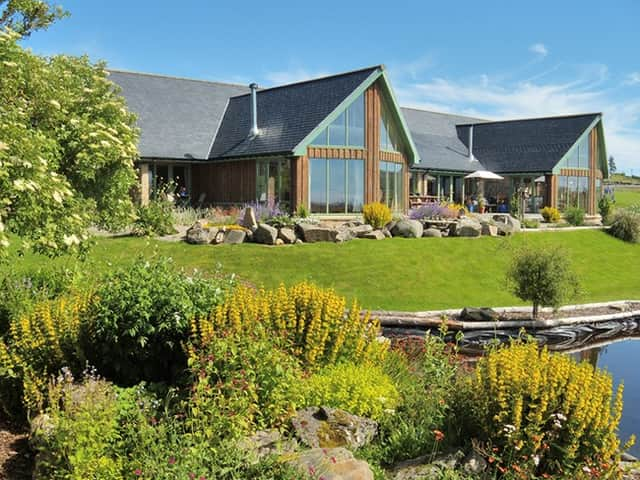 Though Greenbank was the Sinclairs' first new-build, they were determined to be in control of every aspect of their luxury lodge's construction
Back in 2012, Moira and William Sinclair engaged the services of an architect and builders in order to create their ideal home.
That house is called Greenbank Lodge and it is situated in Rogart in Sutherland.
Now, though, the family is looking to move on, so they are putting the property on the market for offers over £395,000; a starting price of £30,000 less than its valuation.
For around that sum the new owner would gain possession of a large four-bedroom property with two en-suites and a family bathroom.
The house also has a sun lounge, a dressing room and two wood-burning stoves, and there is an adjacent building plot included in the sale.
The couple did not actually set out with the intention of building a house. However, inspiration struck when they were out for a drive one Sunday.
"I operate very much on gut instinct," says Moira, "and when we stopped directly outside this field one day, I just thought it had a lovely feel and would be a good place to live. I can walk into a place and know if it is for me or not."
The field contained two building plots which each had outline planning permission and were up for sale.
The Sinclairs decided to purchase both in order to maintain control over any neighbouring development.
Although they had never built a house before, they did have experience of renovation.
William says: "We have done up a number of properties in the past when it was profitable and you could actually get a mortgage."
From the outset Moira had very clear ideas about the kind of home she had in mind. "I knew what I wanted," she says.
"We love looking at other houses and get really excited when we see an interesting one. I get inspiration from magazines."
Given her interest in architectural matters, it made sense for Moira to take the lead on the design front.
She presented an architect with sketches that clearly illustrated her preferences.
However, the architect whom they approached initially was not receptive to the notion that there should be large bay windows with glazing that jutted out an angle.
"I listened politely when he told us why we could not have what we wanted and I knew that we would not be able to work with him," says Moira.
"Then we came across Margot Stoddart, who is now with Mi Architects, and from the outset she was just fantastic.
"She listened to what we wanted and did not at any point start to take over."
The build process turned out to be a family affair, involving a lot of hard graft. As soon as the foundations had been dug, all four Sinclairs donned wellies and helped to pour concrete.
Younger son MacKenzie has happy memories of that time. "The builders used to hide packets of crisps for me and I had to find them," he says.
William eventually took a year off work to oversee the project but during the initial stages of construction, he continued to work full-time; an arrangement which proved to be hard going.
"I used to leave the house at 7 o'clock in the morning to commute to work in Inverness," he says.
"Quite often, I did not get home until around 8 at night and I had told the builders just to leave any mess for me to clear up, so I had that to do before I could relax."
On one occasion when the site was in the grip of a fierce winter weather, William strapped some insulation boards to his knees and traversed the roof, clearing snow so the slate work could continue.
The scaffolding had been hired at great expense and letting it stand redundant was not an option he was willing to contemplate.
The Sinclair's have resisted the temptation to follow fashion slavishly. Instead, they have created a home which suits their lifestyle.
So there are no open-plan living spaces and no underfloor heating. "I did not want an open-plan house because my husband is not very tidy," says Moira. "Also our teenage son likes to have his own space."
The only concession to a modern layout is the kitchen, which has an integrated dining space.
"When we had a dining room we hardly ever used it. Also, when you have people round to eat it is good to be able to cook and talk to them at the same time," says Moira.
The house has very large rooms and takes a regular, symmetrical form in keeping with Moira's tastes.
A large sitting room occupies one wing and it has exposed rafters and a wood-burning stove.
The kitchen is a mirror image of that room in terms of size and shape and it also has exposed rafters and extensive glazing; a design component which has attracted attention.
Picture: one of the bedrooms, HSPC
William says: "A lot of people say this house looks a bit like a church because of the windows."
Most of the floors are covered in cream porcelain tiles. These were purchased from a major DIY store and were quite inexpensive but the workman who put them in place remarked on their good quality.
The walls are also painted in neutral magnolia. A number of colourful glass fishing floats are suspended from the ceiling.
"I like to have a fairly neutral background and then fill the space with bright fabrics and accessories," says Moira.
When it came to naming the house the couple came up with Greenbank. "We decided on the name because it has green windows and because all our money is tied up in it," Moira explains.
Although the family enjoy their home, they feel the time has come to move on and undertake another build.
"It would be nice to buy a cottage and to extend on to it," says William. "We will miss this place because the rooms are so light-filled and spacious.
"Also, it is economical to keep warm. We particularly like the sun hall and that is something we would copy in our next place."
Greenbank is on the market for over £395,000 with HSPC