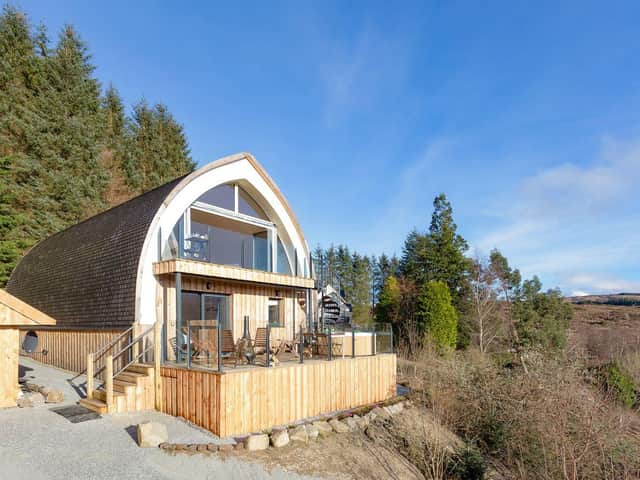 If you don't think the words luxury getaway and straw bales could exist in the same sentence, then take a look at the Jill Strawbale House.
Located in the Highlands, this unique getaway is an eco-friendly property that has been constructed using over 500 bales of straw.
The energy efficient holiday home, which sits in an elevated position in Strontian near Fort William, uses straw bales as its main form of insulation and exports five times more power than it imports.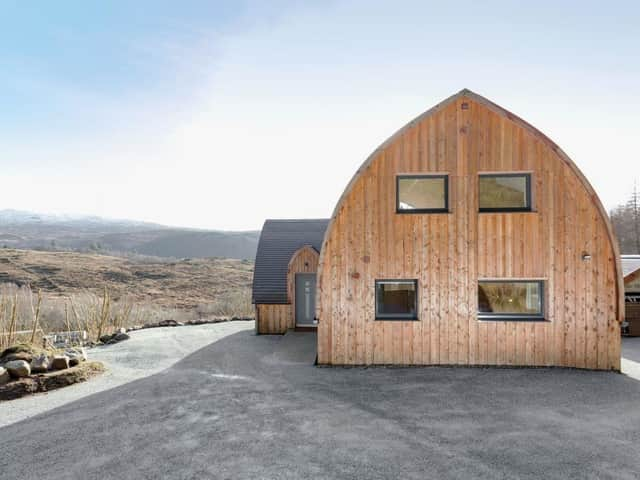 The striking property gets most of its power from two hydro generators, and is ideal for anyone looking to help reduce the impact of a holiday on the environment, but wanting more luxury than camping can provide.
With a background in tropical forest management, owners Justine and Robert Dunn decided to build a highly efficient holiday home to generate income for their retirement.
Despite working in much warmer climes, Justine and Robert decided to move to the village of Strontian when their children were younger, and it is here that the unique holiday home is located.
Picture: Jill Strawbale House, cottages.com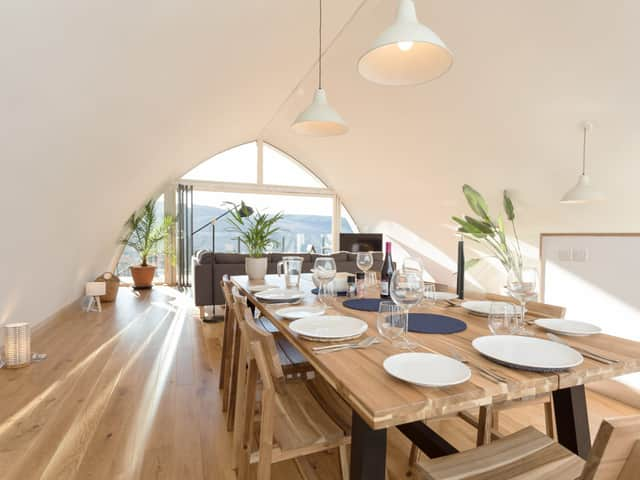 The strawbale house sits on land that came with an old vicarage that the family moved into and renovated over 15 years ago.
Copying a design from Cumbrian-based engineer, Brian Waite, who built the first one to show it could be done, they worked with a local architect to help finalise plans and gain the necessary permissions.
Picture: Jill Strawbale House, cottages.com
Guests can enjoy remarkable views from the floor-to-ceiling windows, which look out over Loch Sunart and the Morvern Hills.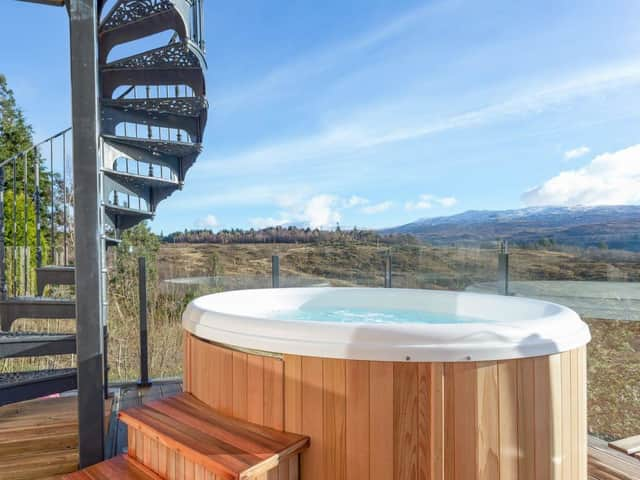 Sunny days can be enjoyed from the upstairs balcony or in total relaxation from the lower deck hot tub.
Picture: Jill Strawbale House, cottages.com
There's also a dining area, seating and a chimenea here - perfect for cooler nights.
Outdoor enthusiasts will enjoy wild life spotting or star gazing from the telescope, which is positioned to make the most of the beautiful outlook.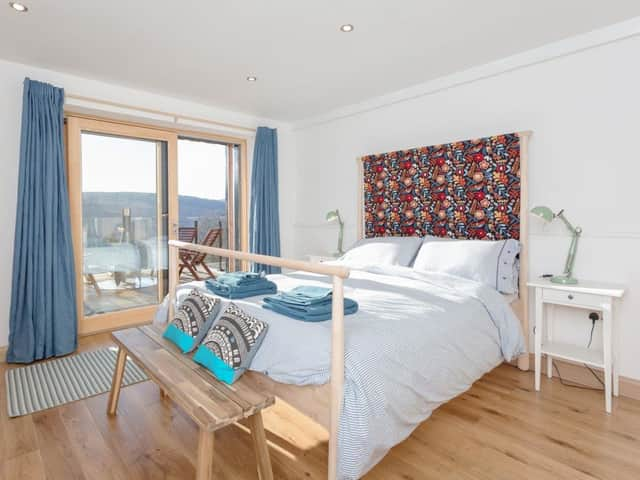 Picture: Jill Strawbale House, cottages.com
The house has two double bedrooms and two bathrooms, and is designed to sleep five.
Upstairs is where guests will spend most time - in the open plan kitchen/dining area, with its full length windows and bi-folding doors out to the balcony.
Picture: Jill Strawbale House, cottages.com
Robert, who did most of the construction along with his family, says: "Despite having no experience of the building industry, Justine and I were keen to create the holiday home ourselves.
"By picking a cruck frame design that was easy to erect, we have been able to do most of the work with help from friends and the rest of the family too.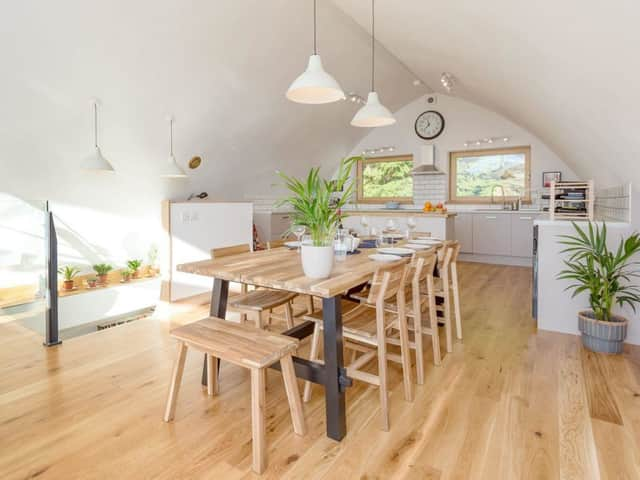 "In the past, we have worked in the tropics and when we came back to the west coast of Scotland we decided to put down roots in the village of Strontian so that our four children could go to the recently-built high school.
"We have always been passionate about the environment and knew the holiday home had to be eco-friendly and energy efficient.
"Many people do not realise that straw is one the cheapest and most sustainable forms of insulation.
"Covered inside and out with lime it also makes the house breathable, allowing moisture in the air to move from the inside of the house to the outside.
"This helps to cut energy bills, boost home comfort and promote healthy indoor air."
Picture: Jill Strawbale House, cottages.com
Mark Whitehouse, Area Manager at cottages.com for Western Scotland, said: "Sustainability continues to be high on the agenda, so we are delighted to have signed this extraordinary property that uses straw bales as its main form of insulation.
"The property is truly unique not only in the fact that it is eco-friendly and green, but also because it is a grand space encompassing an amazing design."
Picture: Jill Strawbale House, cottages.com
In the surrounding area there is the historic Ariundle oak woods - a temperate rainforest - and the old lead mines.
The 'Corbett' mountains, Loch Sunart, Ardnamurchan Lighthouse and Sanna Bay are also located close by.
And fans of Harry Potter (both big and small) can take a day trip on the Jacobite Express steam train from Fort William to Mallaig, which passes over the now famous Glenfinnan Viaduct.
Picture: Jill Strawbale House, cottages.com
The Jill Strawbale House is available to rent from £813 in the low season, for a seven nights self-catering stay.