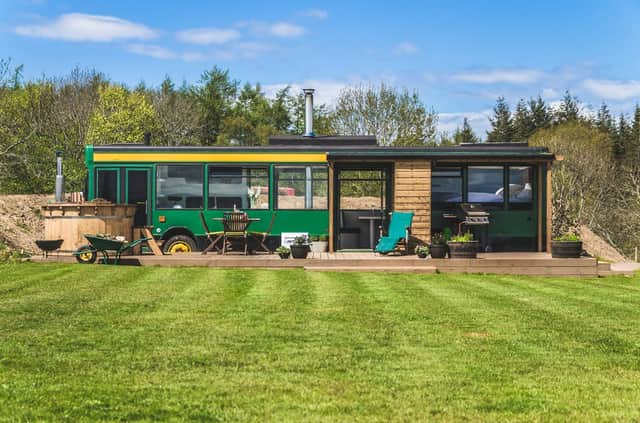 For a busman's holiday that puts you in the driving seat, head for Gifford in East Lothian.
For a unique getaway, this is one stop you don't want to miss.
There's a history of buses at this Gifford farm in East Lothian. For several years, the owner, Balfour Stewart, has been renting out a large grain shed to a bus club.
"It's a group of guys who come down most weekends," Balfour's son, Sandy, explains.
"They buy up old vintage buses and restore them and take them to shows.
"A few years back when I decided to leave the army, my plan was to come back to work on the farm. My father and I were trying to think of ways to make a bit of extra income.
Holiday homes was one of the ideas that came up and we started exploring it."
Sandy continues: "Our research showed that a high standard of property produced the best returns and we thought if we offered something different and created an experience, rather than just a stay, it would work.
"We have a nice little plot of land in a great location, and one thing led to another. So we decided we would convert a couple of buses into holiday homes.
"Thankfully my brother-in-law, Jason, runs Good With Wood Ltd and has a workshop on the farm. We employed him to work with us and come up with some designs."
The planning application was a long process but eventually it was granted for three buses – two single deckers and one double decker.
"The buses themselves came from scrapyards," says Sandy.
"If we were willing to pay more than they were worth in metal, we could have them. We paid between £600 and £800 a bus and a towing charge back to the farm.
"Once the buses were here, we did all the preparation ourselves and there was a lot of digger activity and just basic grunt work to rip out the interiors.
"Then Jason got started. The glass windows, side panels and the outer shell are all original.
"We've insulated where we needed to but that wasn't as big a job as you'd expect as buses aren't designed to be cold.
"Next it was a process of what do we have to have and what could we do without? We couldn't fit in an oven, so in Bus One we have a gas barbecue undercover on the deck, but there is a hob, freezer and microwave inside.
"We've made sure we've used every bit of available space. There are drawers underneath the bunk beds and each of the steps leading to the top bunk is storage as well."
And as you'd expect in such a unique space, the loo most definitely has a view. "The WC is in the exact location of the old driver's seat," says Sandy.
"We tried hard to keep the steering wheel, but we just couldn't get it to fit, although we have left the original windows. If you want to pretend you're driving the bus you only have to pull the curtain back!
We've put a rainfall shower in there as well."
Sandy's favourite part of the bus is the atmospheric master bedroom with its king size bed and super-sized skylight.
"We cut a portion of the roof out at the back of the bus and as there's no street lights round here it's a real sleeping under the stars experience," he says.
Whilst the bus has the benefit of central heating courtesy of a biomass boiler on the farm, a wood-burning stove has also been installed to add a bit of atmosphere on a winter's night.
Alternatively, you can brave the elements and enjoy a dip in the wood-fired hot tub. "I do spend an awful lot of time chopping logs," says Sandy.
"However, the hot tub is an amazing draw for guests and many people see the hot tub before they see the bus. It has a wood burner in the middle into which you chuck the logs and then the water around it acts as a large bath.
"The decking on which the hot tub sits is old decking that had been used at the Edinburgh Festival on George Street.
It was meant to be thrown away but we offered to collect it, so we got it for free, although it was probably harder work than buying new by the time we cleaned it up."
Creating this quirky and luxurious retreat took around six months but Sandy says the hardest part was agreeing on the colour scheme.
"If people are coming to stay in a bus they're looking for something a little unusual. However, by now, my sister and my father's partner, Elaine, were involved too.
"Deciding where the bed went was straightforward but what shade of white to use between five people? Then it gets complicated."
These complex decisions didn't deter the family, however, and at the last count the farm is now home to two single deckers with the double decker hopefully being completed by the summer.
"We also have another site on the farm which we're planning to convert into more of a glamping experience with six rustic buses with a communal kitchen and shower block."
Guests are also encouraged to expand their experience at The Bus Stop and explore the farm if they're so inclined.
"We offer breakfast with the farmer and my dad sits down with anyone who wants to listen to him chat," says Sandy.
"We also keep chickens and the chicken bus is where guests can go in and pick their own eggs.
"There are also horses, alpacas and sheep, so we do try and make a farm experience of it, and if people want to go in the tractor or the combine harvester, if the time is right, we can arrange that too."
What are you waiting for? Buy your ticket and climb aboard.