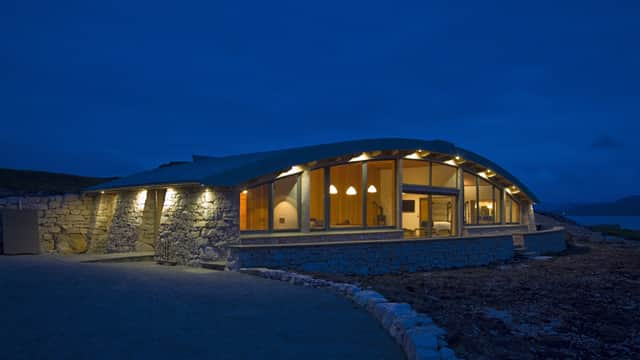 The dreamy Shore Cottage at Croft 103 had to be carbon negative but full of romance
Helping a friend find wedding accommodation was the start of a whole new building project and business for Fiona Mackay.
Along with her husband, Robbie, Fiona is the owner of the stylish Mackay's Rooms in Durness, a luxurious boutique B&B.
As such, she would appear to be the perfect person to ask for advice on finding wedding accommodation in the Highlands.
Picture: Boutique Retreats
"My best friend was getting married," Fiona recalls. "She wanted really nice accommodation, something a bit special which was dog friendly and in a remote Scottish location, and she struggled.
"I'm local to the area so I said, 'Leave it to me, I'll find you something,' but when I started looking there really wasn't much on offer."
However, it did plant the seed of an idea in Fiona and Robbie's minds.
"We had a croft in the family that was in a pretty amazing location on the shores of Loch Eriboll and we wanted to do something with it," says Fiona.
"Building our own house wasn't feasible at that time, but we thought a holiday home could be."
The couple set about creating something that they would like to stay in themselves.
"The project took about six years from concept to completion, mainly because we hit three very hard and snowy winters and on such an exposed site, we just couldn't do anything.
"It was probably about three years of actual building and we finally finished in 2010."
Picture: Boutique Retreats
Croft 103 is the result. Two complementary but wildly contrasting holiday homes, Hill Cottage and Shore Cottage.
"We already have a hotel in Durness and for 16 years we've been renovating and developing it," says Fiona.
"However, for years we were stuck with the traditional plastic porch at the front of the building and we really could not come up with something to replace it as we were so restricted in what we could do.
"Our friend, Matt Stevenson, came up with a suggestion for the front of the building – a huge arch design, which we loved, and when we were developing the croft, it came into discussion.
"Initially both properties were intended to look the same externally, but after we'd done the hotel frontage we decided to replicate that on Shore Cottage."
Picture: Boutique Retreats
Internally, it had always been agreed that the houses would be different.
"Each house has the same floor plan and they're the same size, but we wanted to style them independently. We liken them to a brother and sister – they're equal but unique.
"At Croft 103 nothing is off the peg, everything was done with thought, intention and individuality in mind. They're carbon negative houses and that was at the forefront of what we wanted to create."
Picture: Boutique Retreats
Both houses were constructed using local timber, stone and traditional building techniques.
The stone for the external walls and dry stone dykes was sourced on site and tyre bales, which are produced from used car tyres (a problem waste product) turned into building blocks, were also used.
Power is provided by a small wind turbine and heating comes courtesy of solar collectors and the highly efficient sheep's wool insulation.
Inside the properties, the same care and attention has been applied. "The wood used inside Shore Cottage is Douglas Fir from a farm in Dornoch which we felled ourselves," says Fiona.
Picture: Boutique Retreats
"Our aim was to use as many natural and local materials as possible and there are many handmade pieces."
From bespoke towel rails and door handles to the wardrobes and 7ft bed, which was a collaboration with their friend and artist, blacksmith Sam Barlow, the pared back aesthetics in Shore give the property a stunning simplicity and complement rather than detract from the dramatic views outside.
Picture: Boutique Retreats
"I think that Shore Cottage ticks the box because it's honest," says Fiona. "It's not a fashion statement, it's quite simple but it's difficult to make something simple.
Picture: Boutique Retreats
"There's a temptation to overdo it. For me, the house is fantastic, the location is awesome and as long as you like the person you visit with you'll love it."
And, if you want to get even more up close and personal to the wilds of Scotland, then just take a dip in the outside tub – but it's not a hot tub, of course.
Picture: Boutique Retreats
"We wanted an outdoor tub of some sort, but a hot tub is so ecologically wrong with all the chemicals it requires, so that's when we thought, 'Let's just have a bath tub.'
"The water is mainly heated by solar so our conscience is clear.
Picture: Boutique Retreats
"The second time Robbie and I stayed here we sat outside in the bath with a bottle of bubbly under the Northern Lights looking out over Loch Eriboll. You just can't beat it.
"Shore Cottage was built to fall in love with, and in. It sounds naff but it's true. The number of guests that have got engaged here is quite amazing.
"I love it when that happens – it's hard not to be happy when you're here, even on handover day when I'm doing the cleaning!"
Picture: Boutique Retreats