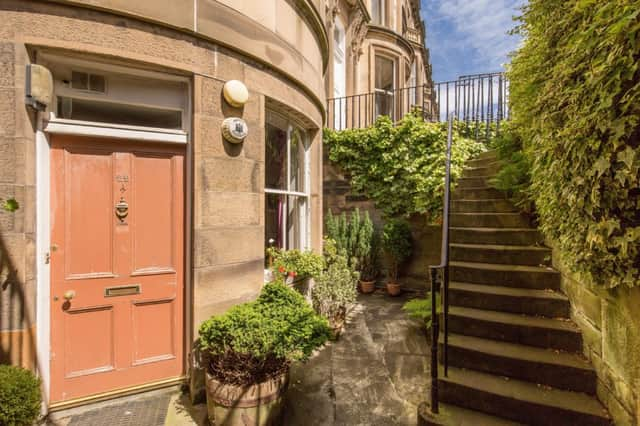 Those hot summer days might be over but gardens are still prized in the middle of Edinburgh, finds Kirsty McLuckie
A city flat with a private garden is a real luxury. Michael Hodgson, associate in Strutt & Parker's Edinburgh office, says a garden can add as much as 20 per cent to the value of a property in the city centre.
He says: "There is a huge demand for garden flats which immediately has an impact in terms of pushing up prices.
"Buyers looking for garden flats in Edinburgh's New Town and West End have to buy basements which in other terms are not always so desirable."
But while subterranean flats might be less popular in some respects, they do have advantages.
Hodgson says: "It is much easier to make significant changes to basement flats than it is to ground and first floors, due to the period detail involved in the city's Georgian and Victorian properties."
Where planners are unlikely to approve major layout changes to properties at street level and above, Hodgson says, however: "Subject to appropriate consents, it is relatively straightforward to knock through rooms and create open-plan spaces with big family kitchen and living areas which open up into private gardens.
"The combination of these factors make basement flats in these areas very popular indeed."
Picture: Strutt and Parker
The property at 2B Drumsheugh Gardens is a recently refurbished two-bedroomed lower ground apartment with private south-facing garden.
The property has been completely refurbished by the present owners, Len and Kay McAllister, who say that the garden was the main attraction when they bought the flat in 2003.
Picture: Strutt and Parker
Len says: "We live in Montrose, but wanted a pied à terre in Edinburgh so we didn't need a huge flat but definitely wanted a garden."
A lot of properties in the row have been extended at the back, so have lost their gardens. I think this flat has the only garden on this side of the street.
Picture: Strutt and Parker
"It is unique, such a suntrap, really that was the reason we bought it."
He says the advantage of the landscaped garden, which uses different levels of decking, paving and planting to create a sheltered sunny spot with a dining table, is that it is low maintenance.
Picture: Strutt and Parker
"It has been perfect for use because we aren't here all the time but a quick tidy up at the beginning and end of the season keeps it ready for use."
Picture: Simpson and Marwick
No 51 Manor Place in the West End is a three-bedroomed ground and garden flat has its own a private rear garden.
Picture: Simpson and Marwick
The ground floor accommodation of sitting room and two bedrooms is traditional with period features, while the garden level downstairs has a contemporary open-plan dining kitchen, third bedroom and bathroom.
Picture: Simpson and Marwick
The living space has a glazed door to the walled, wedge-shaped garden, landscaped with pebbles, potted shrubs and with a pretty terrace for a table and chairs.
It is a chic space for a city property and adds a great deal to its desirability.
Picture: Balfour and Manson
The flat at 22A Learmonth Terrace is a three-bedroomed West End property with a beautiful enclosed garden, surrounded by mature trees and including a lawn and sheltered terrace.
The flat also has a sunny courtyard at the front.
Picture: Balfour and Manson
For those wanting to add value, the flat offers potential for refurbishment and the space to indulge green fingers outside.
At a glance
Picture: Simpson and Marwick
Where is it: 51 Manor Place, Edinburgh.What is it: A three-bedroomed ground and basement flat with private rear garden.Good points: The upper floor is traditional in style, proportions and features while the lower floor living space is contemporary and open plan. The garden is low maintenance and very stylish.Bad points: Probably not enough room outside for a game of tennis.Price: Offers over £695,000.Contact: Simpson & Marwick, on 0131 525 8600.
Picture: Strutt and Parker
Where is it: 2B Drumsheugh Gardens, Edinburgh.What is it: A two-bedroomed lower ground floor West End apartment with a privatesouth-facing garden.Good points: The accommodation has been opened up to provide a dining hall off the kitchen, a spacious master bedroom with en suite and dressing room, second bedroom, bathroom and study. There are three under-pavement cellars. The sitting room leads to the decked, walled garden which is mature and low maintenance.Bad points: The kitchen is internal, so isn't as bright as the rest of the flat.Price: Offers over £495,000.Contact: Strutt & Parker on 0131 226 2500.
Picture: Balfour and Manson
Where is it: 22A Learmonth Terrace, Edinburgh.What is it: A three-bedroomed split level, main door, garden flat.Good points: A good-sized sunny apartment with an excellent sheltered mature garden and pretty courtyard at the front.Bad points: It would benefit from some refurbishment, and possibly some remodelling, but there is real opportunity here to add value.Price: Offers over £440,000.Contact: Balfour & Manson on 0131 200 1234.