Three of the best energy efficient, light-filled homes for sale in Scotland now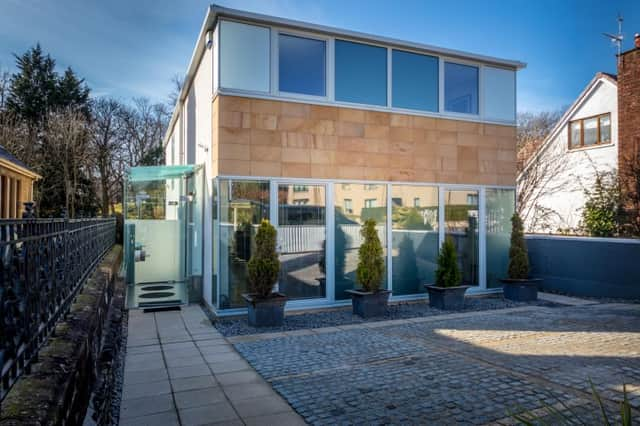 Modern homes don't need to compromise on energy efficiency or privacy to let the sunshine in, reports Kirsty McLuckie
The main difference between older houses and more contemporary designs is sometimes the amount of light that penetrates throughout the property, particularly in kitchens and family spaces.
Modern tastes for large windows can be accommodated by extensive glazing and double-height or even double-decker banks of windows which not only let in more light but are engineered to harness the heat of the day to keep draughts out and energy bills low.
Not only will living in such a home create an automatic wow factor for visiting guests, it should ensure that the inhabitants never suffer from a lack of sunlight, even in the darkest of Scottish winters.
East Craigiecatt, at Netherley, near Stonehaven in Aberdeenshire, is a superb example of a house designed to let the maximum amount of light in.
The contemporary property makes the most of its setting, in 15 acres of woodland, gardens and paddocks, and its extensive views over the surrounding rolling countryside.
Designed and constructed for the current owners ten years ago by renowned architect Gokay Deveci, it offers spacious, adaptable family living with green design at the forefront.
Energy-saving features include triple glazing, underfloor heating throughout the ground floor, solar panels for heating water and extra-thick walls and roof.
The property has been designed to maximise space and efficiency but with an eye on well-placed windows capturing the striking views.
The true wow factor of the home is the beautiful central atrium which links the public and bedroom wings with a staircase leading to the upper floor, but the house has beautiful touches throughout and is a fine example of a 21st-century take on a Scottish country house.
A contemporary house in the West End of Glasgow is a good example of how a modern design can allow lots of light in, while retaining privacy in a city location.
27 Whittinghame Drive, in Claythorne, is a seven-apartment detached house, less than a decade old, which has been oriented to make the most of its south- facing enclosed garden.
The main public room has a full-height glass wall overlooking the outside space, with doors leading out to decking.
Features such as the glass-enclosed stair and a mezzanine-level dining room make sure that the light penetration reaches every part of the house, but the front, facing on to the street, is discreet.
Picture: Strutt and Parker
Developer AMA's Caer Amon Crescent houses in Cramond, Edinburgh, have managed to maximise light while retaining privacy too.
Just one of the 16 properties is still available. It has four bedrooms, a contemporary open-plan kitchen dining room and lounge with access to balcony and garden.
Picture: Strutt and Parker
The properties are constructed with a high level of thermal insulation and have solar panels to heat water and central heating and boost their green credentials further.
Picture: Strutt and Parker
Here the design of high windows set in double-height ceilings in some of the public spaces has meant that the rooms are flooded with light while not overlooking, or being overlooked by, neighbouring properties.
At a glance
Where is it: East Craigiecatt, Netherley, near Stonehavem, Aberdeenshire.What is it: A contemporary home with five bedrooms, three public rooms, 15 acres of grounds, a double garage with workshop and games room, a wind turbine and solar panels.Good points: The high point is the central atrium which links the two sides of the house with an enormous glazed area and impressive staircase, but most of the public rooms also feature double-height windows or two levels of glazing.Bad points: You would need a large family to make the best use of this impressive house.Price: Offers over £945,000.Contact: Galbraith on 01224 860710.
Where is it: 27 Whittinghame Drive, Claythorne, Glasgow.What is it: An architecturally unique detached house with four bedrooms, three public rooms and an enclosed garden.Good points: The double-height glazing in the sitting room connects the house to the pretty garden. High-spec finish throughout.Bad points: With so much sunshine, watching TV on a sunny day could be tricky.Price: Offers over £640,000.Contact: Corum on 0141 357 1888.
Picture: Strutt and Parker
Where is it: Crescent House, Brighouse Park Cross, Caer Amon, Cramond, Edinburgh.What is it: A brand new four-bedroomed energy-efficient home by AMA, set in a conservation area.Good points: A stunning home with an energy rating of band B, so low cost to run. Light and airy interiors.Bad points: It is a city property so there are close neighbours but the design offers privacy.Price: Fixed price £599,995.Contact: Strutt & Parker on 0131 718 4487.