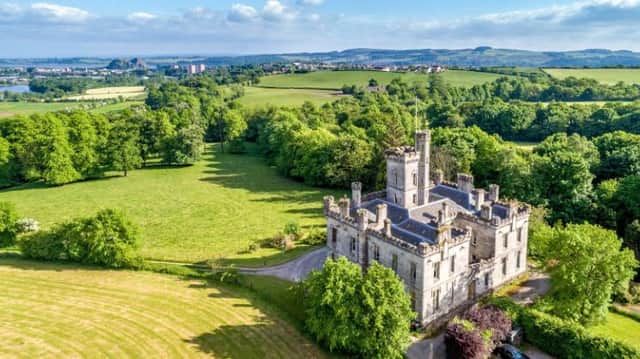 A Scots castle built on land once hunted by Robert the Bruce has gone on the market - complete with what is believed to be the largest stain glassed window ever to be created in a private home in the UK.
Dalmoak Castle in Dumbarton, a Grade A listed building, is up for sale for less than you might expect.
It was given the name "Brandy Castle" by locals given it was built for John Aiken of Glasgow, a wealthy wine and spirits dealer.
The 16-bedroom property is revered for its stained glass windows which were created by the same artists that worked on Glasgow Cathedral.
The estate dates to the Middle Ages and was later part of the Royal Hunting ground of Robert the Bruce.
Dalmoak Castle was built by architect Alexander Watt in 1866-68 for Aiken, who passed the property down through his family.
Its lavish interiors include a central hall with an imperial stair and a drawing room with sumptuous ceiling plasterwork and scagliola columns.
Sellers Savills say: "This is a category A listed mansion formerly used as a nursing home with a wealth of original features.
"The sumptuous interior includes a tripartite etched glass vestibule door, magnificent scagliola Corinthian columns, hardwood imperial staircase and three beautiful round arched stained glass windows on the landing depicting Celtic mythological scenes.
"These windows may be the largest stained glass windows in a private house in the United Kingdom.
"During the Second World War the Royal Air Force used Dalmoak Castle as its local headquarters. In 1989 It became a nursing home and was fully restored in the 1990s. Dalmoak Castle retains its current commercial use under Scotland Class 8 (residential school/college/training centre/nursing home).
"The accommodation extends to approximately 9500 sq ft and includes 14 bedrooms, many with en suites, basement with wine cellar, offices / studies and a wonderful grand hallway with imperial staircase and arched stained glass windows on the landing.
"The lavish public rooms include a drawing room, study, music room and formal dining room and there are tower rooms on the second and third floors with a roof terrace on the fourth floor.
"The grounds surrounding Dalmoak Caste are mainly lawned. To the north there are the former stables which are now privately owned cottages."
Dalmoak Castle is on the market for offers over £795,000 with Savills - a budget of which is on par with some period family homes in Edinburgh.