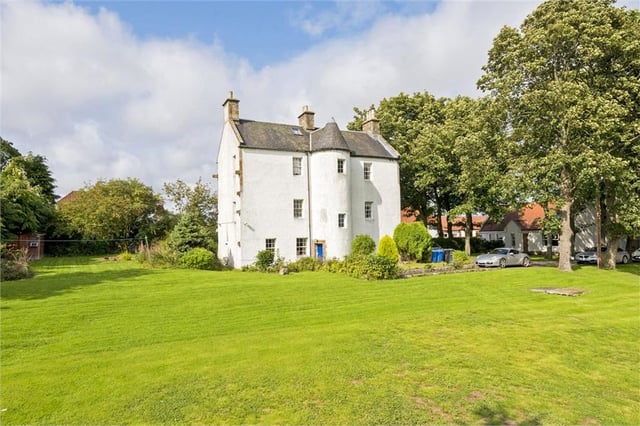 A historic property rumoured to have hosted Mary Queen of Scots and the Knights of Templar in its grounds has hit the market in West Lothian.
2 Kirkhill House in Broxburn is an exceptional B-listed home that has seen its 16th century build significantly upgraded over the years.
The one-bedroom property oozes charm and character with its turreted stairwell, patches of exposed stonework and three wood burning stoves in its interior.
Set out over three storeys, the living room, kitchen and dining room and bedroom each have their own dedicated floor, giving each area a spacious, yet compartmentalised, feel.
Zoe Redhead, who has owned 2 Kirkhill House since 2005, said: "I always wanted to have a house with a turret - it was on my bucket list for ages.
"So when I saw the house originally advertised in the paper I just knew I had to have it. I put an offer in without even having a viewing first - I didn't want to risk anyone getting in there before me.
"I often walk down the private road, look up at the house and just admire its beauty. Everyone calls it the mini castle.
"Numerous people have told me that the Knights of Templar once camped out in the garden here and that Mary Queen of Scots once stayed in Kirkhill House!"
Though a classic and well-maintained 16th century design on its outer shell, 2 Kirkhill House's interiors reflect modern living, with its contemporary bathroom and sleek, modern open-plan kitchen and dining room with double doors that open out into the garden.
The property benefits from a private south-facing garden to the left of the property, as well as expansive communal gardens overlooking its attractive countryside setting.
Zoe added: "Though it's in Broxburn the house itself is secluded. There are no street lights; the house is in its own little bubble, its own little world.
"It's easy to think we're in the back and beyond, but the town's right on the doorstep. Edinburgh and Livingston are just a 15 minute drive away and it's only an hour to Glasgow - we're really in the middle of everything."
2 Kirkhill House has an additional attic room which is accessed by a pull-down Ramsay ladder.
Michelle Brownlee, Estate Agent at Warners Solicitors and Estate Agents said: "2 Kirkhill House offers the rare opportunity for buyers to purchase a truly historical build with a modern, 21st century interior.
"It's in perfect move in condition, and would be perfectly suited to a couple or a professional with a keen eye for Scottish architecture and stylish living.
"During the day, 2 Kirkhill House is flooded with light. Many of the rooms have twin, or even triple, windows which makes the place feel bright and airy.
"And it's not just the property that's pleasing on the eye - its position offers stunning views of the surrounding area, too. It really has to be seen to be fully appreciated in all its glory."