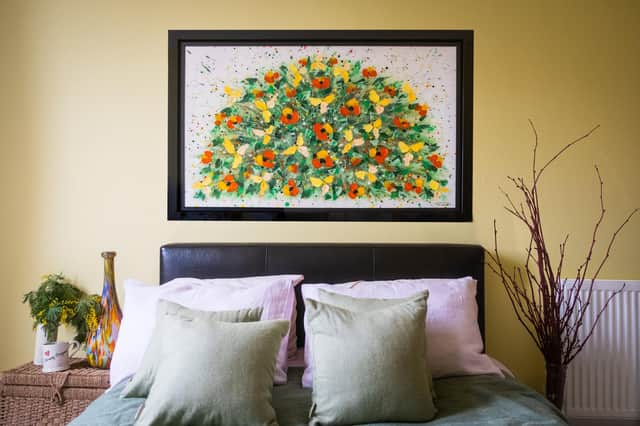 The Italian designer is making headlines with her unique approach to home makeovers
"My speciality is to decorate a room by taking inspiration from art," says Silvia Ciferri, who founded Casa Colori in Glasgow in 2014.
Originally from Italy, she studied biology before discovering her talent for creating innovative and eye-catching interiors after buying and renovating her first flat.
"It was a typical ex-rental magnolia flat," she recalls. "I decided that a splash of colour here and there would make it look beautiful – I was so happy with what I had done, and so fed up with seeing magnolia and brown interiors everywhere, that I decided to study interior design and set up my own business."
Silvia's signature style is bright, light and uplifting: as she writes on her website, "what is really important to me is to achieve a sense of space, maximising natural light, being adventurous with colours and furthermore emphasising art".
Her clients tend to be people who love art, and art collectors in particular – but you don't need a Renoir or a Picasso hanging on your walls to benefit from her advice.
Here are Silvia's top tips for putting art at the heart of every home:
Her clients tend to be people who love art, and art collectors in particular
She advises replicating the feeling a piece of art gives you in your decor: "a painting of a landscape might make us think about our summer holiday, and we would prefer to see it in a comfortable, relaxing living room," she explains.
You can either reflect or contrast the shapes within your key work of art, depending on the end result you're hoping for. "If you want to create a harmonious decor, choose pieces of furniture that reminds of your sculpture or the objects in your painting," advises Silvia. "If you want a vibrant decor, use pieces of furniture that have shapes different from your art."
For a balanced colour scheme which enhances that relaxed feel, work with the colours you have in your artwork but don't feel the need to match them precisely. "Your painting will have the colour you can use for your colour scheme if you want a harmonious decor," Silvia says. "Choose colours that are complementary to those of your painting."
"Lighting is very important in interior design. The best options for art are LED lights because they do not emit heat and UV, but look for LED lamps with good rendering value," she explains. "There are many different options to choose from for lights, but the best (and the ones I use most often) are picture lights."
Casa Colori works throughout the UK and offer a fully integrated service with trusted traders, suppliers and architects. Each of Silvia's designs is perfectly tailored to match the taste and needs of each client to create the perfect home.