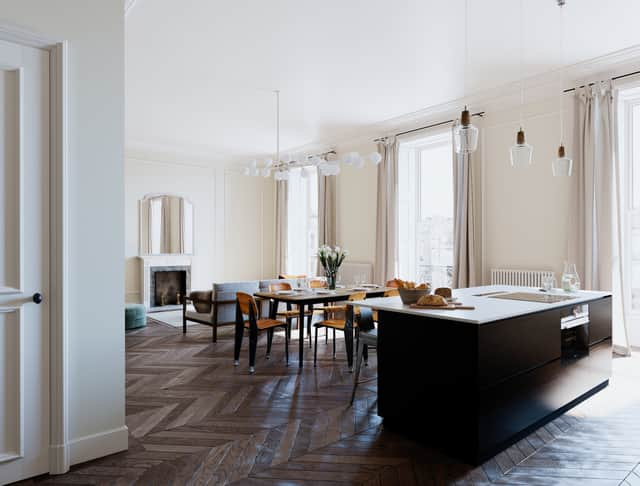 The switch from office spaces to high end homes is creating some spectacular properties in Edinburgh, says Kirsty McLuckie.
After a shift in use to commercial property for many of the Victorian townhouses in Edinburgh's West End over the last 50 years, the pendulum has now swung very firmly back in favour of their use as family homes.
One factor in the trend is the price these properties can command.
Stuart Peters of Dunedin House Properties says that as an office, a townhouse building in a good location could have an asking price of around £1.2 million, whereas for a residential property, in a first class condition, the value of the same house would be closer to £1.7m.
He says: "Many are too large to be desireable as single family homes but as apartments, if the conversion is done well, they are highly sought-after."
Picture: Dunedin Properties
Dunedin Properties is putting the finishing touches to two adjoining townhouses which have become apartments at 6 and 7 Drumsheugh Gardens in the West End while a third, 29, will be completed next year.
But Peters says that they aren't the only developers who have been attracted to ex-office townhouses in the road.
"There have been 60 apartments created in Drumsheugh Gardens alone in the last couple of years, by several different companies, but we are finding that the market demand is there to support it."
Surrounding streets of Manor Place, Chester Street and Melville Crescent have all seen high profile conversions from commercial to residential use in recent years so that the whole area is rapidly changing.
Once many of the buildings were in darkness after 6pm as office workers departed, but just as many are now returning home to the buildings for the night.
Plush curtains and shutters have replaced industrial vertical blinds at the windows, while passers-by nosy enough to look inside are more likely to see chandeliers than strip lighting.
The area is a highly desirable place to live – within walking distance of the city centre and with easy access to trams and trains – and it will only become more convenient for city workerswhen the redevelopment of Haymarket is completed.
Picture: Melville Crescent, Gilson Gray
The house at 5 Melville Crescent has a history which is typical of the area's emergence as a prestigious residential area in the 19th century and its subsequent changes.
The A-listed, terraced townhouse was originally the home of Mary Walker who with her sister funded the building of St Mary's Cathedral, which dominates the West End.
The house was home to a chief executive of the Royal Bank of Scotland in the mid-1800s, while the pioneering children's doctor, John Playfair, took over the property in 1888.
The building went on to become head office for Boots in the last century and was used as a commercial property thereafter.
Its latest incarnation however is as a collection of luxury residential apartments.
Picture: one of the bedrooms, Gilson Gray
Rob McGregor, associate director at Gilson Gray, who is marketing the property says: "It's a chance to buy an apartment in a building with such an incredible history, in a prime location."
He points to the advantages of choosing one of the new conversions available in the area: "It combines the grand architecture of the New Town, with a sleek, contemporary finish with all the latest mod-cons you'd expect from the highest quality new build.
"The views across the Edinburgh skyline and city centre surroundings are truly impressive."
The project, by contractor SJS and architect LBA, has created chic apartments with two and three bedrooms.
They offer a high level of contemporary design and craftsmanship, with light-filled rooms and views across the city.
Picture: a lower living room, Gilson Gray
The property features refurbished, original windows, original cornices and architectural features with fully-equipped "chef's" kitchens and state-of-the-art technology.
Just one property remains at a townhouse conversion in Atholl Crescent.
Picture: Atholl Crescent, Strutt and Parker
The last available flat in a conversion which saw six apartments created from two adjacent townhouses is 20A, a lower apartment with two bedrooms, a very high quality finish and that most sought-after feature in a city apartment, a private garden.
At a glance
Picture: a lower living room, Gilson Gray
Prices for the apartments at 5 Melville Crescent start at offers over £535,000, contact Gilson Gray on 0131 516 5354.
Picture: Dunedin Properties
Dunedin Properties' Drumsheugh Gardens apartments are priced at £610,000 to £850,000, contact Strutt & Parker on 0131 226 2500.
Picture: Atholl Crescent, Strutt and Parker
The remaining garden apartment at 20 Atholl Crescent is priced at offers over £560,000, contact Strutt & Parker on 0131 226 2500.