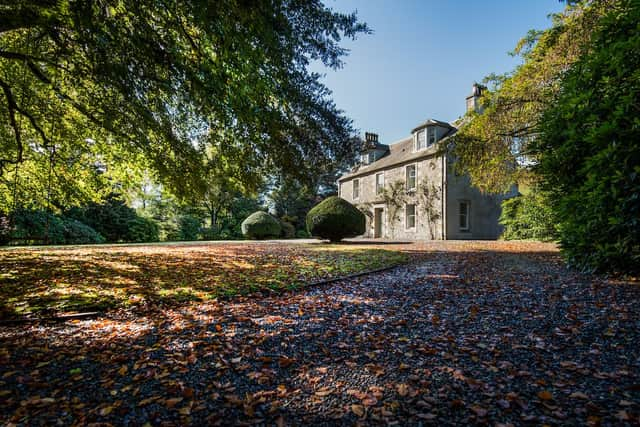 From distant Dubai the Grants supervised the makeover of Kirkton House so it would be ideal for their Scottish family get-togethers
It took Neil and Abi Grant ten years to find Kirkton House, but it's been well worth the wait.
"We were living in Dubai and were looking for a family home that we could use in the summer months and at Christmas.
"After a ten-year search, we found this via the internet," Abi says.
"We wanted an old house, and this was built in 1763 – it's the old manse.
"It had beautiful walled gardens and about three acres of land which was perfect as we have four boys who are now aged 14, 12, 10 and 7.
"It's a very pretty house and in a beautiful situation in the Ewes Valley near Langholm, but it's only 20 miles from the M6, so while it's in a rural setting it's easy to get to trains and planes too.
"Geographically, it was also a good place for both of our families to converge."
While the house was "very pretty" when the Grants purchased it in 2010, it needed some upgrading.
Picture: Crabtree and Crabtree
"It had been empty for nearly two years, and before that it had been lived in by a family for 40 years, so although it had been a much-loved family home, it had also been a bit neglected and was not particularly contemporary in terms of fixtures and fittings.
"However, we wanted a project and that's why we decided to go for it," says Abi.
Picture: Crabtree and Crabtree
Starting at the top and working their way down the six-bedroom property, the couple started with remedial roof works before moving on to renovating all the sash and case windows and installing double glazing.
"The renovations took a couple of years, but we wanted to keep as many of the period features as possible.
"We also ripped out the kitchen and altered the layout to make it an open-plan kitchen/dining space."
Picture: Crabtree and Crabtree
There were two reasons for this decision. Firstly, the front door of the property was hardly ever used, mainly because the key for the door is the original one and it is rather large and wouldn't fit in a coat pocket, but it wasn't a feature the couple wanted to get rid of.
Picture: Crabtree and Crabtree
Secondly, the conservatory was an isolated space and they wanted to bring this more into use.
"From the back door you entered through a utility room past a cupboard and downstairs loo into the kitchen and through a corridor to the conservatory," says Abi.
Picture: Crabtree and Crabtree
"We created a proper boot room, changed the under-stairs cupboard into a downstairs cloakroom, brought the utility room into the kitchen and knocked a large double door into the conservatory.
"The conservatory was in pretty good condition although we did have to level the floor, but when we did this we also fitted underfloor heating so that it would be usable all year round.
Picture: Crabtree and Crabtree
"In the kitchen we continued with the underfloor heating and put in a new Aga. Our aim was to bring it back to what it should have looked like, but also to make it work for modern family living.
Picture: Crabtree and Crabtree
"We're a big family and we have a lot of visitors so we need a house that works."
The couple managed the work from Dubai with the help of their architect, who also became their project manager.
Picture: Crabtree and Crabtree
"We couldn't have done it without him really. He employed the local trades for us and we came back four times in the first year to keep an eye on things.
"I designed the kitchen and the bathrooms and had these built to our spec. We were as hands-on as we could be considering we were 3,500 miles away.
Picture: Crabtree and Crabtree
"Having stayed in other people's houses with the children for many summers we knew what we needed here, and the design and layout was based on our experiences.
"There's lots of space for cooking, places for muddy wellies and enough bathrooms for everyone.
"There are three bathrooms upstairs and the family bathroom is very much based on what I needed with my children, so it has a huge bath and a huge shower.
Picture: Crabtree and Crabtree
"In the past I've had two kids in the bath and two in the shower all at the same time."
Abi continues: "Although I knew we were going to let the house whilst we weren't using it and that was a consideration when we were furnishing and decorating it, it was very important to me to buy individual bits and pieces.
Picture: the living room, Crabtree and Crabtree
"I knew the Scandinavian look would work in the kitchen, but I also wanted a bit of drama as well, hence Farrow & Ball's Down Pipe shade in one of the bathrooms and the black and white check drawing room.
"The furniture I sourced locally and online. I brought some chandeliers back from Dubai and I also had all the curtains and blinds made there."
Picture: Crabtree and Crabtree
After 16 years the family have now moved back to Scotland although they're not living in Kirkton full-time.
"We came home this summer and we're now settling in Melrose, so we can be hands-on with this house and use it when it's not booked," says Abi.
Picture: Crabtree and Crabtree
"We have plans to renovate the coach house, which is a beautiful building in the grounds, and use it as an annex to the main house.
"We're also toying with the idea of hosting a few weddings because there isn't much in the area and we are right next to the church.
"However, in the immediate future the boys would love a white Christmas as they've never seen snow and Kirkton is a house that lends itself to Christmas.
Picture: Crabtree and Crabtree
"There's so many fireplaces to decorate and it always looks lovely at this time of year.
"We've had Christmas here with just the six of us and we've had it with 20 people, it works equally well with both.
"I'm really pleased how it's all turned out, the long search was worth it."
Picture: Crabtree and Crabtree