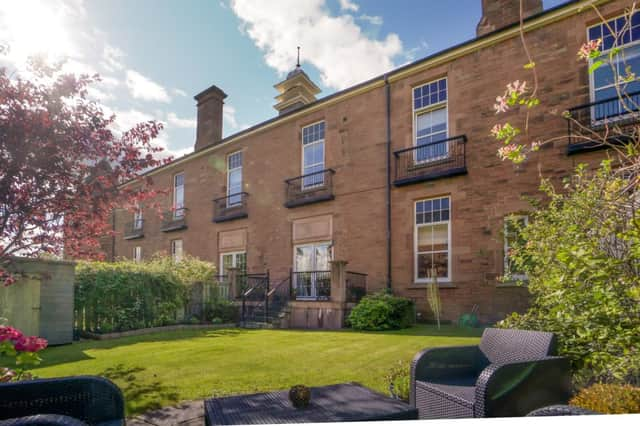 A fine historic conversion of a former Edinburgh hospital makes a healthy family home, writes Kirsty McLuckie.
When you live in a historic home you can sometimes be approached by strangers wanting to share their memories of it.
But those who live in converted hospitals must get more than most.
Yvonne and Steve Towle were used to this when they bought their townhouse in Morham Lea, in the Greenbank area of Edinburgh.
Yvonne says: "We've actually followed hospital renovations – we previously lived in Queen Margaret Close which was the old Princess Alexandra hospital, so it seems to be something we do."
The City Hospital at Greenbank was built between 1897 and 1903 to a design by architect Robert Morham, who the street is now named after.
The hospital was built specifically to treat sufferers of infections diseases and contemporary photographs show it was in quite an isolated spot when it opened, but by the time it closed to patients in 1999, the rest of Edinburgh had caught up with it somewhat.
Yvonne says that not long after moving in she bought a book detailing the history of the place, which is fascinating.
She says: "It formally opened on 14 May, 1903 by King Edward VII and Queen Alexandria.
"Both the Edinburgh Evening News and The Scotsman gave colourful accounts and thousands of Edinburgh residents came to see it, so it was a big thing.
"The queen planted an English elm at the back of this building and the king planted a Scottish elm, both of which are still there."
Picture: the kitchen, supplied
Many Edinburgh residents have a relative or someone they know who has been treated here.
Yvonne has her own family connections, too. Her aunt was treated for scarlet fever at the site and both grandparents were in the care of the elderly unit.
The beautiful red sandstone buildings were converted to houses and apartments in 2003 by CALA Homes.
Yvonne and Steve bought their townhouse in 2007 and moved in with their young son Callum, now 19.
Yvonne says: "The house served as one of the original ward buildings, we believe the paediatric infectious diseases ward.
"We just loved the idea of a historic home that had none of the problems inside that you can get with an older house, draughts or damp.
"It really was the best of old and new, with high ceilings and large rooms, but very comfortable.
"We also loved the location, it is a quiet spot, with views of the hills and little traffic. Callum was able to play outside and there were lots of families in the area."
Picture: the living room, supplied
The couple, who run a wedding videography business, Cherry Tree Films, from home, put their own stamp on the house.
They completely redecorated, re-fitted the flooring and the bathrooms and replaced the appliances in the kitchen.
In terms of decor, Yvonne has opted for a lighter colour palette to emphasise the high ceilings and big windows.
The layout has four bedrooms, an ensuite and a family bathroom upstairs. Each bedroom has built-in wardrobes, so there is plenty of storage space.
Downstairs is a fifth bedroom or study, plus dining room, the kitchen, a utility and cloakroom but it is the sitting room that is Yvonne's favourite spot.
"It overlooks the garden and has French doors to the patio where you get the morning sun and a view of the Pentland Hills."
"From the house you can walk out and in five minutes you can be up Craiglockhart Hill and see the views over Edinburgh."
The location is close to the city centre and the amenities of Morningside, but because it is somewhat tucked away, it can feel more like a village.
Yvonne says: "There is actually quite a good mix of neighbours. With the old buildings, most are four and five-bedroomed so they lend themselves to families.
"Growing up, it was great for Callum because he could play with the other kids in the street and be quite independent because it is so safe."
The new flats, which were built at the same time as the conversion of the hospital 15 years ago, tend to attract older people, as they have lifts.
The whole of Greenbank village has a great community feel.
Yvonne says: "It's very special to live here, it's not just any old bungalow or flat, it's a beautiful piece of history that's been preserved for generations to come."
3 Morham Lea is for sale with Lindsays for offers over £570,000.