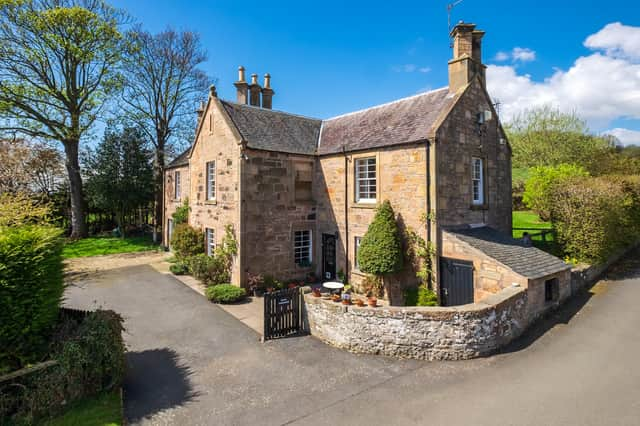 A spacious Georgian property with period features in a semi-rural location ticked all the boxes for Hazel and Chris de Vere
Seven years ago, Hazel and Chris de Vere were living in Edinburgh's New Town with their eldest daughter, Octavia, now 11, when they decided to have a change of lifestyle and move to a more rural spot.
The couple had a specific style of property in mind, as opposed to a location.
Hazel says: "We wanted a period property with lots of original features and a bigger garden, and we had quite a wide search area, from Perthshire to the Borders."
The couple knew they had found the right property when they came to see Dales Farmhouse by Dunfermline.
The Georgian farmhouse ticked all the boxes in terms of its age and history and the interior had lovely period features, including shutters and original timber flooring, along with panelled doors and distinctive lying pane sash and case windows.
These days, the house is accessed from its south side, leading into the ground level, but historically the front door was on the north side of the building, at first floor level, and was accessed via a bridge over a sunken "moat", all of which adds to the character of this property.
The B-listed farmhouse has a sandstone exterior, with a slate roof and diagonally set chimney stacks. It also sits in a large garden.
Crucially for Hazel and Chris, Dales Farmhouse offered a semi-rural setting while being perfectly positioned for commuting to Edinburgh, which is ten miles away – indeed Hazel can get to work faster from here than she could travelling across Edinburgh from the couple's previous home in the city centre.
There's easy access to the M90, as well as rail links at nearby Inverkeithing, Dalgety Bay, Dunfermline and Aberdour.
"I'd done a big project before in our last home, so I wasn't looking for one here," says Hazel when asked about how much work the house needed when they moved in.
The couple made some cosmetic changes to put their own stamp on the interior, but the farmhouse was already an appealing home when they arrived.
Now, as you enter, you walk into the large dining-kitchen, and there's a utility room off this.
The Aga was already in place, and although Hazel hadn't used one before, she quickly loved it. "I wouldn't want to live in a house without an Aga now – it does everything," she says.
There had been a breakfast bar here, but the couple removed this to open up the space and added a table instead. They also installed the oak flooring. With its triple aspect, this room is filled with light.
The kitchen leads into the formal dining room, which opens into a study, or fifth bedroom.
This has been used as a play room for Octavia and her sister Isabella, four, and it's worked well being so close to the kitchen.
Crossing the hallway from the dining room, you'll find the sitting room, which is a beautiful light-filled space as both this room and the dining room face south.
Previous owners had added the glazed doors that open from the sitting room on to a terrace, and there is an open fireplace for chillier days.
There are four bedrooms upstairs, one en-suite, which the couple have used as a guest suite, along with a large family bathroom.
The latter was already fitted with its freestanding clawfoot bath, and this room also has its original timber flooring and shutters – all lovely features to find in a traditionally styled bathroom like this.
Coming from a small bathroom in their previous home, Hazel has particularly enjoyed the generous scale of this space.
When decorating, the couple were mindful to retain the light and airy feel of the house with a mellow colour palette, and some of the shutters were stripped back to reveal the original wood.
As Hazel says, in everything they did to this house, the couple wanted to reflect and respect the age and character of the building.
They also did work in the garden, including clearing a section ready for raised beds or perhaps the addition of a greenhouse or summerhouse, but that might be a task for the next owners, as Dales Farmhouse is now on the market.
One of the things that Hazel has most enjoyed about living here has been the freedom of having outdoor space – enough to keep chickens and ducks.
"The garden on the north side is level with the windows in the kitchen, so we can sit having breakfast watching the chickens," says Hazel. It's clearly a great environment to enjoy with a young family.
Now it's time for the de Vere family to move on, and having not wanted a project this time round, the couple are considering embracing one with their next home.
Again, Hazel is looking for period features and character, combined with the space she has enjoyed here.
"I like all the features of an old house," she says. "This has been a very warm and happy home."