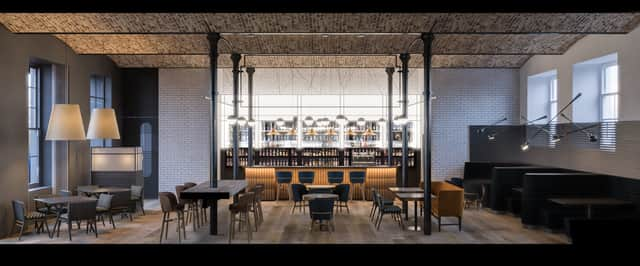 Iconic buildings in Dundee are being brought back to life as part of a major regeneration project at the former Baxter Brothers jute mill.
The disused Bell Mill and North Mill at the site off Constable Street are being transformed into two modern hotels, which will be managed by leading hospitality company Focus Hotels Management.
The exciting project, taking place in partnership with InterContinental Hotels Group (IHG) and developers Percor Capital, will see the architectural legacy of the buildings faithfully restored, including one of the bell towers that was modelled on the beautiful Santa Maria della Salute in Venice, with the developers working closely with Historic Scotland.
Hotel Indigo Dundee, comprising of 102 guest rooms as well as the 85 guest room Staybridge Suites Dundee, will open next year.
They will form a key part of the Dundee waterfront regeneration initiative, headed by the V&A Museum of Design, to help boost the city's economic revival.
Picture: the mill has fallen into disrepair but will soon be a hotel and suites, Focus Hotels
One of Dundee's largest linen dynasties began when William Baxter, in partnership with his eldest son Edward, built his first spinning mill on the site's Dens Burn in 1822.
The company expanded dramatically in terms of machinery and personnel to become one of the world's largest linen manufacturers, employing as many as 5,000 people in the 1870s.
Baxter Brothers and Co was incorporated as a private limited company in 1892 and in 1924 became part of the Low & Bonar group, for whom the firm continued trading as a manufacturing unit until the site closed in 1978.
As well as preserving the location's architectural heritage by carefully restoring the buildings to ensure they remain a proud focal point at the heart of the community, the project will pay homage to the site's rich history by naming one of the junior suites at the Hotel Indigo after a former staff social events organiser at Baxter Brothers and Co, Daisy Tasker.
Daisy started working at the mill aged just 14 and played a special role at the company by organising a range of social activities and outings for the mill's staff over many years. These events included tea and dinner dances at Gray's Rooms in Dundee and day trips.
The boutique Hotel Indigo will provide a mixture of standard and executive rooms and suites, with large beds, elegant colours, bathrooms with underfloor heating, smart TVs and fully air-conditioned rooms, making it a perfect choice for guests staying for business or leisure.
Many of the hotel's public areas will highlight the site's former use as a significant jute mill, while also paying homage to some other key themes Dundee is famed for; marmalade, games, fresh produce and the press.
A games section will be available for guests to enjoy along with a cosy meeting area called 'The Den', a fully-equipped gym, a bar and restaurant.
Picture: how the hotel complex will look, Focus Hotels
The Staybridge Suites will mainly cater for extended-stay guests, offering a range of serviced studios and one-bedroom apartments with full kitchen facilities, including a fridge, oven and dishwasher, as well as large desks and strong Wi-Fi coverage.
There will also be a breakfast area, a small retail complex, a spacious lounge, a laundry room and a meeting area.
Both hotels are only a short distance from the city centre, just a five-minute walk from the Wellgate Shopping Centre and Waterfront development, and offer easy access to the motorway network north or south via the A90 and A92.
Peter Cashman, Chief Executive Officer of Focus Hotels Management Ltd, said: "This exciting refurbishment project will bring much-needed investment into the east end of Dundee's city centre, and we look forward to welcoming guests from all over the UK and Europe in 2018.
"Both hotels are in an excellent location and the high-quality design, facilities and standards set to be achieved will ensure that our guests have a memorable and comfortable stay.
"With other ongoing projects in the pipeline, we are looking forward to the prospect of growing the Focus Hotels Management portfolio in Scotland."
Andrew Shaw, Associate Director, Development, UK & Ireland, from IHG, said: "The UK is our biggest market within Europe, with 320 hotels and a further 30 in the pipeline.
"It is great to be working again with our partners Focus Hotels Management as we continue to expand our portfolio of brands to offer guests the right brand in the right place in the country."
Rob Corlett, Director of Percor Capital, added: "We started this process in November 2013 and it is extremely pleasing to see it now come to fruition.
"Our aim throughout, has been to ensure that the entire site became fully used for the first time in nearly 40 years whilst maintaining the historic internal and external features of the Mill. The Indigo franchise, in particular, will work extremely well with this objective whilst also creating significant new employment within the City.
"Dundee City Council have been exceptionally helpful and supportive of our plans as we all strived to preserve a Grade A listed building of historical significance within the local community."