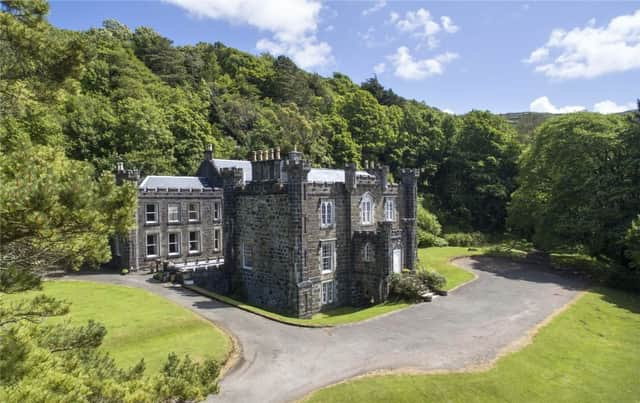 A unique castle home on Calgary Bay offers romance, fine features and beautiful grounds, says Kirsty McLuckie.
For a romantic location, Calgary Castle is hard to beat. The B-listed building overlooks the sweeping white sands of Mull's Calgary Bay and over to the isles of Coll and Tiree.
Calgary Bay frequently appears on the list of the Britain's best beaches, with gentle sloping dunes and crystal clear waters.
Picture: Strutt and Parker
The castle originally dates from the mid 1700s but it was extended and remodelled in the early 19th century by Alan MacAskill, a Merchant Navy captain whose mausoleum lies in the grounds.
The classic Victorian architecture features a crenellated parapet, angled turrets and gothic windows as well as wonderful internal period details.
It also has a claim to fame. It is believed that, after staying there in 1876 and apocryphally falling for the daughter of the house, Colonel James MacLeod of the North-West Mounted Police returned to Canada and changed the name of Fort Brisebois in Alberta to Fort Calgary.
Picture: Strutt and Parker
The then tiny outpost grew into the city of Calgary (which in Gaelic is Cala Ghearraidh and translates to "beach of the meadow"– still a fitting description of the original), famous for its annual rodeo, the Calgary Stampede .
The castle was later owned by Philip Profumo – the brother of John Profumo, centre of the 1963 sex and espionage scandal that rocked the British establishment, while notable guests are thought to have included author John Buchan.
Alan Kelsey bought the castle in 2000 after seeing an advert in The Scotsman. He says: "I was based in London but I know Mull well and had spent time here as a child and this really represented an opportunity to get away from city life to an idyllic location.
Picture: Strutt and Parker
"The house is utterly beautiful, in a stunning position, and the gardens are truly lovely, so it had everything we could have hoped for."
"The house is not too big for what we were after, it is full of light and it felt like it fitted us like a glove."
That is not to say that it didn't require work. It had been previously owned by an owner from abroad who didn't spend much time in it, so the house was due an upgrade.
Picture: Strutt and Parker
Alan says: "The biggest job, I suppose, was reroofing, which we did in 2010, but we have worked our way round, putting in new boilers, redecorating and repairing where necessary.
"A house like this on the west coast is always going to need a little maintenance somewhere because it is almost a living entity."
In the family's time it has served well as a party house. Alan's three grown-up children have really appreciated bringing their friends.
He says: "My youngest was 19 when we bought it, so exactly the right age for them to bring a big house party up for the week to socialise, enjoy the beach and have a good time."
As for him, while many friends have come to stay, he says he has spent most of his spare time tending the grounds rather than relaxing on the sands.
"The beach and the machair is right in front of us. It is a huge attraction but I haven't actually spent that much time on it because I am happiest working on the grounds, clearing ponticum and fallen trees and working on the walled garden."
Picture: Strutt and Parker
Calgary Castle sits in arboreal grounds of 28 acres with an impressive collection of trees from around the world, including a Chilean beech.
The grounds are also a haven for wildlife and golden eagles have been spotted on the lawn.
Picture: Strutt and Parker
It now has pretty walks winding through the trees and over bridges which Alan has rebuilt over the burn.
He says: "We spent a lot of time and effort on the walled garden, and found many beautiful plants which have been helped to thrive."
Picture: Strutt and Parker
Inside, the house has eight bedrooms, traditional public rooms including a dining room, library and drawing room plus a modern dining kitchen which links the back and front buildings.
It also has a self-contained two-bedroomed apartment so is well set up for live-in staff.
Picture: Strutt and Parker
Malcolm Leslie, of Strutt & Parker, says: "Calgary Castle is a wonderful, secluded property, steeped in history.
"It would make an idyllic home and, while it offers the romanticism of island life, its proximity to Tobermory makes it a practical option too."
Picture: Strutt and Parker