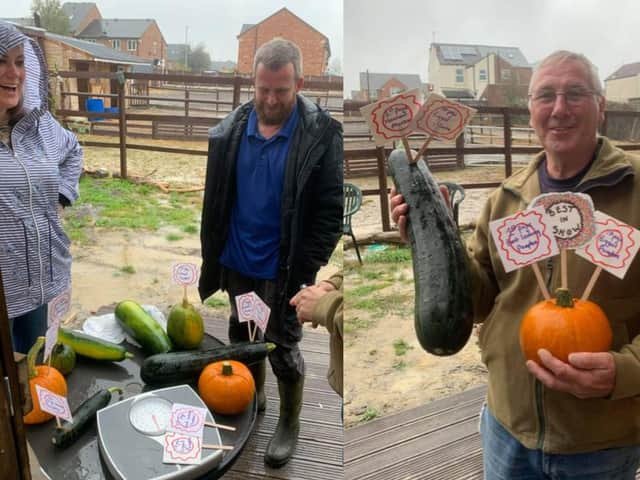 Hayley Jones and husband Hammad Rasheed decided to hold a pumpkin and marrow competition with their allotment neighbours on the Green Lane plots.
With prizes for different categories, including best in show, entrants who'd been growing their prize veggies since May, gathered at Hayley's yard last Saturday to await judging.
Each entrant submitted one of each vegetable into categories such as strangest, biggest, heaviest and best looking, to be judged by friends of the allotment, Dean Townsend and his wife, Lindsey.
Hayley said: "When we hosted the competition on Saturday, it brought so much joy to everyone who got involved.
"It's been something for us all to look forward to, because we were in the midst of lockdown when we were in the planting stages.
"In May, I bought lots of vegetable seeds and left them on a table at the allotment, I told everyone to pick up a packet and plant them in time for the competition.
"On the day, everyone came to my yard for a cuppa, some fun and, of course, the judging and a weigh in.
"Everyone in attendance had a really good time, we needed something like this in lockdown to boost morale.
"Well done to everyone who competed, and made our wet and dreary Saturday afternoon Into a fun veggie growing prize fest."
Entrant Christine Crawshaw won best looking Marrow, Chris Wells and Tony Clarkeston won the Strangest Pumpkin, Holly-Xara, Hayley's daughter, won heaviest pumpkin and strangest marrow.
And Brian Marshall scooped up the most with his perfectly shaped veggies, best looking and biggest pumpkin, and heaviest and biggest marrow - the judges decided his pumpkin was best in show, so he won the main prize - a handmade model of a fairy woodland house.
Hayley said: "I'd definitely encourage other allotment plots to do the same, it brought people closer together in a very lonely time - we chatted with people who have the same interests and shared gardening tips.
"There are a few allotments in the area, hopefully we can make the competition an annual event and get other people from across Featherstone involved."