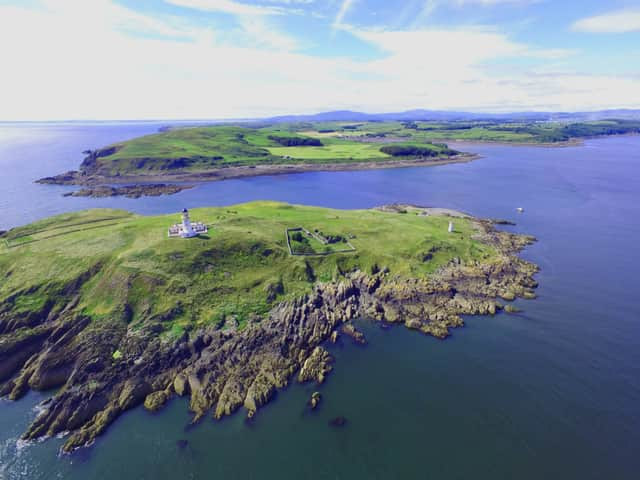 Those looking for offshore isolation in a domain of their own have a world of choice, finds Kirsty McLuckie.
Not one but two Scottish islands came on the market this week. Ulva Island, which is located by the Isle of Mull, has a beautiful neo-classical main house, plus a restaurant, church and eight other houses or cottages, so it is already set up for a running a holiday business or starting your own community.
Picture: The boathouse on Ulva.
Little Ross, just off the Meikle Ross headland in south-west Scotland is a more modest offering. The island is home to a lighthouse and the accommodation is the keeper's cottage, in need of renovation.
For those in search of true isolation, an island home with just one dwelling, or the potential to create one, is the dream, but there are plenty of islands on the international market which don't come attached to the Scottish climate.
Picture: A house on the beautiful Island of Ulva
From European sailing havens, millionaire's paradises in North America or the Caribbean, or South Pacific atolls, there is a plethora of choice if you have the right budget.
Just remember to leave enough to buy a boat, or a helicopter.
Where is it: Little Ross Island, south-west Scotland.
What is it: A 27-acre isle with a lighthouse and six-bedroomed cottage, plus other buildings.
Good points: Plenty of scope for development of the barns.
Bad points: Some would be put off by the island's history. It was the site of an infamous murder of a lighthouse keeper in 1960.
Price: Offers over £325,000.
Contact: Galbraith on 01556 505346.
Where is it: Isle of Ulva, Argyll.
What is it: Close to Mull, it has 4,500 acres of land, a B-listed main house and nine other buildings, including houses, a church, a restaurant, cafe and agricultural steadings. There are two moorings and three anchorages.
Good points: With breathtaking coastline, beaches, fishing, wildlife and the properties, it represents an opportunity to make a good return on the investment.
Bad points: A huge undertaking.
Price: Offers over £4.25 million.
Contact: Knight Frank on 0131 222 9600.
Where is it: Eagle Island, Minnesota, US.
What is it: Situated on Lake Vermilion, the island measures five acres and has a luxury eco home built of spruce and rock at its heart.
Good points: Island living without roughing it, the property comes with a full service marina with condo membership five minutes away on the mainland. The house has a lift, a swimming pool and a second-floor deck with panoramic views to watch the neighbouring eagles.
Bad points: Anyone looking for a back to nature experience is likely to be disappointed by the luxury.
Price: $1,995,000 (approx £1,532,160).
Where is it: Little Harvest Caye, Belize, central America.
What is it: One-and-a-half-acre island with a main house, swimming pool and guest accommodation.
Good points: It is a shared ownership deal, with exclusive use of the island and the opportunity to rent out your weeks for income if you prefer.
Bad points: Your time in paradise is strictly limited.
Price: Starting from $375,000 (approx £288,000).
Where is it: Cerboli Island, Tuscany, Italy.
What is it: Ten acres in the Tyrrenean Sea, near Elba.
Good points: It is perfect for snorkelling and diving and accessible from the mainland.
Bad points: While there are ruined buildings, planning permission to develop further has so far proved sticky. If it was approved, the value would increase dramatically.
Price: e4 million (approx £3,555,240).
• Main picture: Little Ross Island